Features
Better Call Saul Season 6: When Will Walt and Jesse Show Up?
When will we see the Breaking Bad cameos, how will Gus defeat Lalo, what'll happen to Kim and Gene, plus more questions for Better Call Saul's final episodes.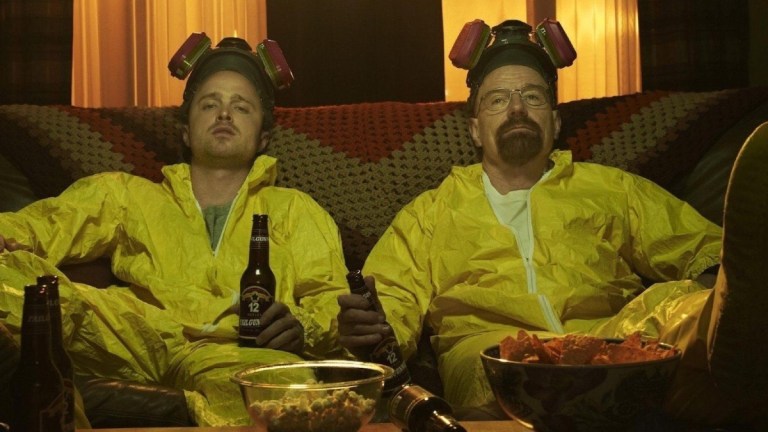 Warning: contains spoilers for Better Call Saul Season 6 episodes 1-7.
Better Call Saul is finally coming to an end this summer, with the midseason premiere approaching on July 11. With that conclusion comes the burden of wrapping up the entire story of two shows, with Breaking Bad's relevance to the plot becoming crystal clear. There are a lot of questions that need answering down the home stretch, so let's discuss the ones that need more screen time than others to resolve.
When will Walt and Jesse appear?
Fans of this universe have been debating for years whether Walt and Jesse (Bryan Cranston and Aaron Paul) would ever appear in Better Call Saul, and that question has gone from an "if" to a "when" and "how" after the showrunners themselves confirmed the duo's arrival in this final season. With only six episodes remaining, it's only a matter of weeks until we get the long-awaited answers to these questions. 
Co-creator Peter Gould has stated that none of the various fan theories espoused on Reddit and other social media platforms have come close to predicting the meth cooks' dramatic cameos, which may or may not just be another way to amp up the anticipation.
What we can count on is that whatever reason they appear for, Walt and Jesse will have a memorable and lasting impact on this spinoff series. Their role in this story will give credence to the larger plot of both shows, connecting dots and rounding out rough edges that we've wondered about for years. 
We know that Walt has never met anyone in this drug-dealing world before Breaking Bad, therefore he will likely be used in a flash-forward scene that occurs during or after the events of the parent show. Remember that Better Call Saul already has one of these types of scenes when they showed Saul cleaning out his office before going off to Nebraska. This gives us a template for how the two shows could once again mesh. 
It would be theoretically much easier to put Jesse into the current timeline of this show, but how could it serve the plot in a meaningful way? We're more concerned with the battle between Gus and Lalo, whether Kim is going to get out of this mess alive, and how Howard's tragic murder is going to be cleaned up. 
This means that Jesse should probably appear alongside Walt in the aforementioned flash-forward scene. This would be fitting, as Walt and Jesse have always been more powerful together than apart, for better or worse. 
How can Gus defeat Lalo?
Gus Fring (Giancarlo Esposito) is one of the most frightening villains in television history for a myriad of reasons, one of those being that he feels invincible. Being the smartest and most calculated man in the room, Gus uses brains over brawn to destroy his opposition. This is why Walt taking him down remains one of the most thrilling chess match victories ever put to screen.
An issue with Gus in Better Call Saul is that we haven't really seen nearly as much of him in attack mode as in Breaking Bad. This makes sense, as this prequel series has perfectly executed all of their characters' backstories so that they become believably fleshed out before their appearances in the original show. It also means that Gus doesn't yet have the allure or gravitas that fans have come to love. He's a bad guy, but he doesn't feel like the ultimate psychopath yet. 
This can all change depending on how Gus defeats his biggest pre-Walter White threat: Lalo Salamanca (Tony Dalton). Presumed to be dead for the first half of the sixth season, Gus and Mike are very much aware of Lalo's impending presence at the end of the midseason finale. They plan to hunker down and wait for Lalo to arrive, but the scariest Salamanca of them all has different plans and heads for Jimmy and Kim's residence instead. It seems like Lalo is several steps ahead of Gus, which gives Fring an exquisite opportunity to do something similar to Lalo to what Walt will eventually do to him. A sneak attack that will surprise the audience and the characters alike. 
Everything comes down to the infamous meth lab. Lalo wants to know more about it, Gus needs to keep it under wraps. Whatever happens, we know which character appears in the parent show. Gus will win this war with Lalo, and how he does it can add one last chapter to his legend and solidify him as the man we remember in Breaking Bad. 
What happens to Gene?
Gene Takovic is the most mysterious entity in this show. He is Jimmy/Saul's third identity, and he's the only part of the story that is completely unshackled from Breaking Bad's plot. The creators can do whatever they want with Gene. He's a hyper-paranoid wanderer at a Nebraska Cinnabon, and the last time we saw him he hung up on the vacuum-repair number that has sent so many of our previous favorite characters to their new locations.
It could be argued that we all want to see Gene have a happy ending, but considering all of the poor decisions he's made throughout his life, ones that usually destroy others, it would make sense that whatever Gene does will wreck more havoc on himself and those around him.
Better Call Saul is a haunting drama, one that demonstrates a grim outlook on life. As Mike said in the fifth season, Jimmy/Saul/Gene has put himself down a bad choice road. The end of such a road isn't going to be rainbows and sunshine. It's more likely to be dread, despair, and reparations for years of immoral acts. 
Does Kim's fate actually matter?
Kim Wexler (Rhea Seehorn) has become one of the most beloved characters in recent television history. She's a strong-willed, passionate, and creative woman who doesn't need anybody's help to accomplish what she wants. These qualities have been poisoned this season by her desire to manipulate Howard Hamlin's career, a choice which resulted in his death. What happens to Kim doesn't really matter all that much because her ill-fated quest for revenge against whatever she feels Howard did to her has forever altered who she is. 
Her final destination is irrelevant because her existence contradicts the entire Breaking Bad universe. She's not in the parent show in any way, shape, or form. 
The writing team probably had very little grasp on just how much of a powerhouse they were creating when they put Kim onto our screens. Because there were no expectations, this opened up millions of possibilities for her journey. She can end up anywhere they choose, but the way her character arrives at that point isn't as important as some people act like it is. Her destination is to cease to be in anyone's life from this show after it ends. Whether she dies, disappears, or meets up again with Jimmy in Nebraska, they are all different sides to the same coin.
It's all of the nitty-gritty that's happened before that endgame that made Kim such an icon. She's a requiem for people who have so much gumption, so much wherewithal, and they simply don't know how to use it. She's a person who could have towered over her peers, and instead rolled around in the mud with them. Kim tells Jimmy in the second season when she's been put in the mail room by Howard, "you don't save me. I save me". What she didn't understand is her revelatory strength was also enough to end her. 
Better Call Saul Season 6 returns to AMC on July 11th in the US and Netflix on July 12th in the UK.