Features
Better Call Saul: How Did Howard Hamlin Become the Show's Most Tragic Character?
By always being himself for better or worse, Howard Hamlin came to stand out amid all the radical change on Better Call Saul.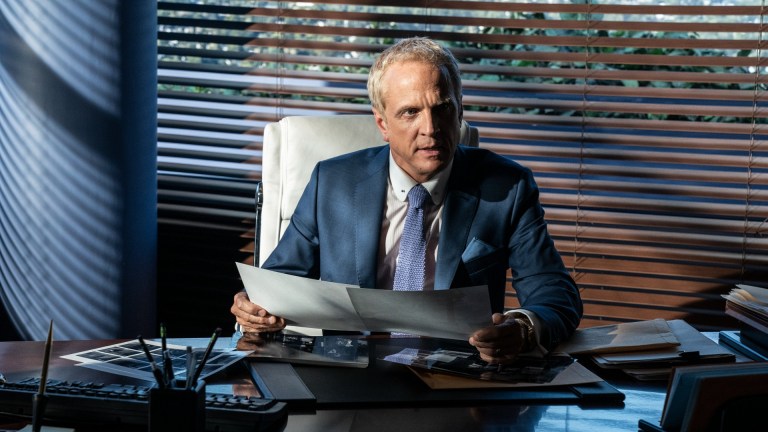 This article contains spoilers for Better Call Saul season 6 episode 7.
When Lalo Salamanca (Tony Dalton) steps into Jimmy (Bob Odenkirk) and Kim's (Rhea Seehorn) apartment at the end of Better Call Saul's final midseason finale, most of the audience can anticipate what's going to happen next. While we just got to see Howard Hamlin (Patrick Fabian) eviscerate the rotting moral compasses of the show's two protagonists, Lalo doesn't care about this personal beef between lawyers. No, he just wants to talk to Jimmy. 
What about? We'll soon find out in the midseason premiere, but not until we spend the next several weeks trying to recover from Howard becoming a witness who needed to be whacked. The way Howard's head hits the floor after being murdered simply for being privy to other people's crimes is a sound nobody will ever forget. And it's the journey we went on with Howard that makes it even more tragic. 
That's what makes co-creator Vince Gilligan and Peter Gould so damn good at their jobs. They let you inside of their characters' worlds for not just a little while, but for several seasons. We learn about their motivations, we listen to their desires, and see how these characters change. That's what Better Call Saul and Breaking Bad have both been about at their deepest cores. It's just like Walter White (Bryan Cranston) said in the pilot of Gilligan and Gould's parent series: "it's growth, then decay, then transformation!" Only Howard is one of the only characters in either show that doesn't go through any of these changes. No, it's everyone else around him that changes, and in the process the audience gets to see an entirely different shade of Hamlindigo Blue. 
We watch the show from Jimmy's perspective. As Kim became just as integral to the plot, we watch it from hers too. And from this point of view, Howard is a schmuck. He's a tool, a byproduct of cheap nepotism. The other "Hamlin" in Hamlin, Hamlin & McGill is Howard's father, a man who we never get to meet, but we know was the co-founder of one of New Mexico's most famous law firms. The only reason Howard got his name on the company is because daddy let him. 
As we've seen in various other walks of life, from the way the Trump family operates to the fashion in which the Roy children keep fumbling their father's media empire on Succession, children who are given everything on a silver platter from their parents are rarely sympathetic to society. We are all with Jimmy and Kim in agreement at their disgust for Howard's lack of struggle compared to their own in the legal world. As Howard became more and more of a puppet in Chuck McGill's (Michael McKean) plot to take down Jimmy's career in the third season, we start to see that maybe some of the decisions Howard makes aren't fully his to control. 
One of the worst parts about getting to where you are due to other people is that those same folks feel they get to continue to control your every move for the rest of your life. It is in this concept that we get to see Howard get rounded out. His layers start getting pulled back for the viewers. After Chuck commits suicide, Howard falls into a deep depression. He feels guilty for what he perceives as a lack of drive on his part to help the man who put him in position to succeed. We all know it's not Howard's fault at all, that Chuck's mental illness and death is caused and exacerbated by his twisted relationship with Jimmy. And when Jimmy tries to pin Chuck's demise on Howard for the ensuing two seasons, it is in this plot line that Howard starts to become sympathetic.
Howard is trying his hardest to make himself a better person, to improve upon areas that he may have messed up on earlier in life. He even offers Jimmy a job in season five that goes unappreciated. Howard is a man who is aware of his reputation as a sidekick, someone who doesn't have agency over his surroundings. He doesn't get the chance to finish upon that personal quest for change, but we see that he's definitely much more than a cheap suit and a spray tan.
On the other end of the spectrum, Jimmy (and Kim) continue to plunge themselves into madness. We are still following their perspective, but it's plain as day that their mindset is poisoned. This climaxes throughout this final season when Jimmy and Kim use the entire seven episode plot of the first half of it to ruin Howard's legal career with an elaborate scheme that, in Howard's own guess, possibly took months to execute.
We don't even really know why they did it. Howard serves simultaneously as the voice of his own psyche and ours when he begs the both of them for answers in his final minutes on Earth. What exactly did Howard do that deserved such treatment? It's almost as if Jimmy and Kim are now such bad people, that they simply can't help themselves. Nothing will make them happy, so they have to ruin others' lives in their wake.
Chuck claims that Jimmy doesn't know better. He's simply been put on this planet to destroy what others create. Howard is just a man trying to do his job. He's a lawyer doing his best for his clients, he's a husband struggling with an estranged marriage, and he's a man who's still reeling from his mentor's death. It is in this dichotomy, this juxtaposition of motivations that Howard becomes the show's most tragic character simply by staying static.
Howard doesn't really change, but our perspective on him does. And right when we have finally seen the light, Lalo puts it out. It's hard to imagine anybody else dying in such devastating fashion in these final episodes. Certainly nobody who is so completely naive to the cartel's game, somebody who was in the wrong place at the wrong time. Howard Hamlin died the way his entire life went: by being a victim of circumstance, for better and for worse. 
Better Call Saul season 6 returns with episode 8 on Monday, July 11 at 9 p.m. ET on AMC.