News
Better Call Saul: Will Walt and Jesse Appear in Season 6?
Per Better Call Saul producer Thomas Schnauz, El Camino: A Breaking Bad Movie took some pressure off of a season 6 Walt and Jesse cameo.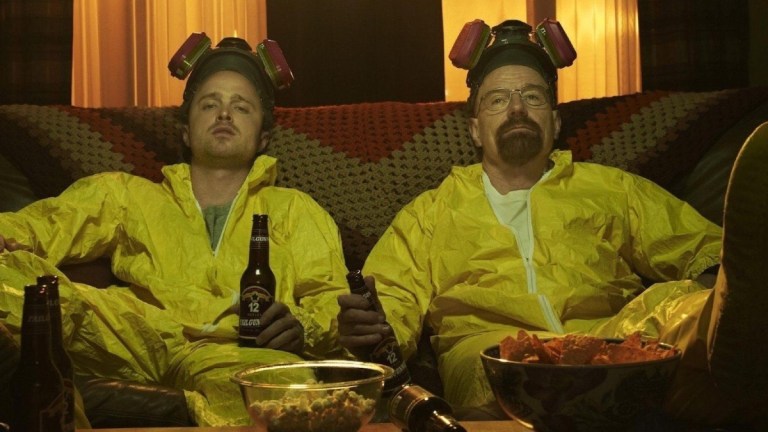 Ever since Better Call Saul premiered on AMC in 2015, fans of the Breaking Bad spinoff have been clamoring for a cameo appearance from the original show's two main characters, Walter White (Bryan Cranston) and Jesse Pinkman (Aaron Paul). The actors themselves have been asked about it seemingly the entire duration of the prequel series' run. Both Cranston and Paul have been game to join the cast for a short appearance, but the years just keep going by without any tangible proof that anything will come to fruition. 
Anticipation for their arrival has continued to boil over as other characters from Vince Gilligan and Peter Gould's universe have shown up on screen. DEA agent Hank Schrader had a multi-episode storyline in the fifth season of Better Call Saul and was an integral part to the middle of the season's plot. Cameos tying the two shows together have been plentiful: Steve Gomez (Steven Michael Quezada), Ed the Disappearer (Robert Forster), Gus Fring's confidants Victor (Jeremiah Bitsui) and Tyrus (Ray Campbell), Tuco Salamanca (Raymond Cruz), and Gale Boetticher (David Costabile) have all crossed-over at some point. 
Most of the time there was a good reason for these actors' inclusions in the show, and Better Call Saul executive producer Thomas Schnauz says that unless they can find a valuable reason for Bryan Cranston and Aaron Paul's iconic pairing to appear, you shouldn't sit around expecting it to happen in the sixth and final season of the drama.
"I'm just going to be honest: El Camino took the pressure off of us trying to weave Walt and Jesse into Better Call Saul," Schnauz tells Den of Geek via email.
Schnauz continues: "With Covid restrictions and now medical issues with our actors, and Aaron and Bryan being so busy with their careers, it would be a logistical nightmare to pull something like that off right now. We're focused on telling the story of how Jimmy McGill turns into Saul Goodman in Breaking Bad and he's fully Saul before we meet him in that series, so how important is it to the overall story to see Walt and Jesse? Of course it would be great to see them, even just a little, but I don't know if having them walk through a scene would be satisfying. When we brought Dean in to play Hank again, it was integral to the story. So… everyone please keep expectations low on the Walt/Jesse front."
While it's disappointing news to hear from such an important person working on the show, Better Call Saul has always prided itself on intentional storytelling and authentic decision-making. Fan service has a place in entertainment, hence the making of the film El Camino in 2019 that told the story of Jesse Pinkman after escaping Walter White's authoritative grip. It's imperative to give little nods to the core of an expanded universe, but not at the expense of purpose. There is still no announced release date for the sixth season, but audiences can expect the same high quality drama to return to airwaves when the time comes, with or without Walt and Jesse. 
Stay tuned for more Better Call Saul season 6 tidbits from our interview with Thomas Schnauz next week!