News
Better Call Saul Season 6 Release Date, Cast, Trailer, and Plot
Better Call Saul season 6 will complete Jimmy McGill's journey into Saul Goodman. Here is everything we know!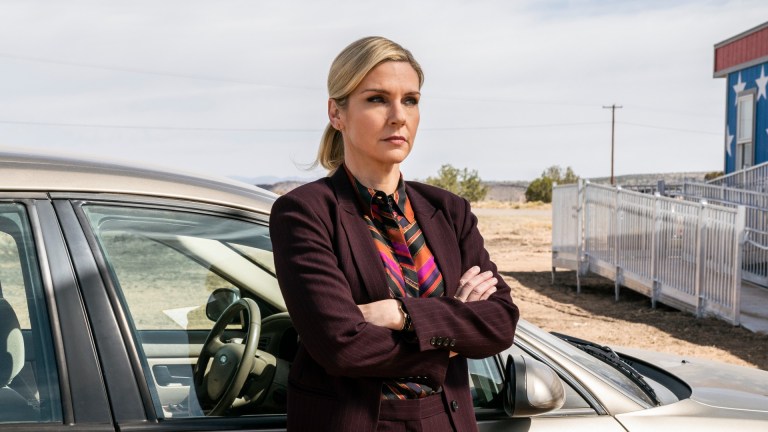 The last ride of Jimmy McGill is almost upon us. Better Call Saul season 6 will be the show's last season and it will once and for all showcase the final transition of loveable up-and-coming lawyer Jimmy McGill into scummy criminal (emphasis on criminal) lawyer Saul Goodman. If Breaking Bad was the story of one man's transition from Mr. Chips to Scarface, Better Call Saul is the story of one man caught between the idealized version of himself that he knows he could be and the less than reputable version of himself the world sees him as. This season, the idealized version will lose the fight, but he'll surely go down swinging.
In official statement, showrunner Peter Gould had this to say about the final season of Better Call Saul:
"From day one of Better Call Saul, my dream was to tell the complete story of our complicated and compromised hero, Jimmy McGill — now AMC and Sony are making that dream come true. We couldn't be more grateful to the fans and critics who are making this journey possible. Next month, we start work on the sixth and final season — we're going to do our damnedest to stick the landing."
Well, the sixth and final season is now in the can, and we couldn't be more excited to see if the cast and crew truly will stick the landing. Here's everything we currently know about Better Call Saul season 6.
Better Call Saul Season 6 Release Date
After a nearly two year wait, a forced delay due to the pandemic, and a serious health scare for star Bob Odenkirk, Better Call Saul is finally set to premiere Monday, April 18 at 9 p.m. ET/PT on AMC and AMC Plus in the US. The premiere will consist of two hour-long episodes. Subsequent new episodes will premiere weekly on Mondays at 9 pm ET/PT.
Viewers in the UK can watch the first two episodes of Better Call Saul season 6 on Netflix April 19, with new episodes then debuting on the streaming service on subsequent Tuesdays.
An important piece of information to know is that Better Call Saul season 6 will be broken into two parts. The first seven episodes of the 13-episode season will start on April 18. The final six episodes will begin July 11 (and July 12 in the UK). Get ready to say a long goodbye.
Better Call Saul Season 6 Cast
After suffering a heart attack on set, Bob Odenkirk has recovered and wrapped shooting on Better Call Saul season 6. He credits the swift actions of his co-star Rhea Seehorn, who plays Kim Wexler, with helping him make it out of the scary situation alive. So there's at least two cast members we know will appear in the final season!
We also know we can expect fan favorites such as Jonathan Banks' Mike Ehrmantraut and Giancarlo Esposito's Gus Fring back in the mix, along with Michael Mando as Nacho Vargo, Patrick Fabian as Howard Hamlin and Tony Dalton as the unpredictable Lalo Salamanca. He won't be the only Salamanca in the mix, as its been confirmed that twins Luis and Daniel Moncada will be back as the Salamanca twins, Mark Margolis will return as the elder Hector Salamanca and even Raymond Cruz as the wild card of the family, Tuco Salamanca.
Here are some other returning cast members you can expect:
Lavell Crawford as Huell Babineaux, associate of Saul
Dennis Boutsikaris as Rich Schweikart, a partner at Schweikart & Cokely
Ed Begley Jr. as Clifford Main, managing partner at Davis & Main
Steven Bauer as Don Eladio Vuente, head of the Juarez drug cartel
Javier Grajeda as Juan Bolsa, member of the Juarez drug cartel
Maximino Arciniega as Domingo "Krazy-8" Molina, a dealer for the Salamancas
Jeremiah Bitsui as Victor, Gus's henchman
Ray Campbell as Tyrus Kitt, Gus's henchman
Juan Carlos Cantu as Manuel Varga, Nacho's father
Tina Parker as Francesca Liddy, Saul's receptionist
Kerry Condon as Stacey Ehrmantraut, Mike's daughter-in-law
Juliet Donenfeld as Kaylee Ehrmantraut, Mike's granddaughter
There's also the possibility of more Breaking Bad characters, like David Costabile as chemist Gale Boetticher, Laura Fraser as Madrigal Electromotive executive Lydia Rodarte-Quayle, Dean Norris as Hank Schrader and Steven Michael Quezada as Steven "Gomey" Gomez popping up, but sadly we'll be missing the late Robert Forster as relocator extraordinaire Ed Galbraith. The question on everyone's minds is whether we'll get appearances by Bryan Cranston and Aaron Paul as Walter White and Jesse Pinkman, but we'll likely have to tune in to find out.
Better Call Saul Season 6 Trailer
The trailer for the sixth and final season can be seen below. We did a full breakdown of the trailer here, but it certainly looks like there will be a fair amount of danger in the final episodes. Take a look below.
Better Call Saul Season 6 Plot
The official plot details for season 6 of Better Call Saul are being kept under wraps, but we do have an official plot synopsis, which you can read below:
"Better Call Saul's final season concludes the complicated journey and transformation of its compromised hero, Jimmy McGill, into criminal lawyer Saul Goodman. From the cartel to the courthouse, from Albuquerque to Omaha, season six tracks Jimmy, Saul and Gene as well as Jimmy's complex relationship with Kim, who is in the midst of her own existential crisis. Meanwhile, Mike, Gus, Nacho and Lalo are locked into a game of cat and mouse with mortal stakes."
The end of season 5 found Jimmy getting uncomfortably close to the business of the cartel, while Kim appeared to break bad with designs on ruining Howard Hamlin's life. Meanwhile, Nacho helped Gus execute a hit on the Salamanca compound, but Lalo survived and will be looking for revenge. Gus will also want to locate Nacho to avoid the young dealer implicating him in the hit. That's all of the plot details that we do know, but there's sure to be plenty more on the table in the final 13-episodes.
We won't have to wait much longer. Better Call Saul season 6 will be back April 18 and we'll be breaking down each and every episode right here at Den of Geek!