News
Better Call Saul Season 6 Episode 8 Release Time and Season Recap
Here's when Better Call Saul Season 6 starts again in the US and UK, where to watch, and everything you need to know heading into the final episodes.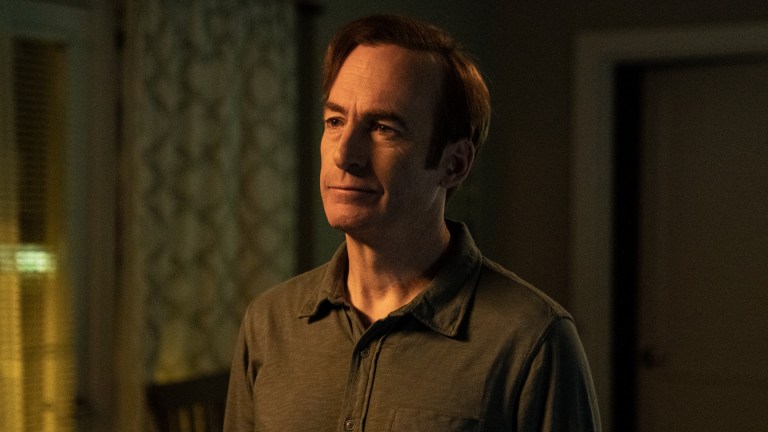 Warning: contains spoilers for Better Call Saul Season 6 Episodes 1-7.
The second half of Better Call Saul's sixth and final season is upon us. That means we will be saying goodbye to Jimmy McGill (Bob Odenkirk) as he once and for all transitions into Breaking Bad's Saul Goodman. If Breaking Bad was the story of one man's transformation from Mr. Chips into Scarface, Better Call Saul's central reinvention isn't as dramatic, but it is somehow more sad and human. The prequel series is the story of a man failing to live up to an idealized version of himself and succumbing to his own worst impulses.
Better Call Saul is also the story of Kim Wexler (Rhea Seehorn). Played with a steely resolve that mostly covers the vulnerability underneath, Kim has become a fan favorite and one of Jimmy's last tethers to respectable society. Unlike Jimmy, her fate is an open question, but her recent encounters with Lalo Salamanca (Tony Dalton) do not bode well. The first half of the sixth season ended on a shocking note that will certainly eat up a portion of Better Call Saul Season 6 Episode 8. The rest of the season will also need to conclude Lalo's war against Gus Fring (Giancarlo Esposito) and the story of "Gene" in Nebraska. We also have reason to believe that both Walter White and Jesse Pinkman will be making cameo appearances.
When Does Better Call Saul Season 6 Episode 8 Come Out?
Better Call Saul resumes its sixth and final season on AMC Monday, July 11th at 9pm Eastern/Pacific and 8pm Central. The remaining episodes will air weekly in that Monday time slot, with the finale coming on August 15.
For fans in the United Kingdom, Better Call Saul Season 6 Episode 8 will be released on Tuesday, July 12 at 8am BST on Netflix.
Before we wrap up Better Call Saul, let's take a look back at what happened in the first half of season six.
Nacho's Last Stand
After Nacho Verga helped Gus stage a raid on the Salamanca compound, Hector Salamanca and the cartel plan swift revenge. Gus helps stage information to distance himself from the plan and even contimpates using Nacho's father as a pawn to bring Nacho out of hiding. Instead, Nacho calls Gus and agrees to give himself up without implicating Gus in exchange for his father's safety. In a final confrontation with the Salamancas and the cartel, with Fring and Mike looking on, Nacho takes full responsibility for both the hit and for Hector Salamanca's condition. He then kills himself before any of them can beat him to the punch. It's a tragic, yet brave ending for one of Better Call Saul's most interesting characters.
Lalo in the Shadows
Lalo survives the hit on the Salamanca compound and proceeds to not only look for evidence that Gus was responsible but also continues his mission to uncover Gus' plans for a super lab. Gus is monitoring every inch of Albuquerque and taking every possible precaution, including planting a weapon in the lab should Lalo surprise him, but Lalo's journey takes him to Germany to question Werner Ziegler's widow and his former crew. Getting the answers he needs, he returns to the United States, but Lalo will need to be careful; the Albuquerque D.A.'s office are now aware of his true identity and looking to bring down the former "Jorge de Guzman."
Kim in the Driver's Seat
Though Kim is given a life-changing opportunity to receive a grant to fund her philanthropic legal work, she lets it slip away in favor of her plan to smear Howard Hamlin's reputation, thus bringing an end to the Sandpiper class-action lawsuit, which would result in a hefty payout for Jimmy. Kim takes the reins on the plan, and she and Jimmy use old figures like the Kettlemans and other dirty tricks like a fake private investigator and a body double of a legal mediator to paint Howard out to be a paranoid cocaine addict. Their plan works, with Cliff Main deciding to settle the case.
Howard's Demise
After Howard is humiliated, he travels to Kim and Jimmy's apartment to determine why exactly they would go to such lengths to ruin his life. However, while Howard is confronting the couple, Lalo Salamanca returns and murders Howard right in front of Kim and Jimmy to show them how serious and dangerous he truly is. Not only will Jimmy and Kim have to deal with the threat of Lalo, but they will also have to deal with the fallout of Howard's death, in a literal and emotional fashion. We have some theories on their respective fates right here.