Features
Better Call Saul Season 5 Recap
From "Magic Man" to "Something Unforgivable," Better Call Saul season 5 set the stage for Jimmy McGill's last act.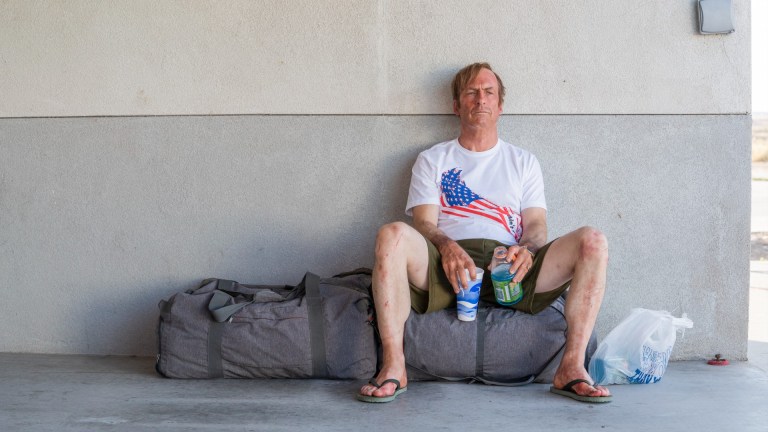 This article contains spoilers for Better Call Saul season 5 but not season 6.
Even though Better Call Saul aired its series finale almost a year ago now, many fans of the show don't watch until it premieres on Netflix rather than AMC. In keeping tradition with the streamer's usual release schedule, the sixth season of creators Vince Gilligan and Peter Gould's Breaking Bad spinoff finally came out this April, approximately one year after the first episode was seen on cable. That means an entirely new audience is ready to experience the climax of this legendary drama, and they may have forgotten the main plot events and themes exhibited during the penultimate fifth season. No reason to fret, friends! We're here to help you take a time machine back to Albuquerque circa 2004. Let's recap the fifth season:
What's Gene Takovic Doing in Nebraska?
One of the biggest storytelling devices used in Better Call Saul is the cold open scene of the premiere episode. We always get a fast-forward to what's happening in the life of Gene Takovic, a.k.a. Jimmy McGill after the events of Breaking Bad have gone down. In season 5's trip to Omaha, Gene is feeling the heat after being recognized by the cab driver from a previous season's opening scene, Jeff (Don Harvey). Baited into admitting he's Saul Goodman, Gene doesn't know what to do to evade the potential threat of the authorities closing in on him.
Gene immediately goes to the payphone in the mall where he works and gives a call to our beloved vacuum cleaner repair guy, Ed (the late Robert Forster). This man was good enough to make Saul disappear once, so surely he can do it again, right? It looks like we're not going to get that answer just yet, as Gene has an epiphany that leads to him hanging the phone up and trudging forward with his own (surely ill-advised) plan for survival.
Who is Our Antihero: Jimmy McGill or Saul Goodman?
Flashing back to present events in the show, Jimmy McGill (Bob Odenkirk) is excited to take on his new role as Saul Goodman, New Mexico's finest attorney for the criminal underworld. Kim Wexler (Rhea Seehorn) doesn't quite know what to think of Jimmy's newfound confidence in his facade, giving him foreboding warnings about where these decisions could lead him in life. This is the first massive step towards seeing the downfall of Jimmy and the rise of the shell of a man we see in Breaking Bad as Walter White's (Bryan Cranston's) lawyer. Jimmy has absolutely no hesitations about where this is headed yet, even giving out coupons to criminals for 50% legal counseling from Saul in the case of an arrest. Surely this can't backfire, right?
The Dark Duel of Lalo Salamanca and Gus Fring
Turning over to the world of meth manufacturing that Gus started to put into motion in the fourth season, Lalo Salamanca (Tony Dalton) seems to know that something is off with Fring's operation. He wants to know what Gus is hiding from the Salamanca's, and he seems to think what was being built underground was something much more than a refrigerator for his chicken.
Nacho Varga (Michael Mando) is caught in the middle of both big bad boogie men, serving as Gus's mole within the Salamanca family, but also having to mask to Lalo his true intentions. This puts Gus in a tough spot throughout the season as he must use the intel Nacho gives him effectively. Any hasty decisions could tip Lalo off to the betrayer hiding within the Salamanca family. Gus is forced to let the authorities uncover his drug dealers' dead drops throughout the city, and eventually Gus and Nacho have to burn down a Los Pollos Hermanos restaurant to appease a request from Lalo. 
Hank and Gomie Back Are on the Scene
Two of our favorite cops ever, Hank Schrader (Dean Norris) and Steve Gomez (Steven Michael Quezada), get to make their first and only cameos in Better Call Saul when they're called in to investigate the drug operation of Gus Fring. Jimmy's scenes with Hank and Gomie are fun and nostalgic, making us remember their witty verbal sparring in Breaking Bad. Hank and Gomie are the aforementioned authorities who bust several of Gus's dead drops, something that helps aid Lalo in his duel with Gus.
Mike Ehrmantraut's Identity Crisis
We certainly haven't forgotten about Mike Ehrmantraut's (Jonathan Banks) story in season 5. Mike is at perhaps his lowest point emotionally and mentally in either Breaking Bad or Better Call Saul after he shoots and kills Werner Ziegler (Rainer Bock) in the fourth season finale. He no longer wants anything to do with Gus's operation, his temper turns him away from his daughter-in-law and granddaughter, and he's seen getting wasted and fighting street thugs on purpose. It's not until Gus nurses Mike back to health in the aftermath of getting shanked by a gang that Mike starts to see the purpose of his life again, however sad that purpose is.
Gus shares a little more about his backstory with Mike so that they can bond over the need for revenge. Gus wants revenge for his lover, Max, and Mike is empathetic due to his backstory with his son's death and police corruption. Just like that the two dead-serious criminals are linked together for the rest of both series. 
Kim and Jimmy: Lawfully or Awfully Wedded Spouses?
The most interesting character on the show is arguably Kim, and her relationship with both her career as an attorney and with Jimmy as her boyfriend evolve in fascinating ways in the fifth season. Kim's job with Mesa Verde Bank and Trust starts to sour when her boss won't lay off of a plan to build new facilities on land owned by a crotchety old retiree. She thinks the only way to maintain her ethics is to help this man keep his home by sabotaging Mesa Verde with the help of Jimmy. Slippin' Jimmy goes into full effect to get the job done, revealing startling information on boss Kevin Wachtell (Rex Linn) in a board meeting without the permission of Kim. This damages the trust the two have developed, and Kim then suggests that the only way she can legally avoid being destroyed by Jimmy's antics is to get married. We all know this is a fitting development in their relationship though, which is one of the best romances on TV. 
Tell Me Again: Lalo Starts to Terrorize
The last three episodes of the season truly belong to the menace that is Lalo Salamanca. With his bail set at seven million dollars, the imprisoned Lalo pays Jimmy to retrieve the large sum of cash from the Salamanca Cousins out in the desert. While all seems to go swimmingly at first, Jimmy finds himself in the middle of a cartel shootout on the way back to the city. The only person there to save our traumatized hero is Mike, who snipers the bad guys and helps aid Jimmy in his quest to get back to Albuquerque. 
Once he arrives back home to Kim, who is completely overwhelmed with worry, Jimmy decides not to disclose to Kim the terror that happened with Mike. This leads to one of the show's best scenes when a fresh out of jail Lalo arrives at the house to interrogate the couple over the previous day's events. Kim stands up to Lalo in a badass display, but we know this isn't the last time Lalo is going to attempt to bully the Goodmans. 
Lalo finally falls into the trap Nacho set for him down in Mexico, leaving in the middle of the night at Lalo's compound to allow Gus's hired men to assassinate the scariest Salamanca. Lalo is somehow able to fend off the entire army of goons, and he immediately knows who is responsible for the attempt on his life. Lalo's season 5 arc ends with an absolutely terrifying shot of him leaving the house ready to plot out his vengeance.
Something Unforgivable
The season closes with Jimmy and Kim hiding in a hotel room away from the clutches of Lalo, prepping to ruin the life and career of one-time nemesis Howard Hamlin (Patrick Fabian) by framing him for "something unforgivable." The frontman for HHM didn't get much screen time in season five, but that is set to change as Jimmy and Kim have the stuffed shirt in their crosshairs ready to exact revenge in the settlement with Sandpiper from the early seasons. 
With all of that behind us, you can now sit down and see how this spectacular spin off ends on Netflix with the sixth season of Better Call Saul!