Features
Better Call Saul Season 5: Madrigal Enters the Story
After playing a major role in Breaking Bad's end game, Madrigal Electromotive and Lydia Rodarte-Quayle are now fully a part of Better Call Saul.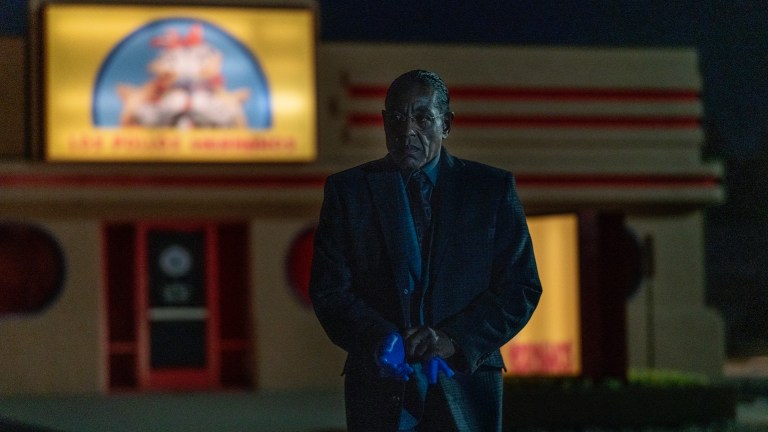 The following contains spoilers for Better Call Saul season 5.
In Better Call Saul season 5 episode 7, "JMM," Gus Fring takes a little trip to Houston, Texas. He's not there to see the rodeo at Reliant Stadium (now NRG Stadium), though he does presumably check that out. He's not even there to share the good news about El Pollo Hermanos' superb sales reports, though he does that too.
No, Gus heads to Houston to meet with two of his Madrigal Electromotive accomplices, Peter Schuler (Norbert Weisser) and Lydia Rodarte-Quayle (Laura Fraser) about setbacks on a project very important to Better Call Saul and the larger Breaking Bad universe altogether. Yes, after being hinted at previously, the enormous German conglomerate Madrigal Electromotive (or Madrigal Elektromotoren GmbH in the original German) is now fully a part of this story. Here is why that's important and what it might mean for the show going forward.
Just as she was in Breaking Bad, Lydia Rodarte Quayle serves as our introduction into the larger world of Madrigal. Lydia first turned up on Better Call Saul in season 3 when she assessed an industrial laundry facility site with Gus that would one day become the linchpin to their Southwestern U.S. meth empire, which is the topic of her, Gus, and Peter's conversation this week.
Lydia serves as Madrigal's Head of Logistics in the Houston-office, giving her great control over crucial aspects of the company's operations. Lydia is an anxious and prim single mom who would be the last person one would think would be a business associate of Gus. Still she ends up being an important ally to Gus and later Walter White, Declan, and Jack in mass-producing methamphetamine. It is unknown when she first decided to use that control to begin dabbling in the meth business but by the time she is introduced in Breaking Bad season 5, she is already well-entrenched in the drug business through Madrigal.
 As a conglomerate, Madrigal operates 14 divisions across many sectors of the global economy. Its the fast food division, however, that proves to be among its most successful…thanks to the work of savvy businessmen like Gus Fring. In addition to providing the world yummy snacks like "spice curls" and Los Pollos Hermanos' delicious fried chicken, the fast food division at Madrigal is also a front for the meth business. One day Madrigal will be the mechanism through which new drug kingpin Walter White will try to take his meth business global. For now, however,  "JMM" is nice enough to gather together the three most important parts of that meth division for the first time onscreen in Better Call Saul or Breaking Bad's history. 
Following his legitimate business update meeting with the heads of Madrigal Fast Food's many partners, Gus holds the really important business meeting in a hotel room with Lydia and division head Peter Schuler. Lydia has always been one of the more high-strung and anxious characters in the Breaking Bad universe but here it's Peter who needs the most reassurance. Peter reveals that he has sunk nearly 5 million Euros into Gus's sprawling meth project and is worried that European regulators will soon catch on to their illicit schemes. He becomes even more despondent at the news that Lalo Salamanca can still harm their business from within prison.
"I know it's not my area of expertise but don't people get killed in prison all the time? Shanked, shivved – that kind of thing?" Lydia asks, foreshadowing her future on Breaking Bad in which she'll give Walter White the names of Mike's men to be killed in prison.
Gus, Lydia, and Peter's conversation is more than an interesting Easter egg acknowledgement of Breaking Bad's future. It's a dramatically heavy example of how the best laid plans of meth and men often go awry. The meeting with Gus, Lydia, and Peter is essentially a meeting of three ghosts, as all three individuals will eventually meet their untimely demise due to their work via Madrigal. Gus will be killed by Walter White via Hector Salamanca's exploding bell. Lydia will also be killed by Walter White via ricin placed in her Stevia packet. Peter Schuler will take his own life via defibrillator when the DEA catches on to Madrigal's scheme.
Madrigal was Breaking Bad's first introduction to a larger world. The scale of the company and its potential to spread Walter White's empire was enormous. But perhaps the real lesson of Madrigal on Breaking Bad and now Better Call Saul is that in this universe, no company or person is too big to fail.