Features
The Best Geek TV Deep Dives on YouTube
We look at some of the finest geeky deep dives ready to stream right now on YouTube.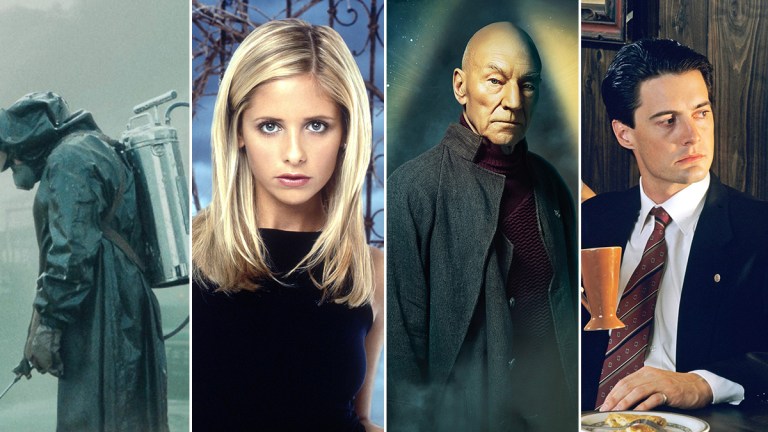 From the heyday of Television Without Pity to niche podcasts that cover every small screen angle you can think of, TV show deep dives have always thrived online, and popular platforms like YouTube and Vimeo provide opportunities for talented creators to add a visual angle that can often make a well-edited analysis of your favorite series even more compelling.
YouTube is positively teeming with potential rabbit holes for TV obsessives to fall down. Sometimes at 3 a.m. Sometimes after a few beers. Sometimes when you should be working (couldn't be us) but whether you're drawn in by a near-obligatory shocked reaction thumbnail or you accidentally stumble across an interesting take on something you're passionate about, there's usually a rabbit hole waiting that feels like it could have been made just for you.
With any luck, falling down one of those rabbit holes ends with you landing far away from the world of destructive opinions, of which there are many, and not just on YouTube. Most of us have probably seen a clip floating around of someone spouting the most harmful, misinformed nonsense at one time or another, and asked ourselves whether giving that person a platform was really the best idea.
Well, this isn't that. Instead, we've pulled together some weighty YouTube-accessible examples of what happens when someone loves a TV series or franchise so much, they can't stop talking about it – even decades later. Most of these deep dives are a labor of love, which is not to say that they always have a happy ending.
The Retrospective
Ian Martin, who runs the YouTube channel Passion of the Nerd, says his journey began rather accidentally in his early 30s when he found himself feeling a little lost in life. He admits he tried a variety of ways to rid himself of the sensation, including "too much alcohol," but after deciding on a career change and fruitlessly looking for ways into the voiceover industry, he decided the best course of action was to go ahead and just …make stuff. After all, this course of action didn't require anyone else to give him a break, and made him the master of his own destiny.
"I sat down and wrote a script about a show I'd become consumed by and edited it into a video called Why You Should Watch Buffy the Vampire Slayer," he wrote. "In that video, I mentioned that Buffy's first season was a little rough and, for people who just wanted to get into the show, I would create a short little episode guide just to get them through the first season."
Six years later, Martin is still at it, and his audience has grown into a supportive community that includes over sixty thousand subscribers, propped up by funding from Patreon. Not only is he still covering Joss Whedon's first series in depth, episode-by-episode, he's now delving into spin-off show Angel and Firefly.
Martin's videos don't pore over every aspect of these shows, and rarely does an instalment hit the 30-minute mark. Rather, they tend to examine the philosophy behind their themes, citing absurdist and existentialist influences. The host himself doesn't push these ideas on his audience, but if you don't end up buying a copy of Jean-Paul Sartre's Nausea by the time you get to the end of Season 3, it may be that you've missed out on a pretty essential element of Buffy's enduring appeal.
"It took me a long time to figure out what Passion of the Nerd was but I started to find its shape through the journey it was taking ME on," he explained. "On any average day it's a chance to make someone laugh over our shared interests. But my favorite experience of art is the one in which we find ourselves. That movie, piece of music, performance, or show that makes us feel like its creator opened up our heart to take a picture of its inner depths. And I love talking about why media MATTERS and finding those moments in popular culture. Sometimes I get to distil those moments for other people and when I do, I hope it does for them what the channel has done for me."
Martin's coverage of the very first episode of Buffy lies below. If you continue watching his series of videos after that, it's unlikely you'll want that time back. They're incredibly thoughtful and, frankly, an absolute joy.
The Deconstruction
Ah, Twin Peaks. The show that changed television forever, and one that has been hard to forget ever since. You've not been able to throw a golden shovel without hitting a Twin Peaks deep dive online in the last three decades, but occasionally one arrives and threatens to pull apart the backbone of its dreamscape for good.
Twin Perfect's Rosseter turned in a Twin Peaks deep dive last October with a running time not for the faint of heart. His deconstruction of David Lynch's endlessly puzzling mystery, supported by myriad quotes from its beloved co-creator, is over four-and-a-half hours long, but its length certainly hasn't put off curious viewers – over a million people have already chosen to hear what Rosseter has to say about the real meaning behind Twin Peaks.
"Garmonbozia, the Black and White Lodges, Mike, Bob and the Little Man, Judy, Audrey and Charlie, Season 3's ending… The mystery of Twin Peaks has survived for nearly 30 years… until now," the video promises, which is a tease that even casual fans of the series can't possibly resist. Their mileage may vary with the host's loud impression of Lynch throughout the video, however, even as he produces what feels like a fairly accurate interpretation of Twin Peaks' initial intentions, its ongoing message in the prequel film Fire Walk with Me, and a gut-punching look at 2017's The Return.
Rosseter starts out by warning his audience that if they haven't consumed all three Twin Peaks seasons and the film, they should consider stepping back until they have, which stands to reason: he's about to spoil most of their various twists and turns. But he then goes on to say that die-hard Twin Peaks junkies should also reconsider watching the video, because after they've heard him out, they might never be able to look at Twin Peaks the same way again.
For many, the temptation to potentially peek behind the red curtain has been too great to ignore, and the comment section is filled with people who sat through the whole thing, having felt truly changed by the experience.
"David Lynch didn't even know what this show was about until he saw this video," someone joked, while another added more solemnly "I just feel regret. I appreciate the show on a whole other level but the haunting magic that it had for me is gone."
One viewer thought that Rosseter's comprehensive offering "may legitimately and unironically be one of the most intelligent and well-constructed videos ever put on YouTube," but others hit the nail on the head when they realised that unwrapping Twin Peaks' clues over the years had only led to one significant discovery: "we were controlling Twin Peaks the entire time."
So, what's at the heart of Rosseter's theory? You may want to find out for yourself, and he certainly makes an incredibly detailed case for it. In this event, a brief explanation in the next paragraph will be a SPOILER.
While it's common knowledge that David Lynch didn't want to reveal who was responsible for killing Twin Peaks' central victim, Laura Palmer, and that he was forced by TV bigwigs to wrap up the storyline and the investigation into her murder during Season 2 in late 1990, Rosseter posits that the reason we were never supposed to uncover the mystery of who ended her life and get closure on her death is because Lynch fundamentally believes that consumable TV violence is rotting our brains, and that's why he created the series in the first place.
Still intrigued? Take a look…
The Discussion
Two-time Shorty Award winner Kristen Maldonado launched her YouTube channel in 2014 as a place where pop culture meets community, and she has the kind of drive, ambition and fast turnaround skills that make other creators look like they're napping on the job, frankly.
While working as a social media manager for MTV, she's used her YouTube platform to support women, diversity, and LGBTQ+ representation, discussing everything from the acknowledgement of Kat's identity on The Bold Type, to the highs and lows of TV's YA-skewed failures, emphasising the importance of why representation matters "on screen, behind the scenes, and critically."
Along the way, she's become a notable queen of deep dives, and not just where TV or movies are concerned – at one point she was even documenting her own musical journey on Spotify, where she was keen to bring attention to emerging artists. Discussing TV still feels like Maldonado's reigning passion, though, and she usually explores her favorite shows in bite-sized segments that add up to a comprehensive look at their subjects.
One show she's been extremely passionate about is the Charmed reboot, which she was beyond excited to see come to fruition on The CW. The fantasy drama series originally ran for eight seasons between 1998 and 2006, and CBS had tried and failed to reboot it before, but this time The CW intended to get the job done, bringing the story of magic and sisterhood back to TV and hoping to entice both fans of the old series and a new, younger audience.
The reboot was initially touted across industry trades as a project that would star three Latinx actresses, and that casting choice meant a lot to Maldonado. When news later emerged that only one of the new Charmed sisters would be played by a Latina actress, she posted a video addressing her feelings of confusion about how the show was originally announced, her disappointment that the roles wouldn't be filled by three Latinx performers, and why series creators need to start using valuable representation opportunities properly.
Maldonado has covered the Charmed reboot comprehensively since it began in 2018, and this year has moved into livestreaming her reviews, switching from shorter videos to longer discussions about the episodes. If you're a fan of Charmed, or any of the other series she covers (and there are quite a few) you might well find her channel to be an insightful addition to your subscription list.
The Takedown
Chances are, a TV show has pissed you off or upset you before. That Game of Thrones ending? Probably. Bobby Ewing stepping out of the shower? Sure. Quantum Leap? We're not over it. Only a few of us take the time to make a video detailing just how upset we are about a show and upload it to YouTube, though.
Mike Stoklasa is likely to be a pretty familiar face to some of the Very Online movie and TV addicts reading these words. He's the founder of production company RedLetterMedia, through which he's been creating content and offering his desert-dry opinion on various facets of pop culture for well over a decade.
On YouTube, Stoklasa is regularly accompanied by cohorts Jay Bauman and Rich Evans as they take a hard look at some of their favorite films from the past, some of the worst straight-to-video movies of all time, and some of the bigger releases, too. He also voices a character called Mr. Plinkett, and when he does, viewers know that they're about to peer screaming into the void, because 'Mr. Plinkett' does not hold back, especially when it comes to Star Wars or Star Trek.
Stoklasa is one of the most vocal Star Trek fans alive, and is known to consistently derail otherwise unconnected discussions with his Trek references, often explaining how Star Trek may have influenced the subject's storytelling, and how it might have been – or should have been – a positive lesson from TV past.
To say that he's not a fan of Star Trek's fairly recent resurgence under the eye of executive producer Alex Kurtzman is probably an understatement. He covered CBS All-Access' Star Trek: Discovery, a series that has, for the most part, chosen to abandon Trek's previous lean towards standalone stories and episodes in favor of season-long arcs, and he seemed interested but trepidatious ahead of Star Trek: Picard's arrival on the streaming service. But after the show had run its course, he uploaded a 94-minute takedown called 'Mr. Plinkett's Star Trek Picard Review'.
The broader world of YouTube takedowns is, objectively, a cesspool – misogyny, racism and homophobia have often run rampant – but Stoklasa has been in the business of keeping more of a constructive balance going for a long time, so when 'Mr Plinkett's' review of Picard appeared online towards the end of May, anyone with even a little backstory on his recent problems with Trek's TV universe suspected that the fresh adventures of the aging ex-Enterprise captain had finally pushed him over the edge …but they weren't quite prepared for the 'Dear John' letter that ultimately arrived.
Whether you enjoyed Picard or not, Stoklasa makes some constructive points in his video review, and his breakup with the current Star Trek TV world is one for the ages.
The Art of More
If it's the visual element of a TV show deep dive you're into, YouTube has plenty to offer.
Art meets skill as Skip Intro takes a fascinating look at the editing behind David E. Kelley's Big Little Lies, Ladyknightthebrave spends the best part of an hour pondering how Fleabag's gimmick of breaking the fourth wall serves the show's characters and story, and balancing 'point of view' vs 'the big picture' becomes the focus of Lost Thoughts' It's a Mad, Mad, Mad, Mad Island.
Here, Thomas Flight explores how HBO's award-guzzling Chernobyl became a masterclass in perspective…
We hope you found something worth your time in this piece, and writing it up wasn't really an excuse to discover more of them, but it also wasn't NOT an excuse to discover more of them. So, if you've found any notable examples to keep us busy, please direct our attention to them in the comments, thank you.