Reviews
Batwoman Episode 16 Review: Through the Looking-Glass
Batwoman build out its world as everyone goes on their own surprising, emotionally intense or deadly adventures in another terrific episode.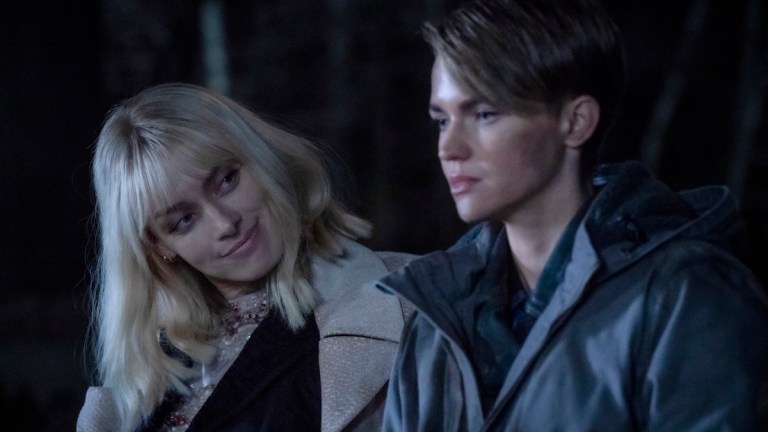 This article contains Batwoman spoilers.
Batwoman Episode 16
You could make a list of the most intense things that happen in this episode of Batwoman and credibly leave out Julia Pennyworth's return and the fact that someone took out a hit on Sophie Moore. That's how many things happen! Here, I'll try: Kate Kane learns that you can't just murder someone as a civilian and then throw on the cowl and go back to the Batman rule. The man convicted of killing Lucius Fox is released pending a new trial, Luke confronts him, and is there when an assassin shoots him to death. Sophie investigates the Lucius Fox case, Mary shows up just about everywhere to help everyone, and the Kane sisters go undercover…ish. 
I didn't know I needed an Alice and Kate team-up, but my god did it feel good. I can't decide which was better: seeing Alice splayed out on the floor dressed in Kate Kane's leather jacket and Sambas or Alice stabbing a brownie with playful menace. This subplot was full of so many small blissful moments that reminded me of when Alice's lackey painted her nails – not essential to the plot and you could easily see other creators nixing them, but so rewarding as a viewer when you catch them.
Alice did manage to twist the knife a couple of times, like when she revealed to Kate that she set her up to hear her story and kill Cartwright. Kate isn't handling it well at all, choking Alice and a low-level bad guy and barely stopping herself both times. She ignores Sophie's call and eventually went for a rebound/distraction hookup with Julia, probably mostly because Julia told her what she wanted to hear. I can't imagine Kate Kane on self-destruct is very safe for Gotham City, but I have a feeling we're going to find out.
Maybe it's because I just didn't see Kate's double-cross coming, but this Alice betrayal hit hard – and I have a feeling it will hit Kate hard when she finally realizes it won't stop her from becoming her sister. Maybe it's because Alice actually kept her promise and didn't kill anybody (for once.) Or perhaps it was the genuine moment when Alice thanks Kate for killing her tormenter and implored her sister not to feel bad for doing it. I'm sure Rachel Skarsten's performance helped. This time, seeing Alice emotionally transform back into a child when she was left behind, it felt like this is going to be the brutal blow that sends her down that much darker path Skarsten told us about.
Mary and Luke make for great screen partners – their banter is quick and fun, they have something of a competitive edge, and they bring a lightness to the show that helps balance Batwoman and keep it from slipping into doom and gloom drudgery. While on the surface they love to spar, they're both brilliant characters with a quirky sense of humor who are deeply invested in Kate's well being and Batwoman's success. But this episode was the first time we've seen them connect on a deeper level, and letting their mutual loss of a parent – and the public scrutiny surrounding it – be the basis of that was an adroit choice by the writers. It allowed Mary to be what Luke needed: someone who would understand what he needed and simply provide it, without making a fuss or him having to be vulnerable and ask for it.
Luke's confrontation with Reggie – from his willingness to listen to him to his immediate instinct to try to save him from the bullet wound – says so much about who he is as a character. We'll almost certainly be walking this journey with Luke for the next little while, but it also seems like Batwoman is pacing it out more slowly, closer to the speed Luke would want it to be revealed. Luke's mom texted him and got a few mentions this episode – so she DOES exist! But we haven't met her yet. Check out our interview with Camrus Johnson for his take on what she might be like and if we'll ever meet her. 
Luke and Kate bumping into each other in the bat cave was the perfect way to bring us crashing back down to the reality that Kate has been without the human embodiment of her moral compass for two critical episodes. She then goes on and lies right to Luke's face, the real meaningful lie we've seen her tell him. These two have spent all season investing in this relationship, one that clearly didn't come easily to Luke. I could see Luke understanding what happened, especially given what he goes through in this episode with Reggie. It's harder to imagine him quickly forgiving Kate for lying about it. 
Taking a step back, it's a positive step in Batwoman's development as a show that there are now enough well developed characters to support fully fledged storylines where Luke, Kate, and Sophie barely see each other for the entirety of an episode. In the early days of the season, many were concerned that one of the show's greatest assets, Rachel Skarsten's Alice, would be its greatest hindrance, if the show couldn't find a way to grow beyond her. As we get more hints around Coryana and Safiyah, characters like Luke, Mary, and Sophia become richer, and we play in the world long enough for the Julia Pennyworth types to weave in and out naturally, it becomes easier to see a path forward for Batwoman where Alice might not be the focus of every episode, or might not be quite so evil after all.
Other notes:
Sophie's back in the fold I guess? We'll have to work on Jake Kane's fascist tendencies later…
"Battle not with monsters, lest you become a monster" "I'm afraid that wasn't in the one book I was allowed to read." Damn. Batwoman and Rachel Skarsten do a great job of not letting us forget that underneath all the nursery rhymes and powder blue outfits, Alice is just a traumatized little girl. 
"You're Kate Kane's ex, right? Well so am I." Keeping track of hits on your ex's new boo is a very specific kind of online stalking and I'm into it. 
Mary, when she finds out Julia is Kate's ex: "I was going to say assistant but that's more fun!"