Features
Apple TV+'s Central Park Finds the Musical Joy in Being Outside
Stanley Tucci, Leslie Odom, Jr., and the rest of the Central Park cast discuss their new animated musical series from Bob's Burgers creator Loren Bouchard.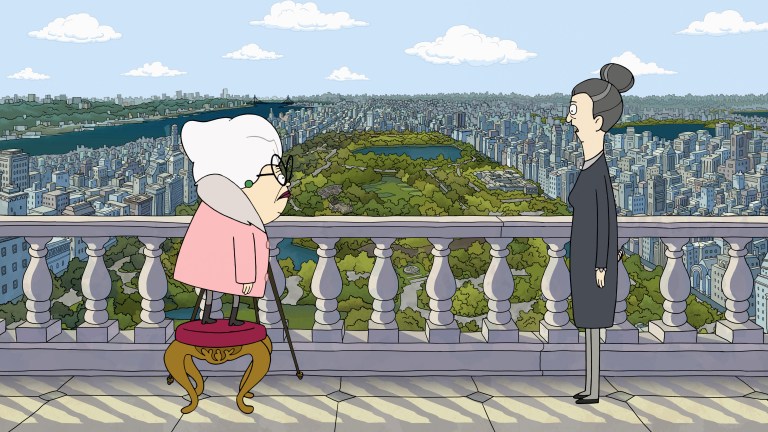 What Loren Bouchard did for the archetypal humble burger joint with Bob's Burgers, in his latest project he's doing for one very iconic space: Central Park, New York's oasis of nature smack in the middle of the island of Manhattan. In Central Park, a new animated musical series premiering on Apple TV+, Bouchard once again blends class commentary with the power of song via the Tillermans, a biracial family of caretakers who must defend the park from greedy eighty-something heiress/entrepreneur Bitsy Brandenham (voiced by Stanley Tucci).
But where Bob's Burgers has the occasional standout musical number, each episode of Central Park contains at least three, in varying styles but all infused with the same irreverence and delight. No surprise, then, that the cast is stacked with Hamilton alums Leslie Odom, Jr. and Daveed Diggs, plus Unbreakable Kimmy Schmidt's Tituss Burgess, and Frozen franchise costars Kristen Bell and Josh Gad (the latter also serving as an executive producer).
Even Tucci, with his limited musical experience, and Kathryn Hahn, a relative newbie to animation and musicals, were inspired to let loose in the recording booth. Speaking over video chat in a remote press junket, the cast discussed the freedom of singing and acting like nobody's watching, plus their favorite songs in the series, and their awe at working with Bouchard.
Fans of the Belchers are clearly the ideal audience for this series, with the Tillermans sharing many of that Bob's Burgers family's most endearing qualities. Where Bob carries on frequent conversation with the foods in his kitchen, Owen (Leslie Odom, Jr.) ups that anthropomorphizing game to every pebble and blade of grass in his park. Ambitious but manic Paige (Kathryn Hahn) applies the spirit of Linda's showbiz dreams to her humble local newspaper beat. Cole (Tituss Burgess) can give Gene a run for his money as the sensitive son who wants to rescue Bitsy's designer dog Champagne. And teenage Molly (Kristen Bell) is just as hopeless with boys as Tina, but instead of erotic friend fiction, she works out her angst through drawing herself as the comic-book superhero Fisti-Puffs (she of the crimefighting hair).
Alas, there is no Louise analog, but there is an honorary Tillerman (so, their very own Teddy) in the form of Birdie (Josh Gad). Local troubadour and fourth-wall-breaking narrator, he frames this series with foreshadowing-as-song, while occasionally tagging along with Owen as he valiantly pushes back against the competing interests fighting over the park.
In real life, Gad himself acted similarly as a Pied Piper, drawing actors to the project based on past collaborations (he and Tucci were both in the live-action Beauty and the Beast) or personal connection (he and Odom live six blocks apart in Los Angeles). Odom even got to occasionally record Birdie and Owen's dialogue with Gad in the booth. "Nothing prepared me for working on this thing like having worked with Josh for so long," he says, "really having an understanding for how his mind works, how his comedy works. I was really excited and ready to jump in with both feet because with Josh it's always joyful, it's always irreverent, but there's also a real kindness that runs through the center of Josh's work."
The combination of Gad's improvisations as a scene partner and Bouchard's dynamic scripts established an energy that the cast eagerly mirrored. Hahn describes collaborating with Bouchard as "working with somebody at the height of his powers in this particular medium."
"The thing I love about Loren is, he hears dialogue melodically," Burgess adds. "Not many people do that. It was so [easy] being a musician to follow him, 'cause I understood his cadences and such."
The medium helped, too: "Animation is just great fun to do for an actor, because it's like you're a kid again," Tucci says. "You're just kind of playing."
"There are no limits in animation," Odom says. "You're not bound by the limits of physics, or the limits of your own physicality; it is as wild, as outrageous, as ridiculous, as silly as you can make it. You don't have to be natural or even honest, you can just be wacky from time to time, which is a lot of fun."
That sense of play comes through in the dozen musical numbers alone that populate the first four episodes: the eponymous opening number, evoking Broadway in energy and animated scope; a groovy '70s ode to roller skating; the hoi polloi food fight channeling the Sharks versus the Jets; the very New York ballad "Garbage Ballet"; Paige's frenetic working-girl anthem of "Mama's Got This."
Burgess praises the lineup of composers that Bouchard assembled, acknowledging that working on Broadway could sometimes be "a mixed bag with composers." However, when it came to Central Park, he says, "Each song, every song I sang, was wonderful, truly."
It helps that these are ballads and ditties you won't hear anywhere else, that encapsulate the Tillermans' relatable nerdiness and specific neuroticisms—alternately charming or chaotic depending on if the stakes are garbage day, a first kiss, or a dognapping.
Speaking of the latter, and Cole's star-crossed-love-at-first-sight with Champagne: "I'm used to playing people whose priorities are out of whack," says Burgess, perhaps best known as Unbreakable Kimmy Schmidt's Titus Andromedon, "and out of order, and are questionable. His adolescent desires—they are everything when you're eleven, you have tunnel vision, and I still sometimes experience that. Me and Cole are thick as thieves; it was kinda easy to drop into him."
Hahn embraced the opportunity to drop into Paige, as both an animated character and one who sings: "I was so excited to do a musical," she says. "I was so excited to do these voices, to just stretch myself in these ways that I had never—just be blown away by these humans and challenge myself to something I'd never done before. I was so excited to leap into it. And," the I Love Dick star laughs, "just to be able to show my family something that I was in."
While the characters were fully formed in the pilot, Hahn found that with subsequent episodes, Bouchard and the rest of the writers would draw qualities from their voice actors. She marvels how they "just saw something in us and brought that into the writing."
Despite these tics and quirks, at heart the Tillermans are a refreshing alternative to the stereotypical dysfunctional TV family. As the animated patriarch, Odom in particular wanted to pay homage to the "beautiful, familial relationships" he glimpsed as a kid in front of the television: "It's nice to sort of pour back into the well; I feel like I took out so much water from that well coming up. I think that this [series] hearkens back to a time that I remember well, about families that we were watching on TV that had their stuff—they had their messiness, Owen and the Tillermans certainly have their messiness, but at the end of the day they love each other; and you never even worry that that's gonna come apart. Love is definitely gonna keep them together; they're bonded together for life."
Across the park and a dozen stories up, the Tillermans' nemeses are their own odd couple, and much more dysfunctional: Tucci as the squat, scheming Bitsy, with loyal maid Helen (Diggs) hovering behind her, poised to perform the most menial tasks to aid Bitsy's goal of park domination.
Having male actors voice female roles is another Bouchard signature move (John Roberts and Dan Mintz voice, respectively, Linda and Tina Belcher), one that he acknowledged at the Television Critics Association 2020 Winter Press Tour: "Animation just makes you want to take this voice and have it come out of this face. It's so delicious that I just can't stop myself," he said. "Daveed playing Helen, we knew it early on it was gonna be so fun to do it. So we couldn't look away once we imagined that. And the same for Stanley Tucci, playing this tiny lady with white hair. It's like Margaret Thatcher glued onto a little dog. It's this strange character that with his voice came together for us. Once you think of that, it is impossible not to get excited about it."
The downside of this unconventional casting, Bouchard acknowledged at TCA, was that "[h]ere I am, yet again taking away two roles from women. It's something that I have on my mind all the time, trying to keep balancing things out." For Central Park, that balance meant hiring women of color in the cast and the writers' room in order to maintain a variety of perspectives in shaping the story.
There was also the issue of Kristen Bell playing Molly, who's biracial, as Bouchard didn't want to budge on either the casting nor the character: "She's gonna honor that character. Kristen needed to be Molly. We couldn't not make her Molly. But then we couldn't make Molly white and we couldn't make Kristen mixed race, so we just had to go forward. So then you arrive there and say, 'Well, we gotta just keep doing as best we can to balance, to turn around and give somebody an opportunity who wasn't getting it.'"
Tucci and Diggs arguably had the trickiest time getting into their respective characters, yet they both found their way in.
"I wouldn't even dream of telling you… if indeed I had based this on someone who that person was," Tucci says. "But I suppose every character is kind of an amalgam of people you meet along the way, and Bitsy is very much that."
Diggs, for his part, tried a bunch of different options for Helen's voice, only to be told that "[m]y voice was totally appropriate for this elderly white woman, so I don't know if that… I don't know what that says about me," he jokes.
Despite Bitsy getting a classic "I want" song about her insights being ignored by rich and powerful men, her motivations are still less than sympathetic: "I think Bitsy's a villain, yeah," Tucci says. "I don't know if Helen's a villain, but she's certainly an aider and abettor."
Diggs chimes in: "Yeah, yeah—a villain's assistant." Specifically, a villain's assistant who's putting in her time just waiting for her employer to croak so she can inherit everything—another fascinating bit of class tension that will hopefully play out over the rest of the season.
The most unexpectedly striking aspect of Central Park, however, is how so many of the characters take the eponymous park for granted. For every ode that Owen can sing to the turtlehead plants or the Bethesda Fountain, there's a jaded New Yorker apathetically littering, or Bitsy mentally superimposing condos atop the Great Lawn. There is no doubt that when the series premieres on May 29, it will land very differently with viewers who have spent the past two months (and counting) cooped up indoors, grateful for any greenery, even animated.
"I hope people find a lot of joy in it," Diggs says. "I find myself, when I watch shows now that are live-action, where there's large gatherings and groups of people, I immediately get nervous for them because of [the] current situation. I have to sort of fight that back; there's something about the cognitive [dissonance] of animation that doesn't do that, for me."
For reasons that Bouchard could never have predicted, but very much in the spirit of the Belchers and Bob's Burgers, Central Park may provide its own form of comfort-TV viewing. "One of the nice things about this show," Diggs continues, "I hope at least when I watch it, is that it can be a reminder of what it's like to be in a public place with a lot of people around you and not be worried about it—and also because it's animated. I don't find myself worried about those people."
Central Park premieres May 29 on Apple TV+.