Features
The Best Bob's Burgers Christmas Episodes
It's the most wonderful time of the year...for burger puns! Here are the most Christmas-y installments of Bob's Burgers.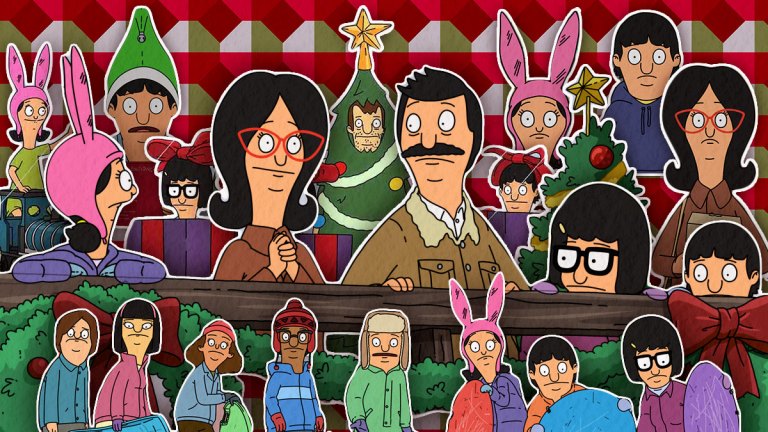 The snow is falling, the cocoa's steaming, and the kids are putting together entire binders of everything they want for Christmas, alongside the threat of tears and violence. That's right, it's Christmastime at Bob's Burgers, and everyone's favorite shore town is decking the halls and docking Uncle Father Santa Teddy's yacht.
From snow-plow sins to gingerbread gunfights to the only song about light bulbs you'll ever need, there are few shows that capture the highs and lows of the holiday season quite as well as Bob's Burgers. In anticipation of season 13's upcoming "The Plight Before Christmas," let's take a look back at the ten festively frosty installments so far, ranked by how well they capture the Yuletide spirit.
10. Season 9 Episode 10: Better Off Sled
An unprecedented snowfall means an unprecedented sledding opportunity for Louise (Kristen Schaal), Gene (Eugene Mirman), Tina (Dan Mintz), and their friends – but Louise's archrival Logan (Kurt Braunohler) has other plans. Soon enough, it's tweens vs. teens in a snowball fight for the ages. Even hapless Teddy (Larry Murphy) gets roped in, breaking the cardinal rule of snow plowing and clearing out an entire park to try and end the feud.
Meanwhile, back at the restaurant, Linda (John Roberts) and Bob (H. Jon Benjamin) find themselves in their own contest of wills, with each one trying to out-knit the other, racing to finish a trio of scarves in time for Christmas. A winter break episode more than a Christmas one, "Better Off Sled" is an excellent appetizer to ease you into the holiday season – and to remind you to watch out for the Knitcracker. That guy's got some problems.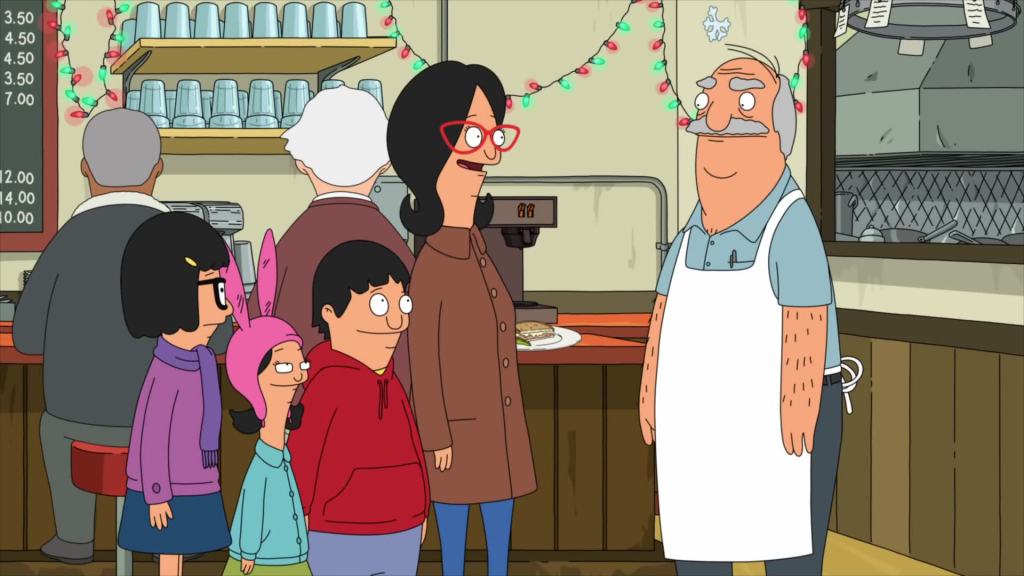 9. Season 5 Episode 6: Father of the Bob
Christmas Eve means visits with the extended family, so the Belchers head on over to Big Bob's Diner to spend time with Bob's father, the titular Big Bob (Bill Hader). While Linda's hoping for some Christmas magic to repair their long-fractured relationship, Bob's content to say hello and bail after fifteen minutes. An inadvertent rehashing of an old argument sends the father and son into a no-holds-barred cook-off, and, eventually – with the help of a Santa in a cowboy hat and a half-assed gift from the kids – a reconciliation in the gay bar next door.
The meat and potatoes (and pickle wheels) of this episode have almost nothing to do with Christmas, other than the mortal sin of Bob making his father feel bad on Christmas Eve. But, then, most Christmas fights don't, so A+ for realism.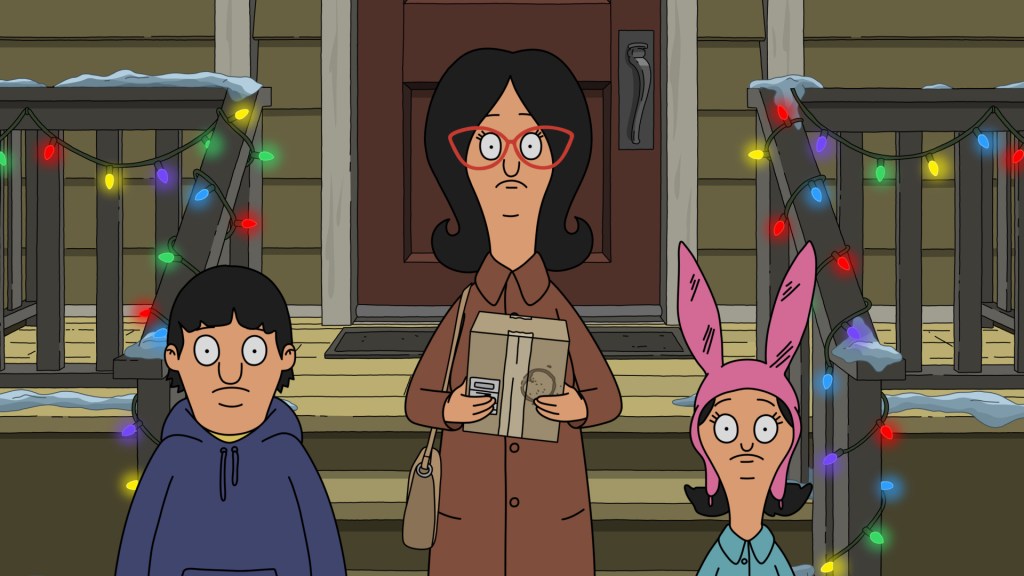 8. Season 10 Episode 10: Have Yourself a Maily Linda Christmas
In order to make some extra cash, Linda takes a seasonal job at the post office, much to the chagrin of mailman Mike (Tim Meadows). But after chocolate candy canes and a truly dream-haunting Santa doll fail to spark much holiday cheer, Linda takes it upon herself to deliver a last-minute package to a boy in a neighboring town – and violating several federal laws in the process.
Back at the apartment, Bob and Tina play reluctant hosts, trying to make nice with Linda's family, even as Gayle (Megan Mullally) lies about literally everything. Eventually, the dreaded "Ottoman incident" is brought up and Bob has to do what Bob does worst: talk to other people. "Have Yourself a Maily Linda Christmas" isn't the funniest or the mushiest holiday episode, but it's nice to see Mike finally get something to do.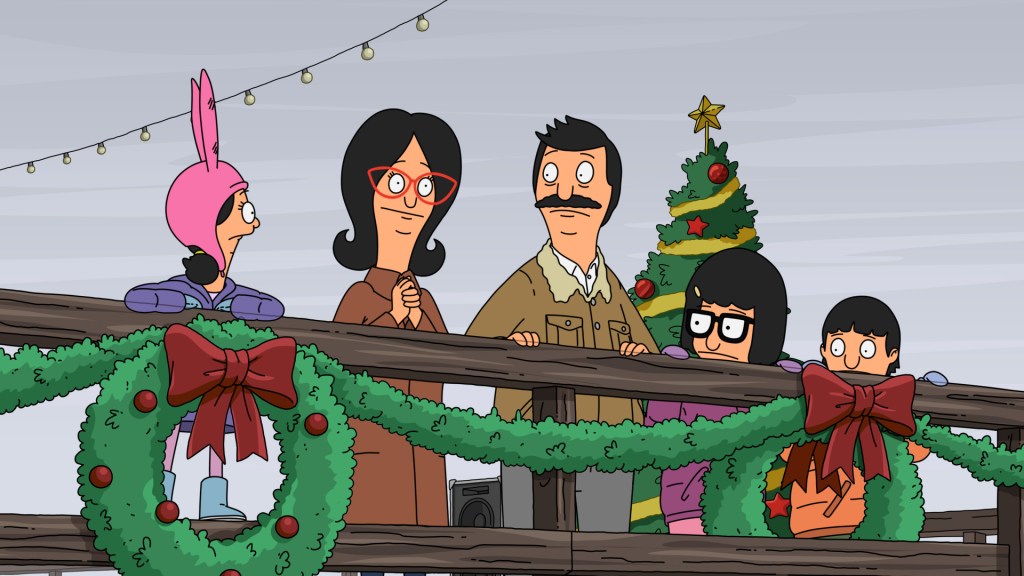 7. Season 11 Episode 10: Yachty or Nice
Bob's catering a holiday party at the local yacht club, only to discover that sleazy man-child Jimmy Pesto is the one who recommended him. Fearing some kind of pants-dropping prank, Bob goes on the offensive, with increasingly ridiculous results. (Bungee cord suspenders, anyone?) Also at the party is Teddy, playing the part of Santa and giving out rich-people presents to all the gathered children. Naturally, the Belcher kids do everything in their power to exploit this relationship and get the best presents for themselves.
We've got Santa, we've got wreaths and trees and presents, a festive Christmas trap and a festive Christmas reconciliation between two enemies. In fact, the only thing keeping "Yachty or Nice" from being higher on this list is one nagging question: who's actually spent Christmas at a yacht party?
6. Season 12 Episode 10: Gene's Christmas Break
After rescuing Percy McTinsel-bud's Tinsel Machine, a psychedelic novelty record, from Bob's closet as a child, Gene now plays it almost non-stop for the entirety of December, acting as Christmas DJ despite his family's wishes. (Well, Linda's OK with it.) But when he accidentally breaks the record, he discovers that the '70s' funk folk album is literally one-of-a-kind and impossible to replace, sending him into a deep depression. The rest of his family scrambles to replace it by singing the songs themselves, with admittedly questionable results.
This episode could definitely be higher, but "Gene's Christmas Break" commits the cardinal sin of sitcomness – claiming an event happens all the time every year, even though it's never been seen or mentioned before. All the more damning given Bob's Burgers deep well of internal consistency and continuity, especially for a cartoon. But, still, it's pretty great. Want some tinsel?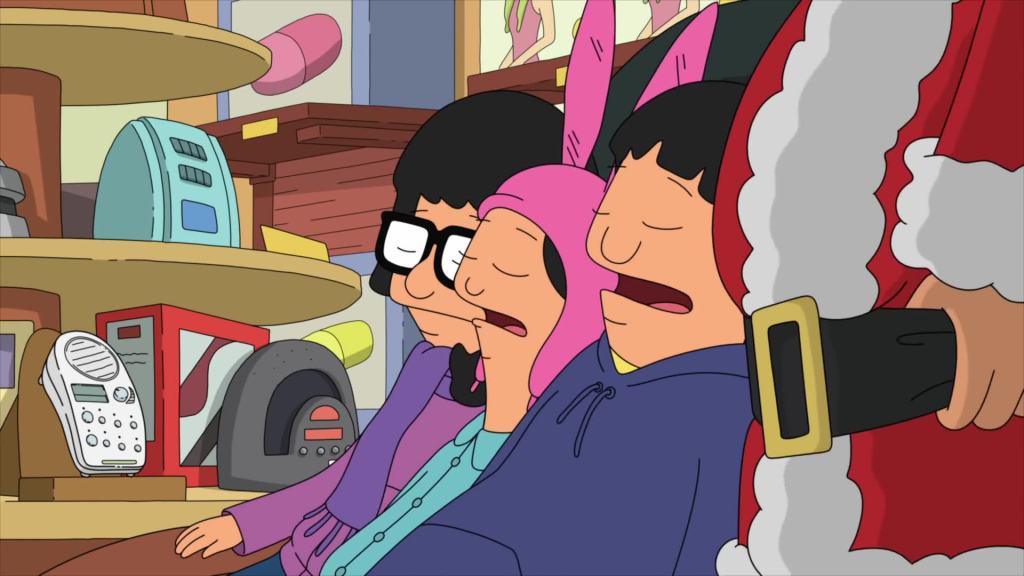 5. Season 6 Episode 5: Nice-Capades
After the Belcher kids accidentally cheese off a mall Santa (Henry Winkler), perpetual problem child Louise embarks on a mission to win him over, so that his report to the big man at the North Pole doesn't ruin her Christmas (presents). With the help of Mr. Fischoeder (Kevin Kline) and Teddy's chicken nugget-clad hockey team, the children embark on the titular Nice-capades, a singing and ice-dancing spectacular at the mall's rinky-dink ice rink.
With one of the more earnest and moving endings out there, "Nice-capades" is sure to melt even the most jaded and frozen of hearts. Just don't get your hopes up about finding a pet shark under the tree, no matter how many crabs you send to college.
4. Season 4 Episode 8: Christmas in the Car
In a fit of Christmas spirit, Linda gets a Christmas tree the day after Halloween, and then again the day after Thanksgiving, only to find herself disconsolate when that second dead, fire hazard of a tree is brought out to the dumpster on Christmas Eve. Even though there's a ham already in the oven, the Belchers head out in search of a tree stand still open and cross paths with a candy cane-shaped truck. A stuck tire leads Linda to angrily honk "Jingle Bells" at the driver, setting the surprisingly tense cat-and-mouse plot into motion. The threat of freezing to death in the car (and before hearing "Jingle in the Jungle" even!) only ups the stakes.
Should Steven Spielberg's Duel work with the imposing big-rig reimagined into a candy cane-shaped truck driven by a scrawny tweaker named Gary (Bobcat Goldthwait)? No, but it does. Bonus points for turning a Dutch Baby into a Christmas dessert.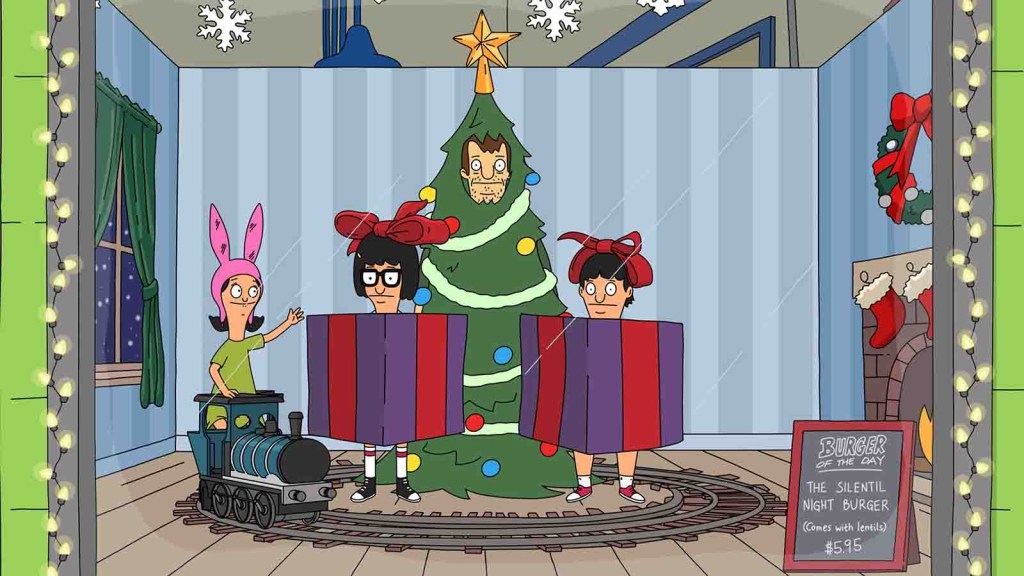 3. Season 3 Episode 9: Bob Rest Ye Merry Gentle-Mannequins
After Bob's uncle dies, he goes to claim the storage unit bequeathed to him in the will, only to discover a disheveled man living inside. Moved by the Christmas spirit (and the exorbitant rental fees), Linda invites Chet (Zach Galifianakis) to live in their basement. Turns out, though, that he's a whiz at storefront window decoration, drawing crowds, customers, and the attention of the local news. But once Chet admits to being in love with a mannequin – and being a mannequin himself, once upon a time – Bob insults his sanity. Naturally, Chet's next window is full of meat, blood, and decapitated reindeer.
With both the restaurant's reputation and a holiday windfall on the line, Bob and the kids set out to find Chet's lost left-handed love, eventually stealing Nadine from a sex shop just in time to save Christmas. Bob's Burgers' first Christmas episode remains one of the weirdest ever made – and one of the best, too.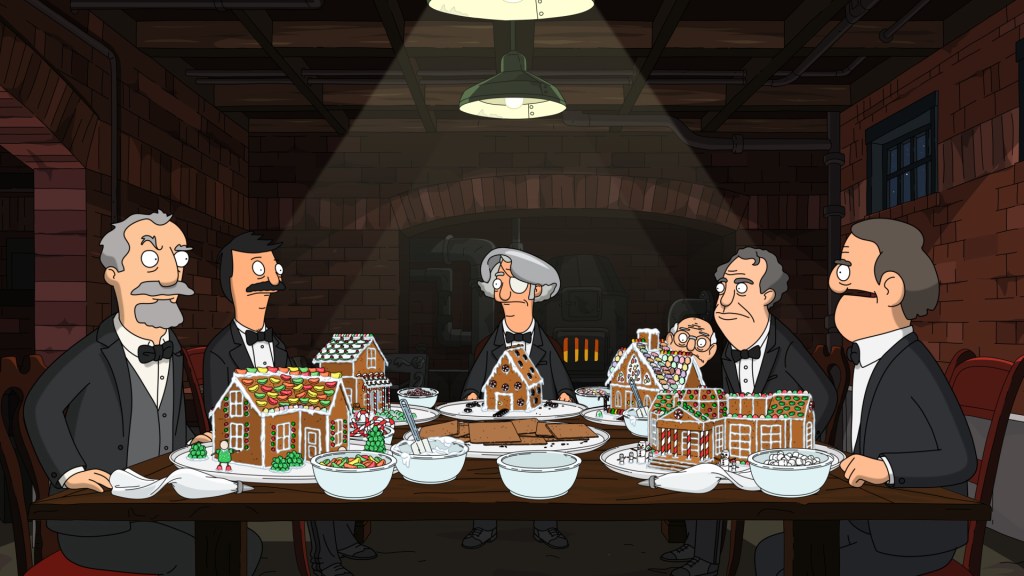 2. Season 7 Episode 7: The Last Gingerbread House on the Left
Mr. Fischoeder needs Bob's help to throw his annual Christmas party, a gingerbread house-building competition for local rich people. Once he's assured this isn't some kind of ritual sacrifice, Bob relents, only to find himself on the receiving end of all of Mr. Fischoeder's ginger-booms and garbage mouth. Tensions rise and, soon enough, Bob's out to win. When the prize – a cuddle session with an albino polar bear – looks to be his, the guns quite literally come out and gingerbread carnage ensues.
Meanwhile, Linda, Teddy, and the kids decide to try their hand at caroling, only to discover that people don't actually enjoy strangers showing up at their door, singing off-key, and then demanding hot chocolate. In fact, only one person shows interest in the carolers – a knife-wielding recluse rumored to be a serial killer. If you're looking for Christmas comfort, "The Last Gingerbread House on the Left" has it all: carols, cookies, cocoa, heartwarming speeches about traditions and togetherness, and adorable polar bear cuddles. Sure there's guns hidden in butt-cracks, but honestly it doesn't get more wholesome than this.
1. Season 8 Episode 6: The Bleakening
"The Bleakening" starts with a dream and ends with the biggest, queerest Christmas-themed underground rave ever animated. If that's not enough for you, well, don't worry: the episode is jam-packed, tackling so much it's no wonder it's one of only a handful of two-parters in Bob's Burgers' history.
The episode gets its title from the Bleaken, a Krampus-like creature stealing presents and prowling the streets, making it the target of the kids' righteous Christmas fury. But presents aren't the only thing going missing; someone stole Linda's favorite ornaments, too. A whodunnit unravels as Bob and Linda seek out the culprit, while Teddy hides inside of an inflatable Santa to catch the thief his own way. Adam Driver lends his voice to Art the Artist, a nude model with less than model intentions. Everything culminates at the aforementioned rave, with Miss XXXmas (Todrick Hall) belting out your new favorite Christmas song, "Twinkly Lights."
Because, oh, that's right, did we mention "The Bleakening" is also a musical?
If you're looking for warmth and heart and holiday cheer, you can't do better than Bob's Burgers. As long as you don't get between Linda and her "Christmas magic," anyway.