Features
An A.P. Bio Season 4 Episode Guide with Showrunner Mike O'Brien
A.P. Bio season 4 features eight inventive, yet wildly different episodes. Showrunner Mike O'Brien breaks them all down here.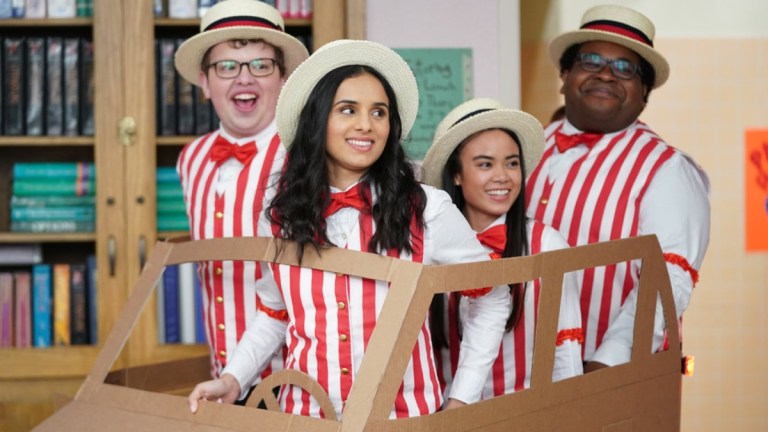 Fittingly for a show about high school, A.P. Bio's writers are often tasked with the least enjoyable aspect of education: homework.
"One of the ways we try to find new areas in stories is just by writing assignments and homework," A.P. Bio showrunner Mike O'Brien tells Den of Geek. "We'll all go home and write. I often call them sketches or scenes – just some little thing."
O'Brien's homework assignments have apparently paid off as they've allowed the comedy to reach four seasons, the first two of which aired on NBC and the following two on streaming service Peacock.
A.P. Bio is set in the fictional Whitlock High School in Toledo, Ohio and follows disgraced Harvard philosophy professor Jack Griffin (Glenn Howerton) as he returns home to teach some eager nerds A.P. Biology. Unfortunately for the nerds, Jack has no intention of teaching them A.P. Biology and instead forces his students to join him on missions to address his many petty slights and grievances. Fortunately for the nerds, some lessons are learned despite Jack's most sincere efforts not to instill any.
With all eight episodes of A.P. Bio season 4 available to stream on Peacock now, we caught up with O'Brien to discuss the journey so far. And since we're thorough, we decided to ask about each of season 4's eight episodes.
Read along with our A.P. Bio season 4 syllabus below.
Season 4 Episode 1 "Tornado!"
"Tornado" begins with a set up that should be familiar to many current and former Midwestern students: a tornado drill. The concept of avoiding the mighty power of a tornado by gathering in a hallway and hoping it doesn't notice you is ripe for comedic possibilities. A.P. Bio, however, decides to take things in a bit of a different direction. This premiere is a vessel for the students of Whitlock High to share slash fiction stories about their teachers with one another.
"One of the writers in the room, Jess Lacher, wrote the cold open of 'Tornado' almost word for word," O'Brien says. "That stayed pretty much as is. We were like, 'Maybe this is a whole episode.'"
Naturally the excursion into one of fandom's most treacherous pastimes required some preliminary investigations.
"We did a decent amount of research (into slash fiction). I tried to get into the origins a little bit of it, which seemed to be maybe Spock and Kirk."
As of press time, there is no available slash fiction about A.P. Bio characters that I'm aware of…yet.
Season 4 Episode 2 "Sweatpants"
The simplest of actions lead to the grandest of consequences on A.P. Bio. In this episode, that action is a dress code policy to curb bullying. The consequence is the formation of a cult, naturally.
"We were trying to use some of the tropes of real cults," O'Brien says. "I feel like I'd just seen Midsommar, and I've been a fan for a long time of The Source Family. There's so many good fiction and nonfiction cult movies and things to talk about, that writers are always talking about and imitating."
What makes A.P. Bio's cult particularly interesting is that it centers on sad sack student Victor (Jacob Houston).
"More than anything, we wanted to put it through Victor's filter. So things he likes and hates are all given Jonestown-level of intensity."
And that's how you get delightfully strange scenes of a whole classroom yelling "Divorce! Divorce!" at things they don't like.
Season 4 Episode 3 "An Oath to Rusty"
Following his break-up with the lovely Lynette (Elizabeth Alderfer), Jack needs some friends. Unfortunately, the only way he knows how to go about getting them is by asking them to play the world's hardest board game
"I found Twilight Imperium by Googling 'hardest games to learn.' It's always in the top five. It's a lot," O'Brien says. "Talk about going down deep rabbit holes. I spent more time learning tutorials on YouTube for that game than anything else."
While Jack's relationship struggles, this episode spends plenty of time with a trio of characters who are thick as thieves. Stef Duncan (Lyric Lewis) and Mary Wagner (Mary Sohn) find themselves frustrated with their friend Michelle Jones's (Jean Villepique) refusal to tell them what case she worked on during jury duty. According to O'Brien, this is another concept that came directly from the writing staff's "homework assignments."
"That was a homework assignment from David Neher, who plays Geology Dave on the show. He just randomly brought in as his homework one time a thing where Stef and Mary are doing police sketches of a fully misunderstood thing from Michelle, who isn't saying anything about her boring trial she was a jury member for."
Season 4 Episode 4 "Tons of Rue"
Though the delightful Joe Manganiello notably pops up later on, cult movie star Bruce Campbell is A.P. Bio season 4's biggest get. The beloved Evil Dead actor portrays Jack's scumbag father who is trying to turn over a new leaf.
"That was so cool," O'Brien says of bringing Campbell aboard. "He's not as well known as Tom Cruise, but his fans are all fever pitch fans. Certain crew members and a handful of the writers were going nuts. I think Glenn was a big fan and really excited."
Unfortunately for Howerton's Jack, his father's instincts to flee when things get too real win out again in the end. Though Campbell's time on the show was brief, he left a big impact behind the scenes, according to O'Brien.
"He's just so nice. I guess you'd hope it's either that, or he's like a weird psychopath that requires tiny orange juices to keep coming to work. But he's gregarious and funny and nice and does a great job with the script. I loved having him around. I was a big Evil Dead fan in college, so it was the best."
Season 4 Episode 5 "The Perfect Date From Hell"
So I'll be frank: we ran out of time to discuss "The Perfect Date From Hell" with Mike O'Brien. And that's a shame as there's quite a bit going on here! From the introduction of Jack's new love interest Shayla (Hayley Marie Norman) to Principal Durbin (Patton Oswalt) going all Undercover Boss, there was certainly plenty to unpack. Oh well, next time we'll get to hear all about Durbs' disturbing prosthetics.
Onto the next one!
Season 4 Episode 6 "Love, for Lack of a Better Term"
This is Victor's second big showcase episode of the season, after serving as a cult leader in "Sweatpants." This time around things are a lot less sinister. This half-hour serves as a parody of '90s teen romance movies (Third Eye Blind soundtrack and all) in which a lovable schlub goes for the popular girl and can't realize his true love was in front of him the whole time.
"It ended up being a big Victor season. He kind of takes over this episode and has a couple of other really great moments," O'Brien says.
Despite Victor's clear status as MVP, O'Brien says it's important for each student character to get their time in the sun.
"I would say I hope that all of (the students) shine at different moments, because they're all so talented. It's on the writing team to make sure we aren't letting any of them slip through the cracks, even for one episode."
Season 4 Episode 7 "Malachi"
It's no secret that comedy titan Paula Pell is a big part of A.P. Bio's success as school secretary Helen Henry Demarcus. Through three seasons, the show has treated her as a Paul Bunyan-esque character, capable of astonishing feats and fit to bursting with a positively insane backstory. While Helen has quite the internal history on A.P. Bio, the show has not yet fully reckoned with her as a sexual being until this season. And this is the episode that delves furthest into Helen's horny heart to amazing success.
"She's in and out of relationships that aren't great all the time," O'Brien says. "We cast Paula's wife who is a very funny comedy writer and performer. That not only was really fun and exciting, because we know Janine (Brito), but in the midst of a very tense February and March COVID shoot it was a little bit of a relief for Paula and Janine to be able to kiss."
The story of Paula and a waitress at a local bar's torrid (and quick) love affair is quite madcap. But according to O'Brien, the show has considered some other off-the-wall possibilities for Helen's love life in the past.
"We pictured she had a girlfriend who works on one of those fishing boats in Alaska, like Deadliest Catch. She's there 363 days a year and then on one day Helen calls their "Purge dating day', they try to have dinner, make out, and go to an amusement park and a concert, all in one day. That was probably a little too wacky."
Season 4 Episode 8 "The Harvard Pen"
"The Harvard Pen" has a high concept befitting a season (or perhaps series?) finale. The episode flashes back all the way to Jack Griffin's first day with the A.P. Bio class, which is somehow only "a few months earlier." Jack gives one golden rule to the assembled students: never touch his Harvard pen. Naturally they do, and the episode follows the pen's months-long journey to eventual oblivion.
Ultimately though, the real standout in this installment is the web series that the A.P. Bio kids have been producing with Heather (Allisyn Snyder) starring. Janet Fist is a '70s style cop drama in which the titular character is a receptionist who has an incredible ability to solve crimes…and to shoot everyone she sees full of lead.
"I used to write a lot of short stories about a '70s renegade cop that I would read when I was in improv in Chicago," O'Brien says. "I thought 'what if that was through the eyes of this kind of quirky high school girl? Maybe she's not even allowed to be a cop in the '70s.' It becomes this kind of feminist statement that Heather wants to make. It was just really fun to write after that."
If a fifth season of A.P. Bio isn't in Peacock's plans, we're gonna need to go all-out on a Janet Fist spinoff fan campaign.
A.P. Bio season 4 is available to stream on Peacock now.