News
A.P. Bio Season 3 Debuts Creative New Posters
A.P. Bio season 3 is making the move from NBC to Peacock. And now we have some exclusive new posters to prove it.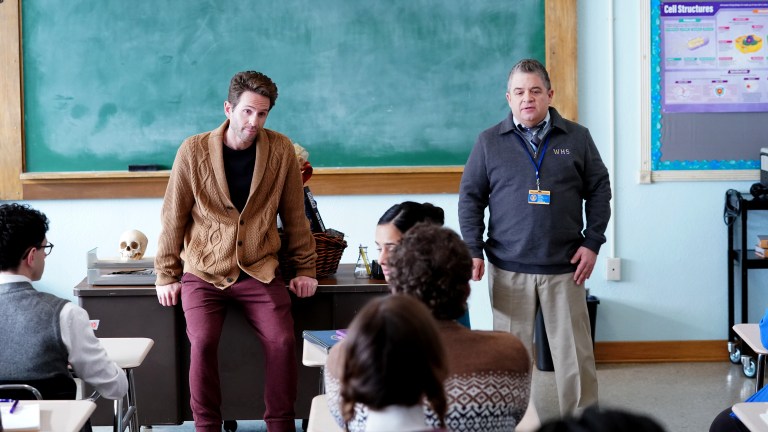 Thanks to the magic of streaming entertainment, A.P. Bio got a second lease on life.
After spending two funny, yet ratings challenged years on NBC, the sitcom was canceled. Then Comcast announced the creation of an all-encompassing NBCUniversal streaming service called Peacock. And that colorful bird was hungry for content, leading to the renewal of A.P. Bio for a third season.
Now A.P. Bio season 3 is set to premiere its eight episodes on Peacock on Sept. 3. And what better way to celebrate A.P. Bio's impending return than to gather together all of its characters' disembodied heads? Don't worry – it's not as gruesome as it sounds. Peacock has exclusively provided Den of Geek with four colorful posters from A.P. Bio's third season featuring the characters as pencil toppers. Let's take a look at them below and get reacquainted with the students and faculty of Whitlock High School in the process.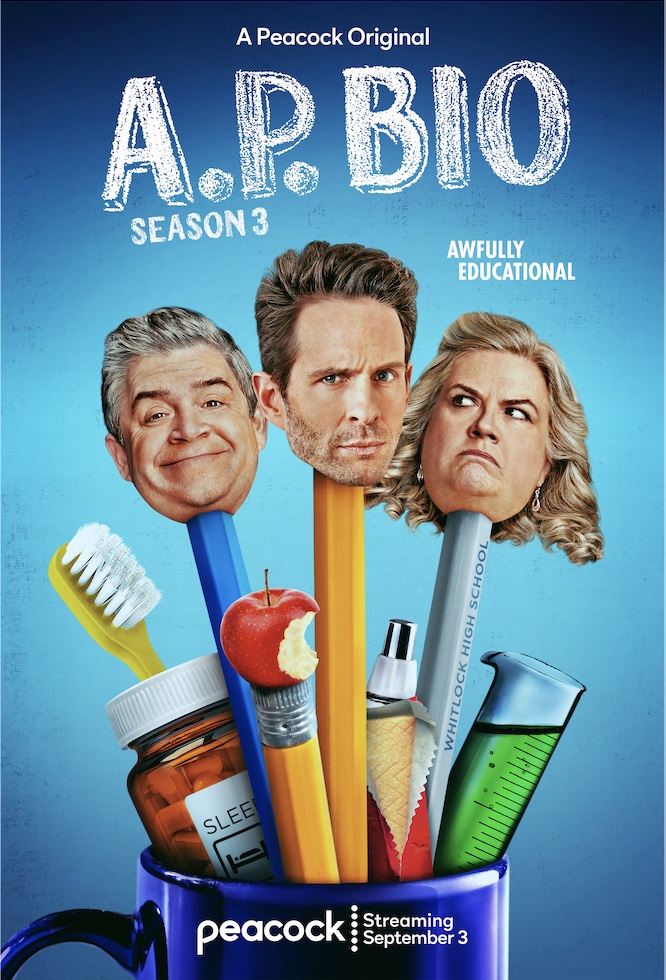 A.P. Bio follows disgraced ex-Harvard philosophy professor Jack Griffin (Glenn Howerton) as he is forced to move back home to Toledo and pick up a job as a high school A.P. Biology teacher. Naturally, Jack knows nothing about biology, A.P. or otherwise, and instead uses his students as a personal army to address his many petty grievances. Patton Oswalt stars as Whitlock Principal Ralph Durbin. Paula Pell is Durbin's assistant and absolute comedy assassin Helen Henry DeMarcus. The A.P. Bio season 2 finale revealed that Helen never finished her high school degree so she will be enrolling in Jack's class come fall. Hilarity will most certainly ensue.
Lyric Lewis, Jean Villepique, and Mary Sohn (seen here atop a very classy pencil color palette of blues and grays) make up the majority of the staff of Whitlock as Stef Duncan, Michelle Jones, and Mary Wagner. What do they teach? Eh, that's not important. They're more about having some fun.
What's a high school comedy without some high school students? Marisa Baram plays Marisa, Nick Peine plays the roundly disrespected Marcus, Spencer Moore II is the out-of-place Dan Decker, and Miguel Chavez is faithful friend Eduardo.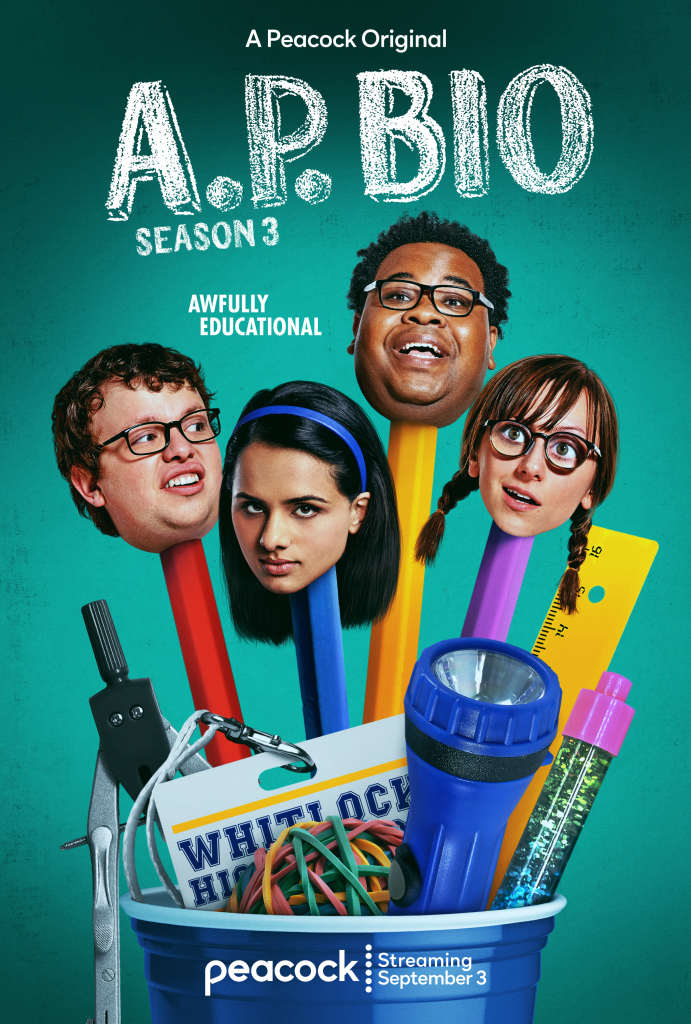 This last poster undoubtedly gets the least respectable pen container. The faculty's heads got to be supported by coffee mugs, while the first batch of students got an unrefined clay mug. These four poor souls get a plastic cup. This round of heads features Jacob Houston as soft boy Victor, Aparna Brielle as the type-A Sarika, Eddie Leavy as the sarcastic Anthony, and Allisyn Snyder as Jack Griffin's secret weapon Heather.
A.P. Bio was created by Mike O'Brien, who writes and executive produces. Seth Meyers, Mike Shoemaker, Andrew Singer and Lorne Michaels also serve as executive producers. The series is produced by Universal Television, a division of Universal Studio Group, Broadway Video and Sethmaker Shoemeyers Productions.