News
Amazon Prime Video New Releases: October 2023
Amazon Prime Video and Freevee have lots in store for subscribers this October.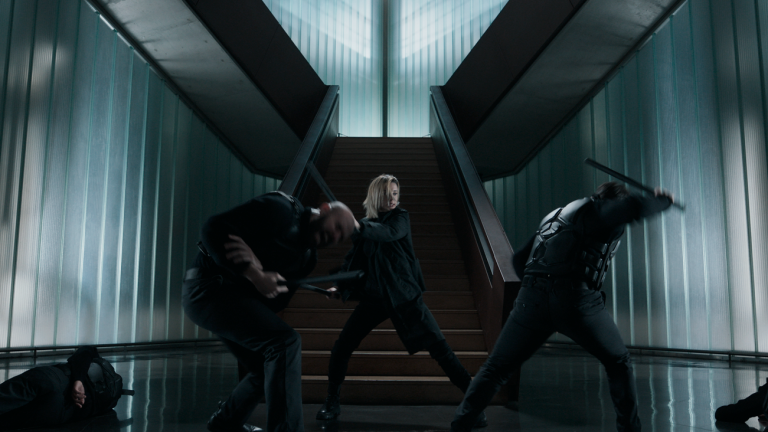 There's a lot to watch on Prime Video in October and, as you may have guessed, there's spooky stuff galore in amongst Prime's usual rotation of extensive library content.
In the movie Totally Killer, Chilling Adventures of Sabrina star Kiernan Shipka travels back in time to the 1980s to stop a serial killer. Then there's Make Me Scream, a Halloween special that challenges celebrities to "a gruesome game of terror." Renfield will also be streaming on the service for anyone who's been dying (muahahaha!) to catch the Nic Cage Dracula film.
Outside of Prime Video's more creepy fare, Shazam! Fury Of The Gods will debut, Upload will be back for a third season, and new film Awareness should scratch your sci-fi itch. Meanwhile, for Frasier heads – those who consider themselves utterly Frasier-pilled – all eleven seasons of the Cheers spinoff show will be streaming at the touch of a button.
Here's everything coming to Amazon Prime Video and Freevee this month. Amazon Originals are accompanied by an asterisk!
New on Amazon Prime Video – October 2023
October 1
Frasier S1-11 (1994)
Hit S3 (2020)
A Fish Called Wanda (1988)
A Guy Thing (2003)
A View To A Kill (1985)
A Star Is Born (1976)
Abduction (2011)
Arsenal (2017)
Beethoven (1992)
Beethoven's Christmas Adventure (2011)
Body of Evidence (1993)
Bolero (1984)
Bowling for Columbine (2002)
Bubba Ho-Tep (2003)
Casino Royale (1967)
Charlotte's Web (2006)
Crawl (2019)
Daybreakers (2010)
Detroit (2017)
Diamonds Are Forever (1971)
Die Another Day (2002)
Dirty Work (1998)
Disturbing Behavior (1998)
Doom (2005)
Dr. No (1963)
Eight Men Out (1988)
Jonah Hex (2010)
Judas and the Black Messiah (2021)
Justice League (2017)
King Richard (2021)
Shazam! (2019)
Steel (1997)
Those Who Wish Me Dead (2021)
Tom & Jerry (2021)
V for Vendetta (2006)
Watchmen (2009)
Wonder Woman (2017)
Wonder Woman 1984 (2020)
Flesh & Blood (1985)
For The Love Of The Game (1999)
For Your Eyes Only (1981)
From Russia With Love (1964)
Godzilla vs. Kong (2021)
Going My Way (1944)
Goldeneye (1995)
Goldfinger (1965)
Green Lantern (2011)
Hall Pass (2011)
High-Rise (2016)
Holiday In Handcuffs (2007)
Holiday Inn (1942
Hotel Rwanda (2005)
It's Complicated (2009)
Jesse Stone: Benefit Of The Doubt (2012)
Jesse Stone: Innocents Lost (2011)
Jesse Stone: Lost In Paradise (2015)
Jesse Stone: No Remorse (2010)
Jesse Stone: Thin Ice (2009)
John Tucker Must Die (2006)
King Solomon's Mines (1985)
Lawless (2012)
Legally Blonde (2001)
License To Kill (1989)
Live And Let Die (1973)
Mac and Me (1988)
Mariah Carey's All I Want For
Christmas Is You (2017)
Mars Attacks! (1996)
Masters Of The Universe (1987)
Mean Creek (2004)
Moby Dick (1959)
Moneyball (2011)
Moonraker (1979)
Much Ado About Nothing (1993)
Mulholland Falls (1996)
My Adventures With Santa (2019)
Nanny McPhee (2006)
Nanny McPhee Returns (2010)
Navy Seals (1990)
Nerve (2016)
Never Say Never Again (1983)
No Sleep 'Til Christmas (2018)
Nowitzki The Perfect Shot (2015)
Nutcracker: The Motion Picture (1986)
Octopussy (1983)
On Her Majesty's Secret Service (1969)
Original Sin (2001)
Rain Man (1988)
Red Corner (1997)
Righteous Kill (2008)
Scary Stories to Tell in the Dark (2019)
Scooby-Doo (2002)
Scooby-Doo 2: Monsters Unleashed (2004)
Sicario (2015)
Spectre (2015)
Spirit: Stallion of Cimarron (2002)
Suicide Squad (2021)
That's Entertainment (1974)
The Apartment (1960)
The Birdcage (1996)
The Intouchables (2011)
The Mistle-Tones (2012)
The Sugarland Express (1974)
The Day After Tomorrow (2004)
The Defiant Ones (1958)
The Firm (1993)
The Golden Compass (2007)
The Greatest Story Ever Told (1965)
The Little Things (2021)
The Living Daylights (1987)
The Love Guru (2008)
The Man with the Golden Gun (1974)
The Party (1968)
The Shop Around the Corner (1940)
The Spy Who Loved Me (1977)
The Untouchables (1987)
The Wedding Singer (1998)
The World is Not Enough (1999)
Thunderball (1965)
Tomorrow Never Dies (1997)
UHF (1989)
Universal Soldier (1992)
You Only Live Twice (1967)
October 3
Billions S5 (2021)
*Make Me Scream (2023)
October 6
*Desperately Seeking Soulmate: Escaping Twin Flames Universe (2023)
*Totally Killer (2023)
October 7
Tale of the Nine Tailed (2020)
October 9
Missing Link (2019)
Teen Titans Go! To the Movies (2018)
October 10
Copshop (2021)
*Mr. Dressup: The Magic of Make-Believe
Renfield (2023)
October 11
*The Greatest Show Never Made (2023)
*Awareness (2023)
October 12
October 13
*Everybody Loves Diamonds (2023)
*The Burial (2023)
October 15
Half + Half S1-S4 (2003)
One On One S1-S5 (2002)
October 16
October 17
October 20
*Upload S3 (2023)
*Sayen: La Ruta Seca (2023)
Surrounded (2023)
October 23
Shazam! Fury Of The Gods (2021)
October 24
*Zainab Johnson: Hijabs Off (2023)
*Hot Potato: The Story of The Wiggles (2023)
October 25
October 26
*Sebastian Fitzek's Therapy (2023)
October 27
*The Girl Who Killed Her Parents – The Confession (2023)
October 31
Book Club: The Next Chapter (2023)
New on Freevee – October 2023
October 1
*Bosch: Legacy S2 (2023)
12 Angry Men (1957)
A Chorus Line (1985)
A Haunted House (2013)
All Dogs Go to Heaven 2 (1996)
Allied (2016)
Black Rock (2012)
Fatal Attraction (1987)
Fiddler on the Roof (1971)
From Beyond (1986)
Gang Related (1997)
Ghost World (2001)
Hair (1979)
Jeepers Creepers 2 (2003)
Lady Chatterley's Lover (1981)
Last Night in Soho (2021)
Legends of Oz: Dorothy's Return (2013)
Mississippi Burning (1988)
Oculus (2013)
One for the Money (2012)
Pitch Perfect (2012)
Pokémon: Detective Pikachu (2019)
Quigley Down Under (1990)
Remo Williams: The Adventure Begins (1985)
Shaft (2019)
Sixteen Candles (1984)
The Alamo (1960)
The Big Lebowski (1998)
The Bounty (1984)
The Change-Up (2011)
The Crocodile Hunter: Collision Course (2002)
The Great Train Robbery (1978)
The Little Girl Who Lives Down the Lane (1976)
The Other Woman (2014)
The Possession of Hannah Grace (2018)
The Proposal (2009)
The Roommate (2011)
The Secret of NIMH (1982)
The Vampire Lovers (1970)
The Watch (2012)
Unfriended: Dark Web (2018)
What's Your Number? (2011)
October 20
October 27
October 29