News
Amazon Prime Video New Releases: May 2022
Here's everything coming to Prime Video in May 2022 including a new series starring J.K. Simmons and season 2 of The Wilds!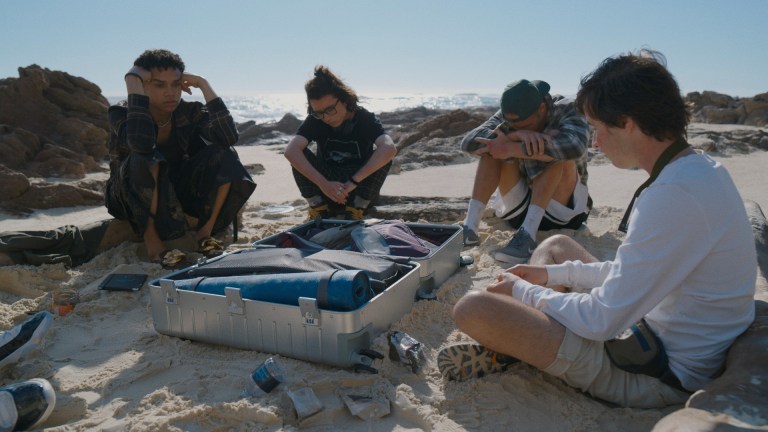 May 2022 represents the calm before the storm for Amazon Prime Video. Early June will see the arrival of the much-hyped third season of The Boys. Before all that, however, Prime has some other streaming goodies to tide you over.
This month is highlighted by a handful of intriguing original series. Season two of Amazon's sleeper hit The Wilds premieres on May 6. This pulpy mystery series about a group of teenage girls marooned on an island is Prime Video's version of Lost or Yellowjackets so give it a watch if that kind of thing sounds up your alley. Also arriving on May 6 is the true crime docuseries The Unsolved Murder of Beverly Lynn Smith.
Canada's finest comedy goobers The Kids in the Hall return in a rebooted version of their sketch series on May 13. The week after that J.K. Simmons will try his hand at sci-fi once again with Night Sky on May 20. There aren't any Amazon Original movies to write home about this month. But May 1 sees the arrival of some fun library titles like Independence Day, Fargo, Shrek, Platoon, and more.
Here is everything else coming to Amazon Prime Video this month. And since the free Prime Video channel IMDb TV just rebranded as Freevee, we'll go ahead and include those offerings too!
New on Amazon Prime Video – May 2022
May 1
Blue Clues S1 (1999)
Independence Day (1996)
Tombstone (1993)
Open Range (2003)
Dodgeball: A True Underdog Story (2004)
The Guardian (2006)
Office Space (1999)
Enemy Of The State (1998)
Taken (2008)
Dude, Where's My Car? (2000)
Hitman (2007)
Red Tails (2012)
Sideways (2021)
Tooth Fairy 2 (2012)
Courage Under Fire (1996)
Pearl Harbor (2001)
Fat Albert (2004)
Lucky Number Slevin (2006)
The Angriest Man In Brooklyn (2014)
Tangerine (2015)
Europa Report (2013)
Blackfish (2013)
Bill & Ted's Excellent Adventure (1989)
Bill & Ted's Bogus Journey (1991)
Fargo (1996)
Valley Girl (1983)
The Rage: Carrie 2 (1999)
Platoon (1986)
The Namesake (2007)
Crank (2006)
Mamma Mia! (2008)
Shrek (2001)
Shrek 2 (2004)
Battleship (2012)
Welcome Home Roscoe Jenkins (2008)
Don't Be A Menace To South Central While Drinking Your Juice In The Hood (1996)
Field Of Dreams (1989)
Road To Perdition (2002)
Eye For An Eye (1996)
Zero Dark Thirty (2013)
A League Of Their Own (1992)
The Ugly Truth (2009)
May 6
The Wilds S2 (2022)
The Unsolved Murder of Beverly Lynn Smith S1 (2022)
May 13
The Kids in the Hall S1 (2022)
May 18
Lovestruck High (2022)
May 19
Bang Bang Baby S1, Part 2 (2022)
May 20
Night Sky (2022)
LOL: Si te ríes, pierdes (2022)
May 27
Emergency (2022)
Kick Like Tayla (2022)
New on Freevee – May 2022
May 1
A Beautiful Mind (2001)
A Few Good Men (1992)
A Perfect Getaway (2009)
Analyze This (1999)
Baby Mama (2008)
Black Swan (2010)
Blue Valentine (2010)
Boonie Bears: The Big Shrink (2018)
Bride Wars (2009)
Call Me by Your Name (2017)
Chappie (2015)
Crazy Heart (2009)
Dazed and Confused (1993)
Deja Vu (2006)
Evan Almighty (2007)
Eve's Bayou (1997)
Funny People (2009)
Galaxy Quest (1999)
Gone Girl (2014)
Gulliver's Travels (2010)
Hanna (2011)
Harold & Kumar Escape from Guantanamo Bay (2008)
Hitman: Agent 47 (2015)
Hulk (2003)
In Bruges (2008)
Kingdom of Heaven (2005)
Legends of Oz: Dorothy's Return (2013) Linsanity (2013)
London Fields (2018)
Now You See Me (2013)
Punch-Drunk Love (2002)
Safe House (2012)
The Adjustment Bureau (2011)
The Book of Life (2014)
The Good Shepherd (2006)
The Hunt (2020)
The Iron Giant (1999)
The Librarian III: The Curse of the Judas Chalice (2008)
The Librarian: Quest for the Spear (2004)
The Librarian: Return to King Solomon's Mines (2006)
The Manchurian Candidate (2004)
The Pursuit of Happyness (2006)
The Waterboy (1998)
The Whole Truth (2016)
Tower Heist (2011)
What's Your Number? (2011)
Year One (2009)
Your Highness (2011)
May 2
Hellboy (2019)
May 6
Bosch: Legacy S2 (2022)
May 8
Sleepless (2017)
May 20
Troppo S1 (2022)
May 23
Dredd (2012)
Bombshell (2019)