News
Night Sky: J.K. Simmons Goes Underground to a New World… Again
Prime Video's upcoming Night Sky marks J.K. Simmons' second sci-fi outing in which a subterranean passage leads elsewhere.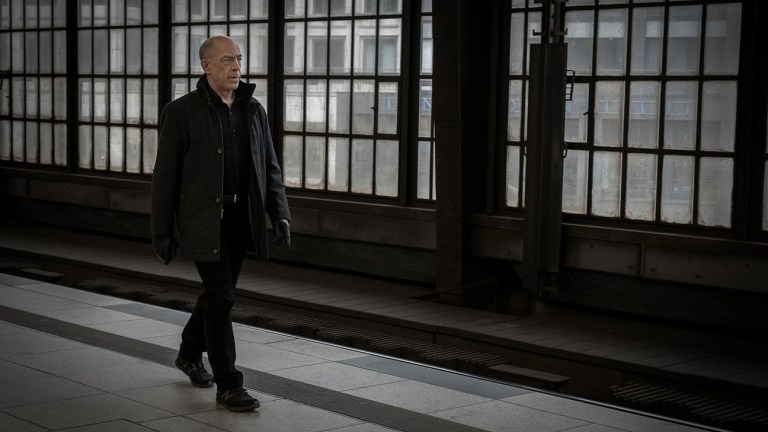 Besides the fact that it unites two Academy Award winning actors, J.K. Simmons and Sissy Spacek, Prime Video's Night Sky also has another strange distinction. The series, which drops its eight-episode first season on May 20, 2022, will be the second time Simmons has appeared in a sci-fi drama in which a doorway to a hidden world lies below ground level. It's an odd niche, to be sure!
The earlier series in question is the short-lived Counterpart, which, despite having only two seasons on Starz, gained a very loyal following, some of whom question the show's absence from our Best Sci Fi TV Shows of the Past 15 Years. In Counterpart, Simmons played two versions of the same man in two parallel universes linked by an underground tunnel in Berlin, a circumstance that arose under mysterious circumstances during the Cold War era in an alternate version of our own history.
Night Sky also has a passage underground, but this one goes off-world entirely. Simmons plays Franklin York who together with his wife Irene, played by Spacek, "discover a chamber buried in their backyard which inexplicably leads to a strange, deserted planet," according to the show's official synopsis. The premise continues: "They've carefully guarded their secret ever since, but when an enigmatic young man (Chai Hansen, The Newsreader) enters their lives, the Yorks' quiet existence is quickly upended… and the mystifying chamber they thought they knew so well turns out to be much more than they could ever have imagined."
Coincidentally, both storylines deal in secrets, and very few people know about the hidden passage in either show. And besides that, Counterpart and Night Sky follow an increasing trend in science fiction where the fantastical elements merely serve as a catalyst for a more character-driven, thematically rich drama. In fact, Prime Video has similar sci-fi-adjacent properties in its lineup already with its anthology series, Tales from the Loop, and its surreal animated offering, Undone.
Simmons is no stranger to genre fare, having gained a following for his role as J. Jonah Jameson in the Tobey Maguire Spider-Man films. He won points for reprising the role during the credits of the Tom Holland MCU outings, Spider-Man: Far From Home and Spider-Man: No Way Home. The question now arises whether sci-fi fans will follow his more subtle genre fare, especially given the weird commonality between Counterpart and Night Sky.
J.K. Simmons' Whiplash Oscar speaks for itself, of course, but viewers of Night Sky are sure to stick around even if their hook is, "Hey, it's that guy from the Farmer's Insurance commercial!" – god forbid! Night Sky is a co-production of Amazon Studios and Legendary Television (Carnival Row, Paper Girls) and is written and co-executive produced by Holden Miller, with Daniel C. Connolly serving as showrunner and executive producer.