Features
All of Us Are Dead Cast: Where Else Can You Watch the Cast of the Zombie K-Drama?
Let's talk about the up-and-coming actors who make up All of Us Are Dead's talented young ensemble.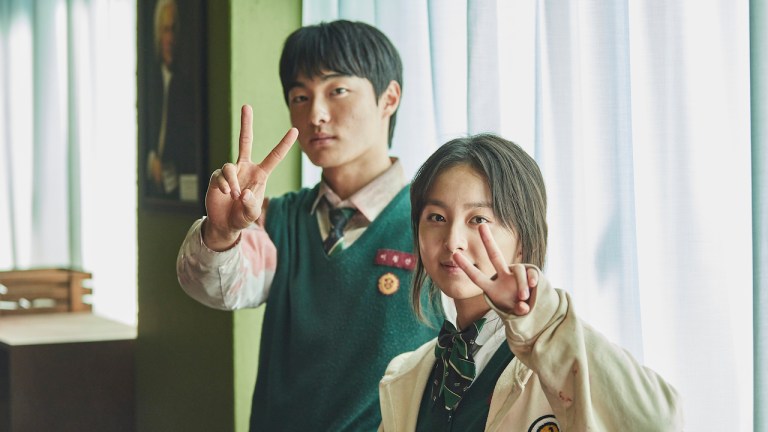 Director Lee Jae-kyoo looked mostly for unknowns when casting the students in All of Us Are Dead, hoping that a lack of familiarity would make the zombie drama feel more real for audiences watching at home. That being said, he grounded the expansive ensemble with some established K-drama actors viewers may recognize from other projects. Here's where you may have seen some of the All of Us Are Dead's young cast members before…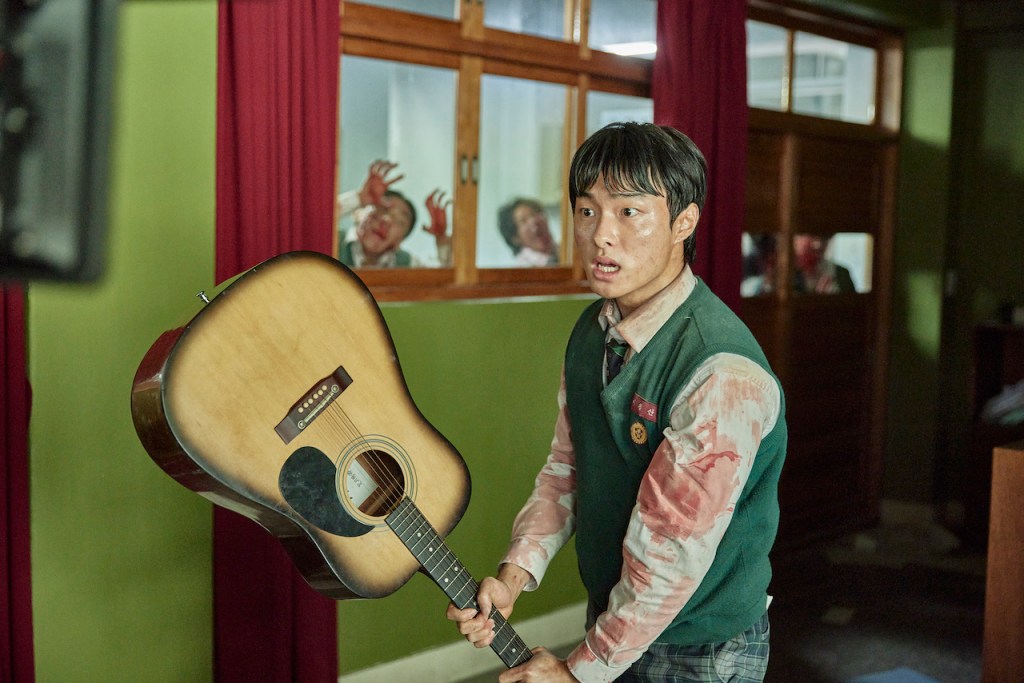 Yoon Chan-young as Lee Cheong-san
One of the many scene-stealers in the All of Us Are Dead cast is Yoon Chan-young, who plays the extremely nimble Lee Cheong-san. Yoon is one of the young members of this cast who is already an established performer, having worked as a child actor since 2013. The now 20-year-old has an extensive filmography that ranges from 2019's coming-of-age drama Everything and Nothing to 2014's Pluto Squad, a show about child detectives. Yoon will star in the upcoming Juvenile Delinquency, a high school noir romance set in a small, countryside town.
Park Ji-hoo as Nam On-jo
The other young cast member grounding All of Us Are Dead is Park Ji-hoo, who plays Cheong-san's longtime neighbor and love interest Nam On-jo. Like Yoon, Park was already an established actress coming into the Netflix drama, having starred and garnered critical acclaim for 2018's House of Hummingbird. Park is set to star in the upcoming Little Women series, in which she will play the youngest daughter in the loose adaptation of Louisa May Alcott's classic novel.
Park Solomon as Lee Su-hyeok
Park Solomon, who plays former bully and current heartthrob Lee Su-hyeok, is another actor who came into All of Us Are Dead with his own fandom, having made an impression in 2017's Sweet Revenge. He also previously starred in C-drama Lookism, a 2019 drama about an "ugly" boy who transfers to a new school only to discover he has the power to transfer his consciousness into the body of a traditionally handsome dude. Obviously, he plays the handsome dude.
Cho Yi-hyun as Choi Nam-ra
Cho Yi-hyun, who plays class president Nam-ra, has been acting since 2017 but only recently got her first main role in 2021's School 2021. The role of Nam-ra will surely be a breakout performance, as she makes quite an impression as the social outcast who manages to find friends in the zombie apocalypse.
Lee Yoo-mi as Na-yeon
Lee Yoo-mi does an amazing job as Na-yeon, the rich girl whose classist attitude complicates her survival. Squid Game fans may recognize Lee from another incredibly memorable K-drama role; the actress played No. 240, aka Ji Yeong, the woman who purposefully loses to Sae-byeok so that the latter can survive in the series' most heartbreaking episode. Judging from these two incredible and very different performances, the 27-year-old actress is a performer to watch moving forward. If you'd like to see her in other dramas, you can check out It's Okay to Be Sensitive, Afternoon in a Small City, and Something Between Us, Comic Book Cafe. She also has a supporting role in time travel drama 365: Repeat the Year.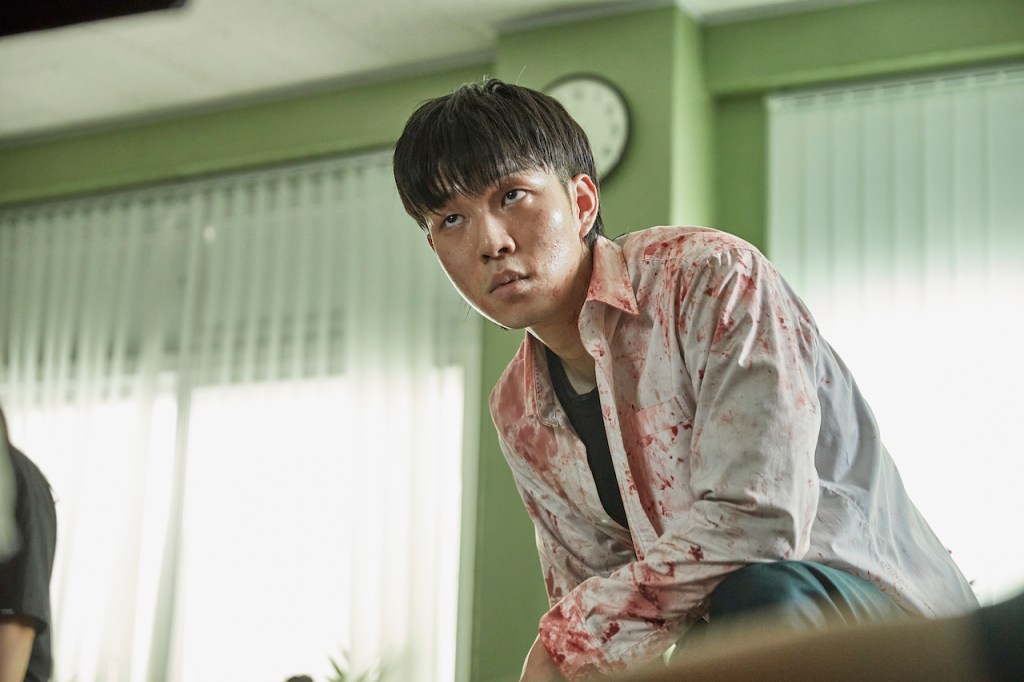 Yoo In-soo as Gwi-nam
Yoo In-soo does an impressive job crafting the why-won't-he-die bully Gwi-nam. All of Us Are Dead is his first main role, though he has appeared in guest spots in dramas like Love Alarm. Last year, he played in a supporting role in coming-of-age drama At A Distance, Spring is Green.
Kim Jin Young as Kim Ji-min
Kim Jin Young plays Kim Ji-min, one of the members of the main student group. Prior to All of Us Are Dead, Kim has only been in a few projects, including a main role in 2019's Family Affair.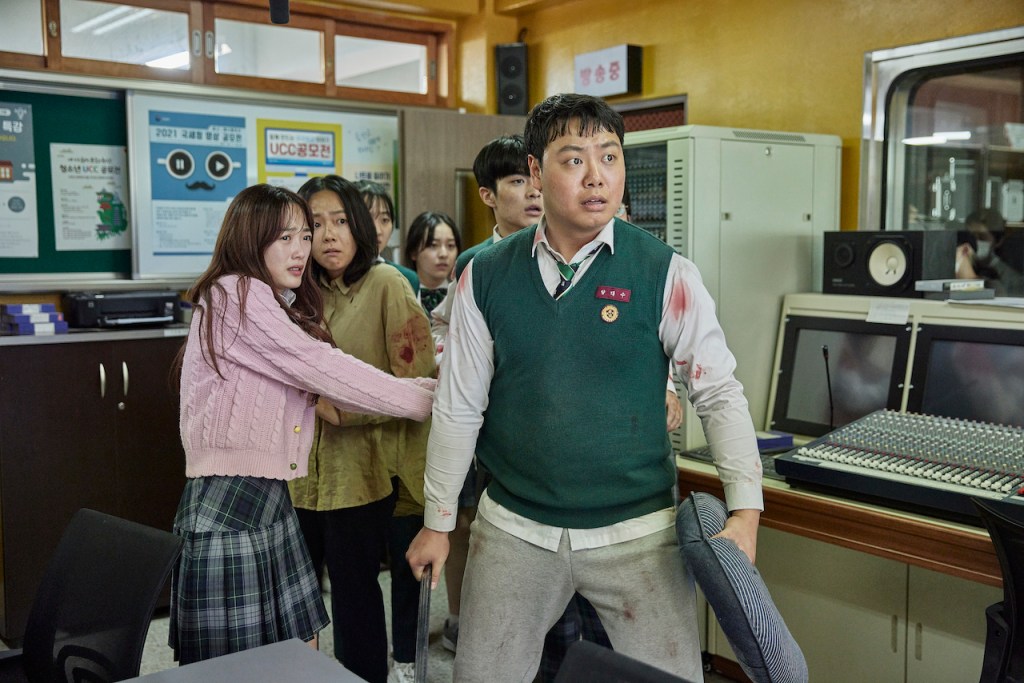 Lim Jae Hyeok as Yang Dae-su
Lim Jae Hyeok often stole the show as Yang Dae-su, the warm and comedic member of the student group who also used his booming voice on several occasions to either cheer the group up or lure zombies into a trap. This is Lim's first real role, though he did appear in an "unknown" role in 2020's Alice.
Kim Bo-yoon as Seo Hyo-rung
Kim Bo-yoon has yet to have a main role in a drama, but she holds her own in All of Us Are Dead as Seo Hyo-rung, one of the core student group. You can check Kim out in a minor role in 2020's Good Casting.
Ha Seung Ri as Jang Ha-ri
Ha Seung Ri plays master archer Jang Ha-ri, whose skill with a bow and arrow helps her and others survive. You may recognize Ha from her minor role in The King: Eternal Monarch (she played palace staff member Jang Yun-ji)
Lee Eun Saem as Park Mi-jin
Lee Eun Saem plays Park Mi-jin, the cynical smoker who uses sarcasm to process the zombie apocalypse. This is Lee's largest role to date, though she has appeared in other notable K-dramas, including as Son Young Hee in 2021's The Red Sleeve.
Oh Hye-soo as Min Eun-ji
Oh Hye-soo plays Min Eun-ji, a student who is bullied and has suicidal intentions prior to the zombie outbreak. This is Oh's first role, which is very impressive.
Kim Joo-ah as Yoon I-sak
Kim Joo-ah plays Yoon I-sak, On-jo's best friend. Kim doesn't have a lot of K-drama credits, though she did star in 2021 feature film Kim Min Young of the Report Card.
Ham Sung-min as Han Gyeong-su
Ham Sung-min stars as Han Gyeong-su, Cheong-san's best friend and the main target of Na-yeon's classist barbs. You may recognize Ham from his supporting role as Hyun Soo's classmate in Sweet Home or from his role as "Bullied Student" in episode 3 of Love Alarm. He has appeared in many projects in guest and supporting roles, including Goblin.
Son Sang-yeon as Jang Woo-jin
Son Sang-yeon, who plays Ha-ri's younger brother Woo-jin, is one of the more recognizable faces in the young All of Us Are Dead cast, having just starred as Bang Yoon Dam in Racket Boys. Notably, he previously appeared alongside All of Us Are Dead co-star Park Ji-hoo in House of Hummingbird.