News
All American Season 4 Episode 2: Release Date, Trailer, Cast and Spin-off News
All American will be back for Season 4. Here's everything we know...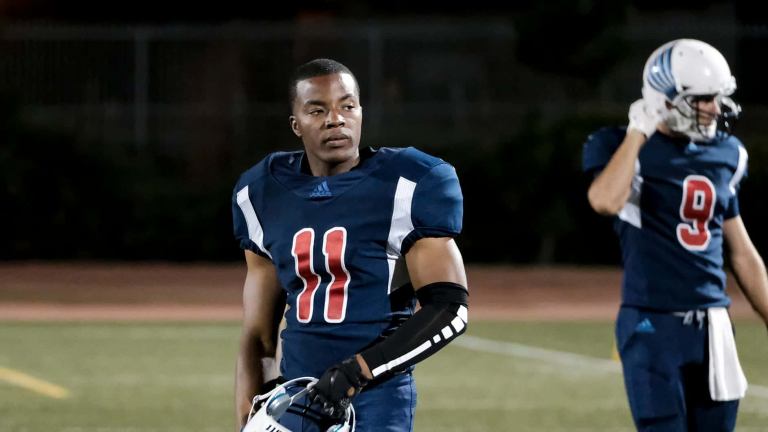 Rest assured, All American fans. The CW football series, which many people catch after its season runs on Netflix, is coming back for a Season 4. In the fourth season, Spencer (Daniel Ezra) is still in his senior year at Crenshaw, and is looking ahead to what his post-graduation life might look like. He's also dealing with the aftermath of Coop's (Bre-Z) shooting.
What's next for the series? All American Season 4 Episode 2, titled "I Ain't Going Out Like That," will air on November 1st at 8pm ET on The CW. Check out the promo below…
And here's the full official synopsis:
The gang celebrates a birthday, but not everyone is happy about it. As Olivia (Samantha Logan) and Spencer's (Daniel Ezra) relationship grows stronger, Olivia struggles with the rift between Billy (Taye Diggs) and Spencer. Jordan's (Michael Evans Behling) buried feelings come to the surface leaving his and Billy's relationship strained. Meanwhile, Asher (Cody Christian) is trying to come to terms with his football career but is hopeful when he goes to see a new doctor.
All American Season 4 Release Date
All American Season 4 premiered on Monday, October 25th at 8pm ET on The CW. Like past seasons of the drama, Season 4 will eventually be available on Netflix, but not until after the season run on broadcast TV. All American Season 4 will drop on Netflix sometime in 2022.
All American Season 4 Trailer
All American Season 4 released a new trailer, following the season premiere. In it, we see everyone struggling with "what's next"—following the violence of the Season 3 finale, and also looking forward to a post-high school life. Check it out…
And here's the season's official synopsis:
"It's been a long journey in just a short period of time for gifted high school football star Spencer James (Daniel Ezra), from his days as the breakout player at South Crenshaw High to becoming state champion with Beverly Hills High. His family life, personal relationships and athletic future all changed and grew in ways he never imagined. But after the rough year that followed that victory, Spencer made the tough decision to return to South Crenshaw High for his senior year with Billy Baker (Taye Diggs) by his side as the new head coach. With South Crenshaw High saved, and the controversial State Championship behind him, Spencer has his eyes set on the All American game and his future with the NFL, which starts with Toledo State. But before our Beverly and South Crenshaw students can set their sights on college, they'll have to navigate the tumultuous last half of senior year, including an epic unexpected prom, two graduations and all the complications that come with the growing pains of leaving high school behind and catapulting into adulthood."
All American Season 4 Cast
All American Season 4 will see the entire cast returning in some capacity, including:
Daniel Ezra as Spencer James
Samantha Logan as Olivia Baker
Michael Evans Behling as Jordan Baker
Taye Diggs as Billy Baker
Bre-Z as Coop
Greta Onieogou as Layla Keating
Geffri Maya as Simone Hicks
Cody Christian as Asher Adams
Hunter Clowdus as JJ Parker
Chelsea Tavares as Patience
Karimah Westbrook as Grace James
Monet Mazur as Laura Baker
All American Spin-Off
If All American isn't enough football drama for you, get ready for All American: Homecoming, the planned spinoff set to premiere midseason. The series will follow Simone (Geffri Maya). In Season 3's backdoor pilot, we also met Damon Sims (Peyton Alex Smith), a baseball player with a promising future who connected with Simone when they met on the campus of Bringston University. The two share a passion for sports, and will come together as activists organizing for change at the HBCU. It's unclear, at this point, what Simone's exit from All American will look like, or how it will impact her relationship with Jordan (Michael Evans Behling).