Features
Alison Hammond Is Exactly The Ingredient Bake Off Needs
With legendary interview techniques and a history of serving up sweet, sweet chaos on TV, we salute the new Great British Bake Off Presenter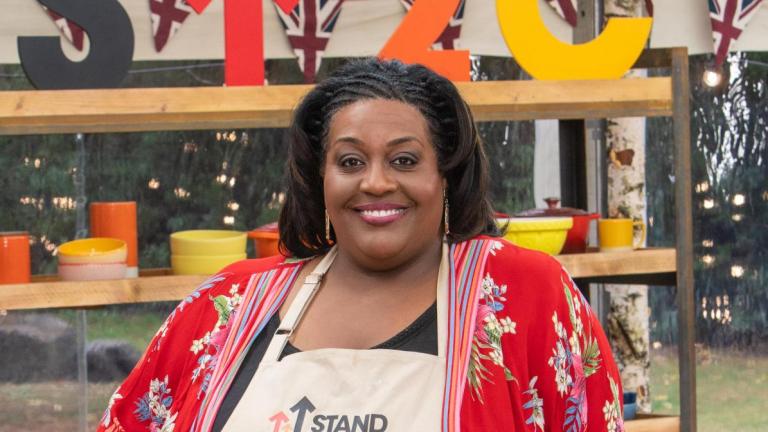 After a somewhat disastrous series of The Great British Bake Off last year, with too-tough tasks and a distinct lack of actual baking, we're going into the new series with our hopes rising like a fresh-out-of-the-oven bread lion.
For one thing, producers have confirmed that they're going back to basics with the tasks to let the bakers shine at what they do best (which, as it turns out, is baking rather than, say, knocking up culturally insensitive tacos – who knew?)
But just as promising is the new presenting line-up: after Matt Lucas chose to leave the show last year, Noel Fielding will now be joined by the wonderful Alison Hammond.
The host of This Morning (and former contestant on Big Brother) has grown a reputation for creating laugh-out-loud viral moments. From her textbook style of bringing the best out of celebrity interviews to her entertaining mishaps, Hammond sprinkles magic over every TV show she appears on. Here are the past moments that suggest she could be the extra ingredient to save Bake Off.
She Gets the Best Out of People – Even Harrison Ford
Hammond has a knack for making a connection with anyone she's paired with on screen. The most famous example of this, which has racked up 17 million views on YouTube, is her Blade Runner 2049 interview with Harrison Ford and Ryan Gosling. Ford is known for sometimes being curt in interviews, something he attributes to "an abhorrence of boring situations", but Hammond is anything but boring.
She breaks the ice by admitting that she's never seen the original Blade Runner, cracks a joke about her "bleak, dystopian" interview technique, and the banter snowballs from there, creating a memorable interview in which they all seem to have a genuinely good time.
There's Never a Dull Moment
Alison Hammond, a floating weather map, and two scantily clad sailors… what could possibly go wrong? Whether you believe this viral TV moment – in which Hammond accidentally knocks one of the sailors into the Thames – was staged or not, it's undeniably funny, and will probably cause the bakers to keep her at arms' length when there's a precariously balanced showstopper around. Doesn't mean we won't secretly be willing Alison Hammond to knock someone's cake over.
She Sees The Funny Side When Things Go Wrong
We know things get pretty tense in the tent at times, from Baked Alaska gate to poor Howard getting his custard nicked and Sura's fly-swatting fiasco, and it can leave a pretty unpleasant taste in an otherwise jolly format.
Judging from her time on Strictly, we can probably rely on Alison Hammond to keep the mood light when there's a baking scandal. When she was in the dreaded dance-off, she suffered a wardrobe malfunction that meant her dance partner Alijaz ended up with a floaty sleeve covering his entire face for part of the dance, which produced Hammond's memorable fit of the giggles.
She Has Form Interacting with Members of the Public
Part of Noel Fielding's charm (and that of his predecessors Mel & Sue) is how easily he bonds with the contestants, creating a rapport that's not only entertaining but also heightens the tension, getting the presenters fully invested in the fates of the contestants.
Hammond has a similarly effortless knack for charming total strangers, including during the infamous "Well HELLO JILL!" moment in which she and Ainsley Harriott surprised an old lady on This Morning, so her baking banter looks promising.
She Knows Her Way Around the Bake Off Tent
Last but not least, Hammond's been in the bakers' shoes herself, appearing in the 2022 Celebrity Bake Off for Stand Up To Cancer. So she knows how tough it is to experience the full Bake Off rollercoaster, from the dizzying highs of Prue Leith saying her brownies "taste divine" to the humbling lows of Paul Hollywood telling her it looks like a five-year-old made her biscuit showstopper.
She also – shock horror – managed to make Hollywood laugh several times with witty comebacks, including when he raised concern that her biscuit showstopper looks a bit "robust" and Hammond responds "Well that's what I want – it's a police station." If she comes to the bakers' rescue with lines like that, she'll make Bake Off a TV treat again in no time.
The new series of The Great British Bake Off begins on Channel 4 on Tuesday 26th September at 8pm.