Features
Agents of SHIELD: A New Direction for the Final Season
Agents of SHIELD season 7 sets up several new story arcs for its ensemble of characters as the team travels through time to save Earth.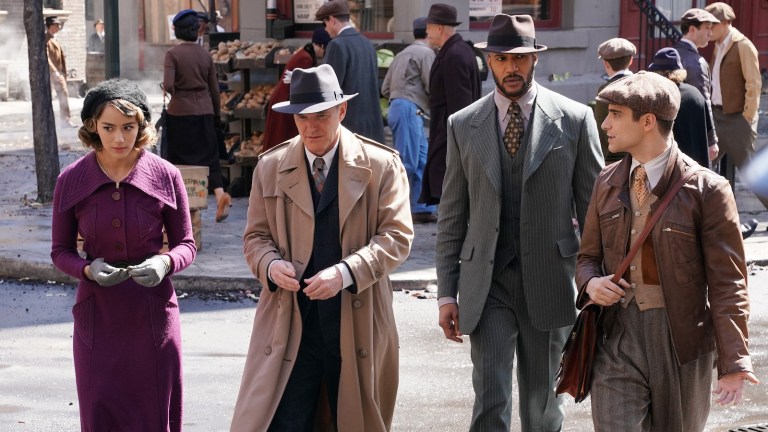 This article contains spoilers for the Agents of SHIELD season 7 premiere.
With most television series stuck in production limbo as a result of the coronavirus pandemic, the return of Agents of SHIELD for its seventh and final season is exciting to say the least. With the team on a journey back in time, fans will get a peek into the pre-Hydra world of 1931, providing a much needed break from real world complications.
We shared our thoughts on the premiere in the following video as well as in our episodic review.
Penned by George Kitson and directed by Kevin Tancharoen, "The New Deal" adroitly places Director Mackenzie's team in an unfamiliar setting and allows sufficient space for each character to find an anchor point in the continued fight with the Chronicoms and their plot to control Earth. Daisy's forced to lose the black leather and purple hair, but it's her blunt revelation of Phil Coulson's new reality and an accompanying apology that sets in motion a new relationship with her mentor.
It doesn't take the team long to adapt to the fact that former director Coulson once again finds himself part of the team. Of course, this time it's in the guise of an LMD courtesy of Daisy's passionate button push at the end of Agents of SHIELD season six. Though Coulson seems comfortable in his new skin after some initial misgivings, his reappearance allows plenty of narrative space for the writers to explore how relationships will change.
Once again, Jemma must soldier on without Fitz, and we have to wonder whether this is one separation too many for SHIELD's power couple. Yes, she's converted Zephyr into a defacto time machine, but it's the unmistakable sadness that hovers over her that drives this darker version of the no-longer naive scientist who finds herself at the center of the storm.
And while Fitz's whereabouts remain unknown, it's the return of Patton Oswalt and the introduction of Prohibition era bootlegger Ernest Hazard Koenig that raises a fundamental question about his place in the extended Koenig family. However, it's the political party for which Ernest supplies illicit alcohol that lays out the underlying irony of Agents of SHIELD's opening narrative arc.
Assuming the Chronicom's plan is to target New York governor Franklin Delano Roosevelt and prevent him from ultimately forming SHIELD, the story takes an unexpected twist when we realize that the actual target also bears a familiar name. Freddy Malick, father of the infamous Gideon, proves to be much more integral to the plot than might be expected from a simple underworld errand boy. Then comes the "aha" moment: kill Freddy Malick and Hydra will unravel, leaving Mack's team with the ultimate Catch-22 – to save SHIELD, they must save its biggest enemy.
The 1931 setting in Agents of SHIELD season 7 offers a wealth of possibilities as the characters navigate this unfamiliar world, and though Yoyo must reluctantly accept Simmons' offer of realistic looking prosthetic arms, it's Deke who has traveled the longest temporal distance and faces even more moral and ethical dilemmas. And while the team adjusts to the changed battlefield, Melinda May leaves viewers with another human puzzle as she clings to the ceiling of Simmons' lab.
We're all making our own adjustments with the return of Agents of SHIELD, and somehow knowing that season 7 will be the show's last makes it that much more of a bittersweet journey. Fortunately, there are still twelve more episodes to go, and we plan on enjoying every last second.