Reviews
Adventure Time: Distant Lands – Together Again Review
Finn and Jake are "Together Again" as Adventure Times: Distant Lands reunites its core duo for a welcome offering that plays it safe.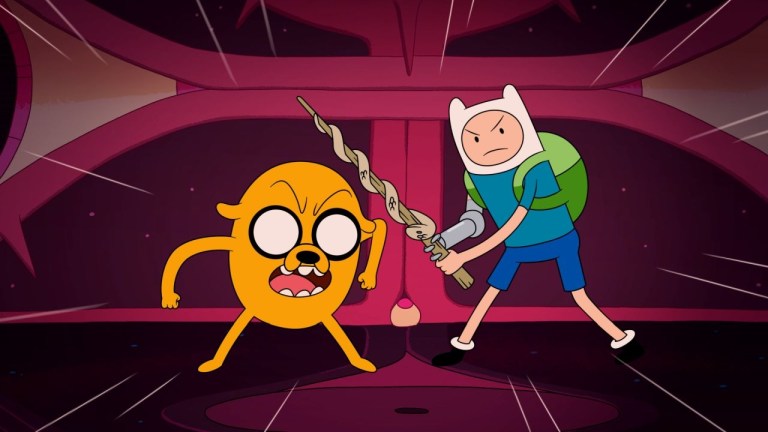 This Adventure Time: Distant Lands review contains no spoilers.
Finn the Human (Jeremy Shada) and Jake the Dog (John DiMaggio) are back together! That is, if Finn can find his trusty stretchy shape-shifting dog pal in territory both familiar and uncharted. Set after the 2018 Adventure Time finale "Come Along with Me," this is the first Distant Lands post-series special to shine the spotlight on our beloved adventurous boy-and-dog duo. It's an answer to what happened after their happily-ever-after survival of the Gum War and defeat of GOLB.
As the third and penultimate part of the Distant Lands miniseries on HBO Max, "Together Again" opens like the good old days in the oddball land of Ooo: the extreme zoom showing off the oddball-populated breath of the world, the serene ukulele-strumming theme song opening, and an immediate dive into the formula of adventurous weirdity that would make newbie viewers go "WTF."
This time, Finn and Jake's escapade involves a loot of magic "50-flavor" ice cream, a mob of waffle cone-horned ice cream creatures (Dee Bradley Baker), the nefarious Ice King (Tom Kenny) stealing princesses to wed, and quips from the always so chill Jake—"This ice cream is so good that your mind has to sprinkle dirt on it so your mind can handle it."
Created by Pendleton Ward, Adventure Time has always been a candy store of adventure, laughs, horrors, dreamworlds, psychedelic realms, and random for the sake of random. Crafted with madcap fun, this cartoon defies normal description with casual dialogue and situations written like a Mad Libs game—after all, the show is fueled by Dungeons & Dragons inspiration. I imagine the storyboarders (Hanna K. Nyström, Anna Syvertsson, Iggy Craig, Maya Petersen, and Serena Wu) like to shout "sike" when boarding gags. And boy, are there several sike-gags.
You already deduced that something will crack the comfy formula in this 45-minute post-finale special. It sure enough happens by the 7-minute mark with the force of raining bricks. A separation occurs between Finn and Jake. Then there's a reunion—and more reunions. That's as much as I can say without uncovering the full picture of the scenario. Though those who have seen the previous Distant Lands and the clues of the duo's future scattered throughout Adventure Time will not be surprised, especially if well-versed in the show's trolling levels of expectations. Through several callbacks and encounters with old friends and foes, Finn must navigate through freewheeling lore to find his lost friend so they can resume their adventures.
For the emotionally charged scenario, one that requires Shada to wail in gutwrenching agony, the drama is not one to wallow in sentimentality for long either. Consider a cathartic reunion—don't worry, it's coming—bathed a warm golden glow. It's a scene where Finn unleashes the waterworks but then the moment cheekily crumbles up and tosses a potential cliche in the bin. It's a brand of tears-of-laughter-and-sadness that Adventure Time is adept at, treating a sad scene as equal parts gag and drama.
There's also one hilarious adversary I could mention without giving away much. Voiced by Chris Fleming with comedic menace, he's basically a reptilian-bod, snake-armed impetuous teenager with a pendant for tantrums and lousy decisions as he trashes an inherited kingdom out of paternal resentment. He's a formidable foe carrying a gravity of tragic and contemptuous pettiness.
The previous 45-minute specials, the average "BMO" and the solid "Obsidian", had lags and felt unadjusted to their extended lengths, but "Together Again" flies by like the usual Adventure Time 11-minute format. It maintains a digestible quest for Finn to navigate the freewheeling mythology of a new environment and situation, inspired by the sporadic nature and symbolism of old folktales and myths. "Together Again" is first and foremost about the Power of Friendship between Finn and Jake. Plenty of Adventure Time episodes exist on various spectrums of fun frivolity or darkness interplaying with silliness, and "Together Again" has the premise of the latter but the tone of the former.
The central brohood here is played safe to the status quo. The relationship does not have the weighty introspection as, say, Marceline's melancholic lullaby in "Everything Stays" or the existentialism she faces when growing old with her beloved Princess Bubblegum in "Obsidian". Finn undergoes an realization—"a donk-ed epiphany"—but it feels more obligatory to the episode rather than developed. When witnessing Finn at a different stage of existence than we've ever seen him, the ending feels like several missed opportunities to flesh Finn's life out beyond his enduring attachment to Jake.
This send-off for Finn and Jake is not as profound as their ending in "Come Along With Me," which allowed tantalizing glimpses into Finn and Jake's future. Those hazy glimpses with withheld answers yield more poignancy than their (mostly) clarified situation in "Together Again." Considering the occasions that Adventure Time trolled around with the convention of linearity, is it wrong to believe that "Together Again" more swimmingly fits into the middle of an Adventure Time season rather than serves as a bonus epilogue after "Come Along With Me"?
But anyhow, it's nice to see Finn and Jake's friendship fistbump. It never gets old. Bring the tissues and rudely blow your nose.