Features
5 School Storylines Abbott Elementary Season 2 Could Feature
Here are some issues facing the American education system that Abbott Elementary can provide an empathetic, humorous take on in season 2.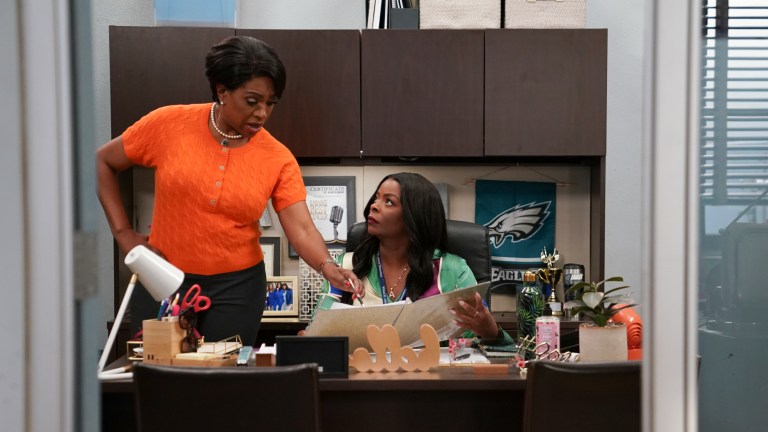 When Abbott Elementary premiered as a midseason addition to ABC's sitcom lineup in the winter of 2022, audiences were immediately caught up in the sentimental, yet thought-provoking comedy's ability to make people care about the American education system. It was a perfect time for creator and star Quinta Brunson to bring this program to family rooms all over the country, as teachers and other school staff members are finally getting some of the appreciation they deserve for tireless, selfless work in the wake of the COVID-19 pandemic.
The first season of the show helped parents and children alike to ponder some of the biggest issues facing classrooms across the country today. Gifted programs, lack of communication between teachers and parents, and administrative intervention in the daily lives of staff and students were all topics touched upon in the first 13 episodes. With the second season ready to start on Wednesday, Sept. 21 at 9 p.m., we thought it'd be a great time to suggest some other educational issues that Abbott Elementary can deftly handle with grace and humor that we've already come to expect from the Emmy-winning hit.
Bullying
Bullying in school has been one of the most pressing issues around the United States for decades. Many of us have a story about another kid making fun of us, shoving us into a locker, or making life a living hell during one of our class periods. I remember getting antagonized in 7th grade physical education by one cruel classmate until my parents helped me broach the topic with my teacher during a conference. I don't know what she said to him, but the bully never so much as made eye contact ever again for the rest of my career in middle school.
Abbott Elementary would surely bring this subject to light with the class and dignity that they've already become accustomed to doing. It's easy to imagine Janine Teagues (Quinta Brunson) trying to get into the mind of the bully while comforting the victim simultaneously. It's crucial to empathize with why certain kids choose to make others miserable in school, while also not condoning their behavior. Children in grade school need to be made accountable from a young age and get the help they need so they don't take out their issues on innocent classmates. There may be trouble at home that is making a child act out in educational settings.
Recess
According to the CDC, only 24% of American school-aged children get at least an hour of movement a day. This is partly having to do with the fact these kids spend almost 35 hours a week in a classroom without anything more than a couple of 15-minute recess periods each day. It's simply inexcusable that so many public schools provide a dearth of time for young children to go outside, enjoy the fresh air, and run around with their friends. Recess provides a mentally, socially, and physically stimulating reprieve from times tables and poetry worksheets.
Abbott Elementary could get at the heart of this issue by talking about some of the main reasons there are so few recesses in school. One of the most frustrating aspects of this problem is that many schools simply don't have enough staff to go out on the playground and make sure the kids are safe while they are playing. Other campuses don't have the funding to buy playground equipment such as monkey bars, slides, basketballs, or netting for soccer. Jacob Hill (Chris Perfetti) seems like the type of teacher who would take it upon himself to create some truly unique playground activities out of the small budget the Philadelphia public school system provides for them.
Strikes and Work Stoppages
Teacher strikes are one of the most hotly-debated topics in America right now, with many of the country's largest educational unions standing up for their teachers and students with work stoppages. Uninformed parents on the outside often misunderstand the issues, with salary being the only thing that sticks in their minds. School districts encourage kids and adults alike to side with them over the educators, focusing on one subject they've given in to and ignoring the other irreplaceable items. Things like classroom size, mental health support for students and staff, and caseloads for special education instructors are some of the other pertinent requests that union members desire in most of these cases.
Abbott Elementary does its best work when all of its hilarious, talented cast members are in the same setting. An episode with all of the characters picketing would set up for some legendary punchlines, while also incorporating the relevant messages about teacher strikes that America needs to be privy to right now. Principle Ava Coleman (Janelle James) would probably hit the streets with her teachers with some sarcastic wit and deft irony (administration are often supportive of teachers when striking, but they aren't really supposed to go out on the line with their educators).
Student Gender Expression
With the Parental Rights in Education bill, aka "Don't Say Gay", being passed by the Ron DeSantis-led state government in Florida earlier in 2022, gender expression and sexuality in the classroom are more critical to talk about than ever before. When politicians interfere with how teachers can discuss LGBTQ+ topics, gender expression is stunted in students from a young age. Kids need to know if they have a crush on a same-sex classmate, this is valid and should not be something they are talked out of. According to the Trevor Project, 45% of queer youth have had suicidal thoughts in the last 12 months. 
Abbott Elementary doesn't need to get into these depressing statistics to make a powerful stand for gender expression in elementary schools. Something as simple as showing a male student dressed in androgynous clothing and the staff standing up for that student would be a wonderful way to fight current stigmas in this area. Having a teacher who identifies as gay, Jacob, also adds another layer to the discussion. He can easily relate to any student feeling like they are on the outside looking in.
Language Comprehension and Linguistics
Abbott Elementary portrays a predominately Black public school, both in staff and student body. This means that there is a perfect opportunity here to right some wrongs in how language and linguistics are dissected in school for a wider audience to see. AAVE (African American Vernacular English) should not be criticized by teachers around the U.S. If there were more racial diversity amongst school staff, it would be a great starting point to destigmatize this language.
The Wire is another program that has effectively used linguistics to make great points about the society we live in and flesh out many of its main characters. Abbott can follow in its footsteps by introducing the topic to a family-friendly audience and letting Black families and white educators all over the nation know that there is nothing to be ashamed of in speaking in your culturally relevant vernacular.
What other issues do you think Abbott Elementary should tackle this upcoming season? Let us know in the comments section below!