News
Abbott Elementary Season 2 Release Date, Cast, Episodes, and News
ABC's surprise comedy hit Abbott Elementary is returning for a second season. Here's what you need to know.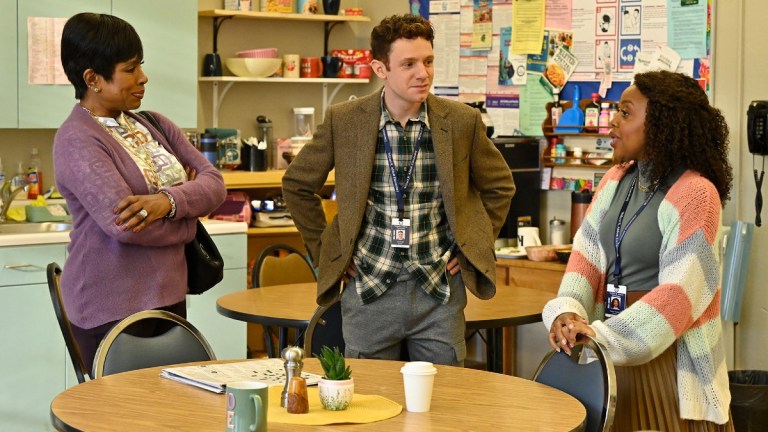 ABC's mockumentary sitcom Abbott Elementary has quickly become a favorite for both casual viewers and critics alike. According to Deadline, Abbott Elementary's second episode saw the network's highest comedy ratings among 18 to 49 year olds since the Modern Family series finale in 2020. The series was nominated for seven Emmy awards in 2022, including three for Quinta Brunson who serves as creator/writer, lead actor, and executive producer for the series.
Set in the titular Philadelphia elementary school, the series follows a group of teachers as they try their best to help their students succeed despite the school's lack of funding and resources and the documentary film crew their chaotic new principal, Ava (Janelle James), insisted on hiring. Abbott Elementary brings awareness to an important issue, the lack of support and funding teachers deal with on a daily basis, and addresses the absurdity of the situation through comedy. Season 1 brilliantly set up the fictional yet realistic world of Abbott Elementary School with its compelling, funny, and relatable characters, so it's no surprise that season 2 was ordered by ABC in March.
Here's what we know about Abbott Elementary season 2 so far:
Abbott Elementary Season 2 Release Date
Abbott Elementary season 2 is set to premiere on Wednesday Sept. 21, 2022 at 9 p.m. ET. The series will be joining ABC's comedy lineup with familiar series such as The Conners and The Goldbergs.
Abbottt Elementary Season 2 Episodes
During the series panel at San Diego Comic-Con, it was revealed that Abbott Elementary would be receiving a full-season order of 22 episodes for its sophomore season instead of 13. This gives the series room to have even more fun with its characters and give us sitcom staples like holiday specific episodes and bottle episodes.
Quinta Brunson even mentioned that she wanted to use this extended season to bring "good old-fashioned" sitcom vibes to the show with a "Friends-type" and "Fresh Prince of Bel-Air-type" of fun energy. While self-contained episodes don't necessarily move the plot of the season forward significantly, they give us a look into the lives of these characters that we might not see otherwise. Season 1 did a great job building the world for this series, and now we have the opportunity to delve deeper into how the characters live in it.
Abbott Elementary Season 2 Cast
The core cast of Abbot Elementary will mostly be the same as it was last season, with the exception of William Stanford Davis, who plays the school's janitor and pseudo life coach Mr. Johnson, being upgraded to series regular for season 2. Here's who else is returning to Abbott this season:
Janine Teagues (Quinta Brunson) – Eager, compassionate, young second-grade teacher at Abbott who grew up in Philly.
Gregory Eddie (Tyler James Williams) – Substitute-turned-permanent first-grade teacher who aspires to be a Principal
Ava Coleman (Janelle James) – Principal of Abbott because she blackmailed the Superintendent. She's chaotic and kind of selfish, but has a hidden soft side.
Melissa Schemmenti (Lisa Ann Walter) – A second-grade teacher who has "connections" all over the city for supplies and resources.
Jacob Hill (Chris Perfetti) – A history teacher who tries a little too hard to get his students to like him, but has a big heart and constantly supports Janine's initiatives for the school.
Barbara Howard (Sheryl Lee Ralph) – Veteran kindergarten teacher at Abbott who refuses to take nonsense from her students, or fellow teachers. Becomes a mentor to Janine and they learn a lot from each other.
While Brunson has kept the guest stars and cameos of season 2 under wraps so far, she has hinted at a big surprise cameo in the first episode of the season that they had to change their filming schedule to accommodate. Even though we have no idea yet who this could be, it's a pretty safe bet that they'll be a welcome addition to this world.
Bookmark this page for updates on Abbott Elementary season 2 as the premiere grows closer.