Reviews
Your Place or Mine Review: Reese Witherspoon and Ashton Kutcher Lack Romantic Chemistry
Reese Witherspoon and Ashton Kutcher lack heat in an otherwise sweet house-swap rom-com.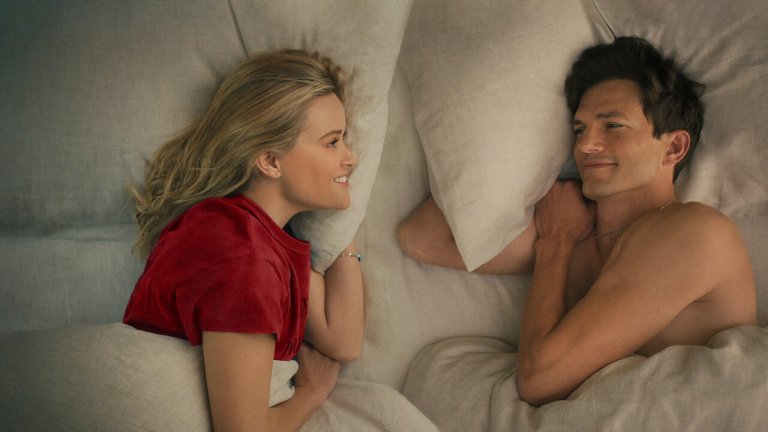 Early on in Aline Brosh McKenna's romantic comedy Your Place or Mine, rebranding consultant Peter (Ashton Kutcher) hits the nail on the head about this particular genre of movie: His work is "to teach you to tell a story to other people about you that is better than the story that you tell yourself. Because the stories that we tell ourselves are very limiting." Rom-coms contain all manner of characters stuck in narratives of their own making: A man who can't be friends with women (When Harry Met Sally), "always a bridesmaid, never a bride" (27 Dresses), and so forth. But the problem with setting up a movie that initially posits that two former lovers would make better long-distance best friends is… if the leads are never in the same room, it's difficult to really sell their love.
Debbie (Reese Witherspoon) and Kutcher's Peter would stun Harry, because they've managed to become best friends for the past 20 years—to the point where their initial one-night stand is a distant laughable memory. (Or is it…) So when Debbie gets the opportunity to spend a week in New York City for a very sensible career program, but her childcare for 13-year-old son Jack (Wesley Kimmel) falls through, Peter selflessly offers to come cross-country and play surrogate dad for a week. Despite the generosity, it's somewhat hollow; he's between consulting projects and makes boatloads of money, so it's actually no real strain—aside from him smarting over yet another breakup at the six-month mark, from yet another smart young Millennial woman who can tell this charming Gen-Xer is wasting her time.
What follows is a tech-centric riff on the 2006 Christmas classic, The Holiday, in which these two seeming opposites get to play at what might be missing in their lives: sleek Brooklyn cool for Debbie, who stumbles into the chance to tap into her real dreams of becoming a book editor by way of a hunky publisher (Jesse Williams); and for Peter it's cozy Los Angeles and a sense of home, the one thing he can't buy. Along with these parallel paths of self-discovery is supposedly a story about two cautious people realizing they've been in love for decades. But the romantic spark never quite strikes despite them having excellent chemistry as best friends who tell each other everything, only to realize they've been keeping plenty from each other.
This is McKenna's directorial feature debut, although you already know her work as the brilliant screenwriter behind some of your favorite movies, including 27 Dresses and The Devil Wears Prada. She also co-created Crazy Ex-Girlfriend with Rachel Bloom, who pops in for one of the movie's many delightful cameos. Watching McKenna get to fully bring her own script to life is wonderful, especially as Your Place or Mine utilizes zippy split-screens and perspective shifts to keen effect. But despite considerable emotional setup, there are no real stakes or conflicts. And in spite of some convivial dynamics at play among various pairs who are not Debbie and Peter, the love story feels as much a foregone conclusion as a poker game where you already know who's taking home the pot.
It's a head-scratcher, because this duo's dynamic is so authentically lived-in, particularly after audiences have been watching Witherspoon and Kutcher in their respective rom-coms since the early 2000s (McKenna even has confirmed this was by design). But unlike Ticket to Paradise reteaming Julia Roberts and George Clooney as prickly divorcées, or The Lost City really leaning into the polar opposites banter (but with the crucial shared foundation of romance novels!) for Sandra Bullock and Channing Tatum, Kutcher and Witherspoon's characters are almost too similar.
The supporting cast is stellar, from Steve Zahn as Debbie's eccentric gardener Zen to recent TV breakouts Griffin Matthews (The Flight Attendant) and Britney Young (GLOW) showing up on the East Coast. The easy way that the leads get along with each other's close friends and lovers—Peter and Alicia (Tig Notaro) sharing coffees at school pickup, his ex Minka (a standout Zoë Chao) taking Debbie out for fancy cocktails—shores up why they should be building a life together instead of on opposite coasts.
Yet while these cameos enliven the movie, they're also a bit baffling for how many small roles there are. Shiri Appleby especially is egregiously underused as an old flame of Peter's, her brief appearance making one wonder whether the rest of her scene ended up on the cutting room floor. There are several instances of characters talking about something where it might have been more fun (though likely also more expensive?) to actually show the moment in question, like Peter flashing back to Debbie telling him she was pregnant.
Your Place or Mine could have benefited from showing a lot more of the intervening 20 years, in large part because it would have put Debbie and Peter in the actual same room. And yes, the movie cleverly makes the point that between text threads and FaceTime, it is very much possible to keep updated on the minutiae of each other's lives and nurture that emotional intimacy despite physical distance. But that means that when you are in the room together, you have to make the proximity really count.
What's more, it just would have been really fun to get more scenes like the opening make out session, annotated Pop-Up Video-style with reminders of our most unfortunate fashion choices in 2003. McKenna is so savvy working within a plot constraint, whether the high-stakes fashion world in Devil Wears Prada or all of the wedding trappings in 27 Dresses (debating the lyrics of "Benny and the Jets"? brilliant!), that she could have leaned in more to her own premise. Imagine a rom-com charting how a friendship stays alive before and after social media, or having Debbie and Peter acknowledge how they're embodying the two women at the heart of The Holiday. (Peter is obviously Cameron Diaz, which makes Debbie Kate Winslet.)
Instead they tell themselves that they make such good friends that, unfortunately, they've basically got us convinced. Still, if you want to live vicariously through their equally idyllic lives, and make it so that McKenna gets to direct more of her own work, then this is still a sweet Valentine's treat from one of the genre's most talented voices.
Your Place or Mine is streaming on Netflix now.