Features
The Best Sandra Bullock Romantic Comedies
With the release of The Lost City upon us, we round up our favorite Sandra Bullock rom-coms.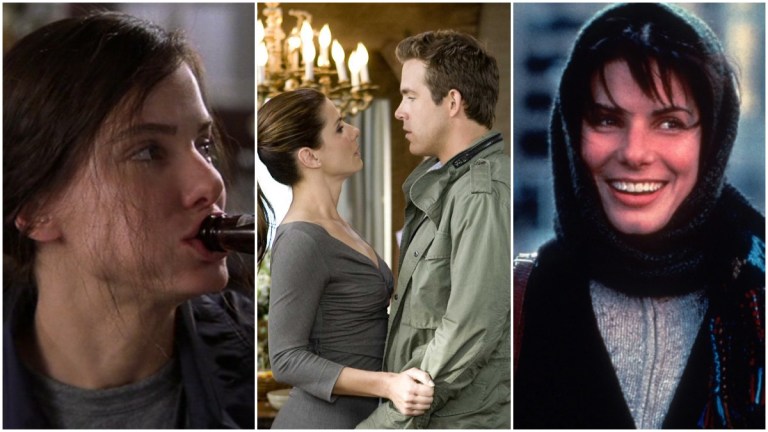 Sandra Bullock is a highly accomplished and versatile actor who can absolutely nail drama, thrillers, and sci-fi just as well as rom-coms. But we do love a Sandy B rom-com!
Her latest, The Lost City, sees her play a romance author who ends up on a jungle adventure with her ditzy cover model, played by Channing Tatum. It's a very funny, good natured romp that harks back to the romantic blockbusters of the '80s like Romancing the Stone. And it has reminded us how Sandra Bullock is good for the soul. Here's a round up of some of the best Sandra Bullock rom-coms to tickle your fancy.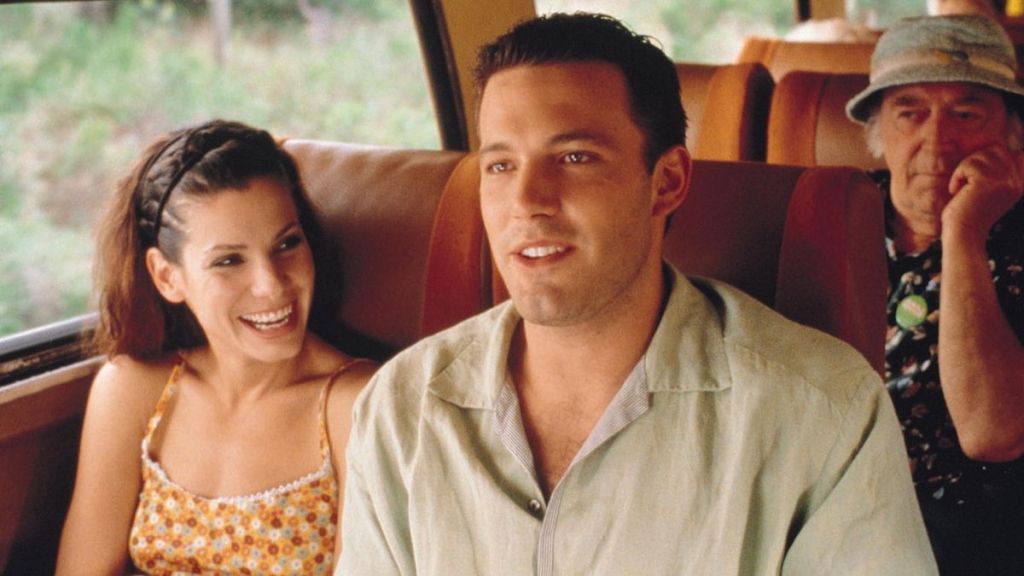 Forces of Nature (1999)
Planes, trains, and automobiles feature heavily in this road trip rom-com that riffs on 1987's Planes, Trains and Automobiles. Bullock plays a free-spirited drifter on a road trip road trip, opposite Ben Affleck's husband-to-be, delayed on the way to his own wedding by various accidents and extreme weather conditions. After a chance meeting on the plane they were both set to take (which low-level crashes), the two decide to travel together cross-country over several days.
On the plus, the movie doesn't end the way you think it will. On the down side, Affleck and Bullock don't really have great chemistry. A fairly by-the-number addition to Bullock's back catalog.
Hope Floats (1998)
More of a rom-dram than much of a com, Hope Floats sees Bullock play Birdee, a woman who has to rebuild her life as a single mother after her husband reveals he is having an affair with her best friend on a reality TV show.
Directed by Forest Whitaker (yep, that Forest Whitaker), the film errs on the side of melodrama, as the newly betrayed Birdee returns to her home town to hide after her public humiliation. Unfortunately, her young daughter blames her for the break up and the town folk resent her for past discretions. Hope comes in the form of Harry Connick Jr's old flame. The two are very likable, but the film leans too far into mawkish schmaltz.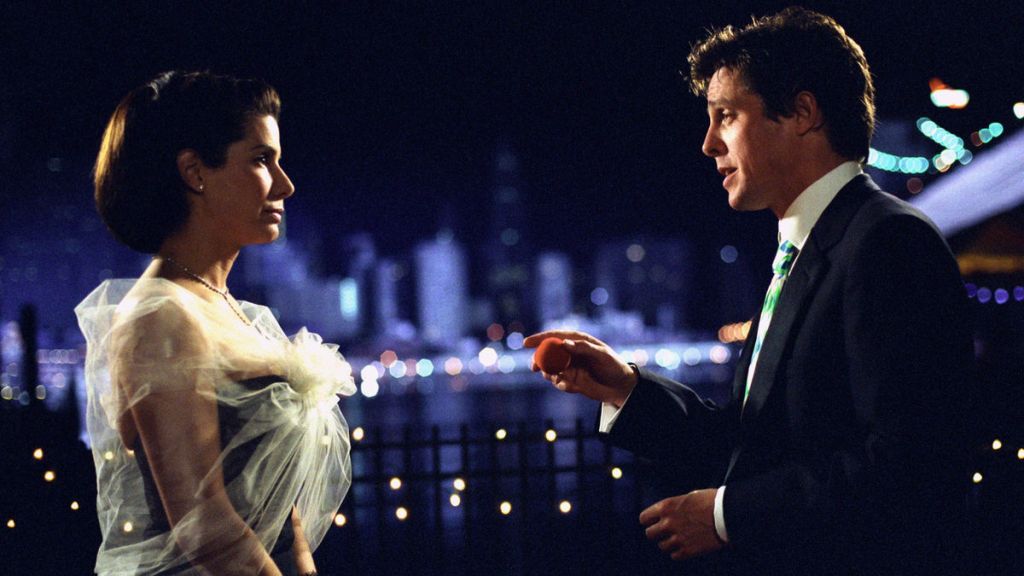 Two Weeks Notice (2002)
Bullock teamed up with Hugh Grant for this very likable workplace romance. Bullock is Lucy, the highly competent lawyer who becomes the reluctant right hand woman to Grant's millionaire man-child, George. She's had enough and gives her notice while agreeing to help him find a replacement. In doing so, she realizes she has feeling for him beyond the professional.
It's a classic 'opposites attract' set up and Grant rocks the eccentric playboy role (he's played it enough times), just as Bullock nails the put-upon woman responsible for making a better man of George. With Two Weeks Notice, you know what you're going to get, which makes for cosy viewing for fans of its stars.
Practical Magic (1998)
There's romance in this wonderful witchy dramedy but it's second to the relationship between the sisters at the heart of the film, played by Bullock and Nicole Kidman. And what great chemistry the two have! They play Sally and Gillian Owens, sisters raised by their aunts (Dianne Wiest and Stockard Channing, also brilliant), and taught the use of magic. The Owens women are cursed though–the men they fall in love with are destined to die. It takes a coven to break the curse, allowing Sally to find a match in Aidan Quinn's investigator and releasing Gillian from the clutches of her abusive ex.
Critically panned at the time, this movie has since been reevaluated as a cult classic, a lively, warm and very feminine fantasy that stands up to multiple viewings.
The Proposal (2009)
Ryan Reynolds, a charmer in his own right, is Bullock's leading man in this very funny rom-com. Bullock is the successful Canadian editor-In-chief at a New York book publishing house when she convinces her assistant (Reynolds) to engage in a visa wedding so she can avoid getting deported back to Canada after her work visa expires.
It's a setup similar to the 1990 Gerard Depardieu rom-com, Green Card, with the slightly awkward addition that Bullock's character has a horrible personality, and Reynolds is being bribed by his boss with career advancement. But no matter! She thaws, he falls in love, there's a race to an airport, and some lovely family antics from Mary Steenbergen and Craig T. Nelson as Reynolds' parents!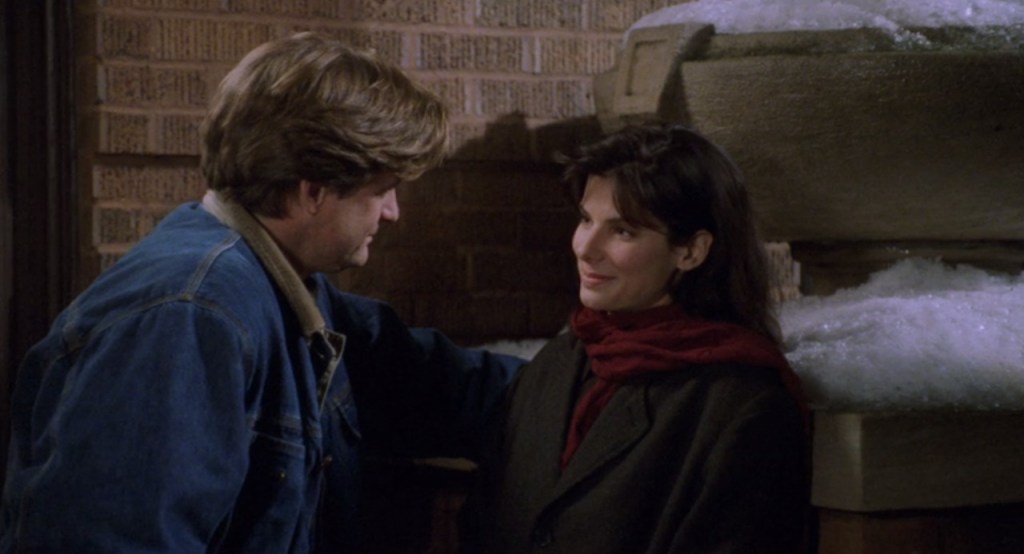 While You Were Sleeping (1995)
This classic rom-com is the one that really pushed Bullock into the mainstream of the genre and helped secure her crown as the Queen of the Girls Next Door. Bullock plays Lucy this time, a train ticket seller who has a crush on a commuter (Peter Gallagher). When he is pushed onto the tracks of a Chicago L platform, she saves his life and travels with him to the hospital, where his family is mistakenly led to believe she's his fiancée (he's conveniently in a coma).
All of which is fine until she falls in love with his brother (Bill Pullman)… While You Are Sleeping is at the absolute top of its game in rom-com terms. Bullock is utterly adorable as the lonely young woman with no family and few friends caught up in the warm glow of having a surrogate family accept her. It's very sweet, very romantic, and Bullock is terrific.
Miss Congeniality (2000)
This is peak Bullock in a film you'd have to be something of a monster not to like. Bullock plays Gracie Hart, a scruffy cop who has to go undercover at a beauty pageant to prevent a potential terrorist threat. It's the perfect showcase for Bullock, who traverses slapstick, stunts, and sisterhood as she befriends her fellow contestants and tries to track down the culprit.
It's eminently quotable with lovely supporting turns from Michael Caine and Candice Bergen. The romance comes in the form of Gracie's fellow agent played by Benjamin Bratt who suddenly sees Gracie in a new light. Gracie might look like a beauty queen in the pageant but her personality doesn't change. So when Bratt's character admits his feelings, she playfully mocks him. A funny, clever action-adventure, that's good natured to the core.