Features
Why John Cena Wanted to Play a Bear in Dolittle
Wrestler-turned-actor John Cena tells us what drew him to Dolittle and more.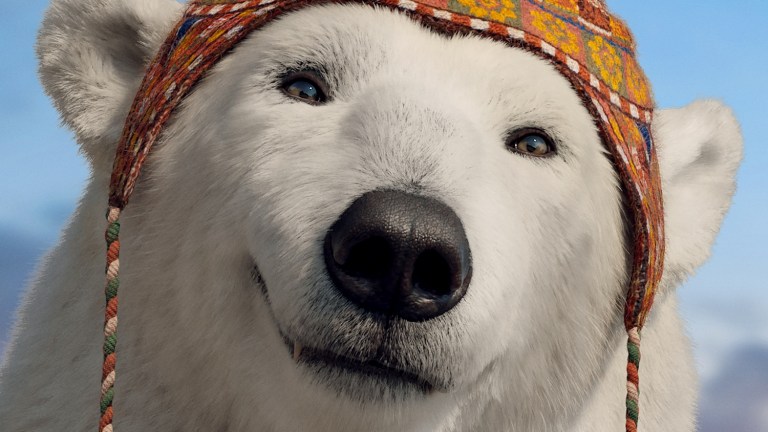 John Cena is one of a handful of actors — Dwayne Johnson and Dave Bautista are other recent examples — who started out in the world of professional wrestling before making a successful transition from live sports entertainment to the big screen. As a WWE headliner, he won several championships and began the primary public face of the brand for nearly a decade, while beginning his career as an actor with WWE-produced action films like The Marine (2006) and 12 Rounds (2009).
His comedic turn in Judd Apatow's Trainwreck (2015) opened up a bunch of new doors for Cena, leading to more roles in hit comedies like Sisters, Daddy's Home (both also 2015) and Blockers (2018). At the same time, his voiceover work landed him the title role in the charming Ferdinand (2017), based on the beloved children's book. He also continued with action roles in The Wall (2017) and Bumblebee (2018).
In Dolittle, in which Robert Downey Jr. plays the veterinarian who can talk to animals (also based on a series of classic children's stories), Cena voices Yoshi, a polar bear who lives among the doctor's menagerie of animals and has no desire to return home — because he craves warmth. Voicing a CG creation in a live-action film is new for Cena, who joins luminaries like Octavia Spencer, Rami Malek, Tom Holland, Emma Thompson, Marion Cotillard, Kumail Nanjiani and more in the voice cast.
Den of Geek sat down with Cena just recently to discuss his role in Dolittle, his relationship to the source material and the trajectory of his acting career to date — which will soon find him appearing in two major franchises: this summer's Fast and Furious 9 and next year's The Suicide Squad from director James Gunn.
Den of Geek: If you were an animal in real life, which animal would you be?
John Cena: I think (the movie) is pretty on the square, especially with the attitude of Yoshi. Physically imposing, yet friendly and warm and always seeking warmth. I think that's, that's pretty on square. I would say yeah, a polar bear. A bear.
Were the Doctor Dolittle books a thing for you as a kid?
They weren't. I know the original movie and it's a tale that's been redone I think just because of the fascinating nature of it. I think we as a human species, look at animals with such wonder. And we wonder, not only do they hear us, but do they understand us, but what would they say back? I think that's a tale that doesn't ever get old no matter what age you are. Because regardless of how that device or whatever technology that's around us develops, there's always nature. They are these other creatures among us and they have these well-defined features that give personality. I mean, if you look at social media, all the French bulldog pages and all the dog pages and the cat pages and all the memes that develop out of just simply a face of an animal, we give them personality and a context behind them. So I think it's something that defies age and will always be intriguing to all of us.
And this movie literally does give personality to all these animals.
Some of them are right down the barrel, like Yoshi is the polar bear. And some of them are an awesome surprise. Like Craig Robinson as Kevin the squirrel, which is really, really cool when you hear Craig's voice as that squirrel. It's because of the way the movie is set up, just the lead to his first sentence makes the sentence so funny and impactful and then there's his whole journey through the rest of the movie. He's my favorite character.
When was brought to you, what were kind of your thoughts on keeping it a period piece and on the idea of Robert playing the doctor?
I think period piece gives it a vastness and a beauty that you can explore. I liked the message in the script. I'm a firm believer that you choose your own family, those closest to you, those that you love. They don't necessarily have to share your last name or bloodline. Those are the people that I call family. So that's what kind of struck me the first time I read the script and I know moviegoers will have their own takeaways and that's fine. But that's originally why I enjoyed it so much.
And then of course you add in Robert's involvement and that makes it a gift. You're immediately clumped in with someone who is super accomplished and established and gives the title credibility. And then the fact that it's a period piece that allows you to play around, and the fact that it's a whimsical period piece allows you to play around even more. So you can have fun with building ships or building the universe or building a castle or the confines to which the animals are kept in, the grounds, all that stuff. You don't have to be down to the letter of the law.
You didn't read the Dolittle books, but did you have any favorite books as a kid?
Man, I stopped reading at such a young age that I've recently started reading again and it's what prompted me to write a children's book (Elbow Grease). I recently started reading again and then wanting to draw up a series of books that young people would like, having to do with retaining the qualities of perseverance. But the biggest reason as a kid (that I didn't read) was that I was always fascinated with big machinery and the workings of machinery. But now as somebody older who appreciates a good book more and more, I think obviously it's important to start reading at a young age. It's more important to stick with it.
Were you on the set for this movie at all?
No, not once. My movie experience on Dolittle was a sound booth. I think that's what's amazing about live action. The integration of the animation in humans is second to none. And because it's like, "Hey man, we're going to need you for a period of 14 days over a series of months," that's no problem. I can give you that. Nowadays, a lot of folks are in a lot of different directions, but you can get the cast that they put together by saying, "Hey, all we need you to do is be here at this time. Is it something you can do?" And the result is you have great players involved in this and the players match the scope and the beauty of the film.
read more: 25 Underappreciated Family Movies
At the same time, do you look at that cast list and ever think, damn, I wish there was a way we could all get together at one point?
I'm not much of an "I wish" type of guy. I'm more of an "I'm grateful for" type of guy and to be a name among those names is, I mean, dude, I'm a small town kid from West Newbury. I never thought any of this stuff would happen. So to be in the same conversation, I'm grateful for that. You know, in an ideal scenario, would it be cool for all of us to get together and do this? Yeah. But in an ideal scenario, it probably meant maybe 75% of us can be able to do the project. So I'm just grateful for the fact that I'm in that group of names.
Robert said in the production notes, and I think he actually was referring to you specifically, that it takes a specific skill set to do voice work. Do you prepare any differently for playing a Yoshi or Ferdinand than you do for playing a Marine or a firefighter?
I would say he's right only because one could say that there's a specific skill set for anything, but I just go into those things and I leave any reservations I may have at the door. You're going in to be a personality, and go in knowing your material, of course, knowing what you're supposed to offer the material or a good idea of what you think. And then if you get direction that is opposite of that adjust and pivot. We go through so many iterations of VO, they'll do like, "Hey, this is where Yoshi gets angry, but he may never get angry in the movie. So do one angry and then do one like passive angry and then do one upset and then do one kind of like bro-ey upset." So it's basically just keeping your ears open and listening to direction and trusting the people in the room with you. Robert's not wrong. There's a skill set for anything, but for me my biggest asset in doing VO work is to just trust the process.
read more: Best Action Movies on Hulu
You have been acting for 13 years.
Oh, yikes.
I'd say you have successfully transitioned career wise. What do you think are maybe your biggest strengths now as an actor for you as you've settled into the job?
Well, I think, settling or becoming comfortable or having some sense of fluency with the skill is being comfortable with who you are. And I tried to split early in my career. I tried to split becoming a film actor and becoming a live sports entertainer right down the middle. And I failed at becoming a film actor because my passion and my heart was in becoming a live performer. I was a younger man, I was living a faster life. The allure was so wonderful, and then 15 years into the profession I began asking myself, why do I keep coming back? I really reflected honestly about why I kept coming back.
It's not the badge of toughness that I wear for falling down. It's not the braggadocio of like, "I do 250 towns a year." It's the ability to go out and tell a story. And that's when I began to have this rekindled passion for wow, if I just look at it as an avenue to tell a story… I'm already comfortable over here in this element, I just have to reintroduce myself to the nuances, be a little more open minded to the process, understand that it isn't the same thing, but essentially it is the same thing. I love work every day, man.
Before, when I was doing The Marine and 12 Rounds, I would have a great sense of respect for the work, but I would always want to get back to the ring because that's just where my heart was. And now as I've matured and I've aged and I have a different perspective on life, this is a wonderful outlet for me to remain creative, to keep my long-term health, to invest in a new character. I've been the same character on TV for like 15 years. So it's a chance to unwind and unwire that typecast, which is interesting. So it does give me a lot of things, but it took the wisdom of living life to get to that point.
You've done a lot of family films and comedies in recent years, but occasionally a more serious role comes up like the one in The Wall. Do you want to do more serious stuff if the opportunity arises?
Everybody always asks. It's weird how movies are so looked at like that. I wanted to do The Wall because I read it and was riveted. I have a certain affinity for people who serve our country, for veterans who've served our country. So it's subject matter that I'm familiar with. Then I read it and I'm interested and, yeah, I'll do it. It was me signing up to lay in the sand most of the movie, so it's not like, "Hey, I don't want to do this if it's only this." It's like, "No, I'm interested in it. I'll do whatever." When I started to try to get the snowball rolling downhill again, it was with small parts, the part in Trainwreck, the part in Sisters, the part in Daddy's Home, the part in The Wall, so on and so forth.
You can't just expect it to be dropped in your lap. Just because I had a successful and fortunate opportunity in one genre of entertainment doesn't mean I'm given the key to the city in all genres. You have to earn every fricking inch. You know, you don't get to be Robert Downey Jr. He works for every single inch. So it's also reinvigorating as a 42-year-old to kind of be part of a startup again. That's a really cool thing that gets me to jump out of bed every day.
You are getting into the superhero game with The Suicide Squad. What can you say about working with that ensemble and working with James Gunn?
So I can say that if you've listened to anything about my decision making process, I have to read it and love it. When you read a wonderful story and a story that I believe is going to surprise viewers all across the world, and then someone who really dedicates themselves to narrative and character development…what James did with Guardians of the Galaxy is he took essentially nobodies and made them somebodies in less than two hours. That's a tough thing to pull off. So now I've got a great story, I've got a great storyteller and the storyteller saying, "I want you to be in the movie." I'm going to do that movie. And I hope people enjoy it.
Dolittle is out in theaters this Friday (January 17).
Read and download the Den of Geek Lost In Space Special Edition Magazine right here!
Don Kaye is a Los Angeles-based entertainment journalist and associate editor of Den of Geek. Other current and past outlets include Syfy, United Stations Radio Networks, Fandango, MSN, RollingStone.com and many more. Read more of his work here. Follow him on Twitter @donkaye