Features
Why Escape from L.A. Deserves a Better Look
John Carpenter tells about what made Escape from L.A. so timely and why it's still relevant today.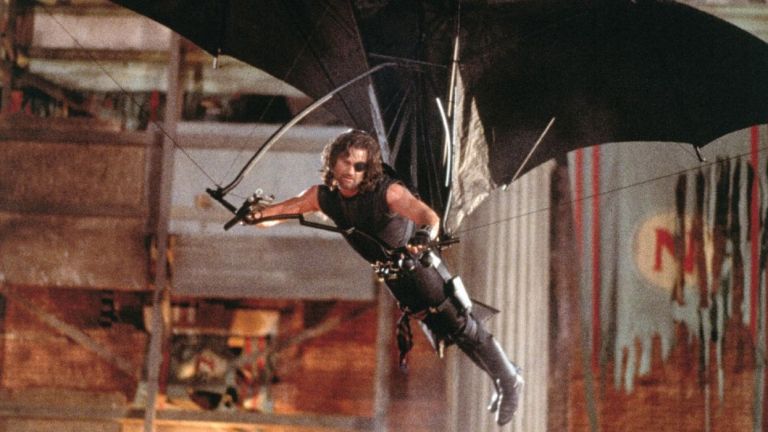 At the end of Escape from L.A. (1996), Kurt Russell's Snake Plissken fingers a device which can shut down all technology across the planet. Luckily, Paramount Home Entertainment will have the sequel to John Carpenter's Escape from New York available on 4K Ultra HD before he can punch the 666-access code into the keypad. Made for $50 million in the year Jurassic Park was budgeted at $65 million, the cult epic follow-up turned up the volume, action, FX, and nihilistic cynicism of its predecessor for an over-the-top high-tide hang glide.
Escape from L.A. is a dystopian satire where the U.S. government nationalized Christianity into a theocracy called the New Moral America, and elected Cliff Robertson's President Adam as Chief Executive Officer for life. His first executive action is to deport the morally guilty – atheists, teenage runaways, drug dealers, abortion doctors, and other offenders – to the newly isolated island of Los Angeles. Riots, mudslides, fires, and earthquakes splintered the valley from the hills, and the only person who knows his way around town is "Map to The Stars Eddie," played by Steve Buscemi.
Carpenter's best films reflect their time in shattered glass. Escape from New York (1981) was conceived during the paranoia of Watergate, and introduced Snake like a Sergio Leone-spaghetti-western-style gunslinger thrown under a city bus to rescue an unpopular president in hostile territory. Driven by iconic tough guy actors like Ernest Borgnine and Lee Van Cleef, with Isaac Hayes as the Duke of New York, it shrouded savage social commentary in violent overkill, with devastatingly underplayed deliveries. Carpenter would further distort political distrust through the dark glasses of the sci-fi satire They Live! (1988).
Just when you thought Snake Plissken was dead, Escape from L.A., which also stars Stacy Keach, Bruce Campbell, and Pam Grier, pushes back against new imprisonments. The film skewered the false promises of Reaganomics, the fake affronts of the moral majority, and the phony checks issued for collateral damage. The only sequel Carpenter ever directed, it pulled out all the stops, and ended with a devastatingly dark conclusion.
Carpenter was 28 years old when wrote the screenplay for his criminally subversive 1976 film Assault on Precinct 13 in eight days. He'd recently turned his USC Cinema student film into the no-budget sci-fi classic Dark Star, and would go on to redefine horror with Halloween (1978). Made for $300,000, it was the most profitable indie film of its time, and earned Carpenter the title of "New Hitchcock." He continued to put his own spin across genres in films from the campy Big Trouble in Little China, through the interstellar romance of Starman, to his ode to H.P. Lovecraft, In the Mouth of Madness. Carpenter consistently brings his alternative filmmaking attitude to the edges of the movie-going mainstream.
With the notable exception of The Thing (1982), Carpenter composed the music for his features. He won a Saturn Award for Best Music for the film Vampires (1998). Carpenter released his first album of non-soundtrack material, Lost Themes, in 2014. He's released two more solo records, and also scored video games. He directed his last film, The Ward, in 2010. Carpenter spoke with Den of Geek about new indie possibilities, and why he doesn't want to get away from Escape from L.A.
Den of Geek: In Escape from L.A., the deportees have basketball, surfing, hang-gliding. Did you want to say a walled-in, locked-down island L.A. is still more fun than the rest of the country?
John Carpenter: That's right. Got it. Well, it's my hometown, right? And it's a ripe town for picking apart, making fun of, so what better place? We filmed in L.A. We did not film it in Disneyland, right?
Is there anything new to see in the 4K Ultra HD version, details we missed in the surfing scene for instance?
I don't think there's any difference, except it looks better. I love the surfing scene.
Many of the effects in Escape from L.A were cutting edge at the time. Was that like playing in a new toy box?
It's never like playing in a toy box. It's like bringing a mound of coal out of a mine. That's what it's like. It's just impossibly hard work. And, I'm proud of the Disney folks, they did their best. We were the last project that they had as an effects company. So, very cool.
Kurt Russell was Disney-trained when he was young. What does that do to an actor?
Disney training gives discipline and it affects all preparation. It affects his attitudes. It's really good. He thrives under it. Some actors wouldn't, but he thrived under it.
Your work with Kurt Russell is akin to Bogart and John Huston, John Wayne and John Ford. What says the chemistry is right and what keeps it interesting?
Kurt's talent is discipline. That's what keeps it interesting. And he is fearless. Once he commits to playing a character, he comes alive. He's awesome. He is my friend. He's my favorite collaborator, and it doesn't get better than Kurt.
Did you expect the character Snake Plissken to become part of the culture?
Expect it to? No. You never know.
Was Pam Grier as much fun to work with as she is to watch?
Yes, Pam's wonderful. And she was just great. I loved working with her. I loved working with the entire cast. Really terrific.
What was Bruce Campbell's reaction to having to do that extreme makeover?
Well, I had to keep working on him to play it straight. Telling him "Don't mug."
What did Cliff Robertson bring that no other actor could?
Well, his evil president is smart. He has a nice edge to him, really intelligent. He was a terrific actor.
What kind of direction do you give Stacey Keach?
I don't tell him anything. He just does it. He knows what to do. He brings that.
Escape from New York nods to Sergio Leone. What directors were looking over your shoulder for Escape from L.A.?
Oh God, I don't know. Probably none. They all abandoned me.
Who are you trying to conjure?
No, nobody. I wasn't thinking that way.
Halloween is still one of the most profitable indie films. Is it easier for indie directors to break through now with all the different carriers and producers and streamers?
Well, you still have to get your movie distributed, which is, of course, the trickiest part, but it's a wonderland nowadays for people to make their first film. The technology is available right at your fingertips. And, with digital photography, you can really do it. You might get what you want. But when you have a film and you want people to see it, how are you going to get 'em to see it? You need a distributor and you have the major distributors. It's a conundrum.
One of my favorite movies is Assault on Precinct 13.
Oh, poor Kim Richards. I killed her in the movie, huh?
The music makes that movie. It's almost the template now for video game soundtracks.
Thank you. I just remember doing that score in one day. We had a day to do it. We didn't have any money, dude.
When you were making Escape from L.A., did you expect Virtual Reality to grow enough to get you jobs writing music for Oculus Rift?
I don't know. I didn't. I have to admit it. I must've not been thinking that deeply about anything.
You'd always composed your own scores, what made you think of Ennio Morricone for The Thing, and what was that collaboration like?
First of all, I loved Ennio Morricone. He's just a genius composer. The studio wasn't interested in me as a composer. They didn't want anything to do with me, so I didn't really have to think about it much. And he was wonderful. He didn't speak English. I didn't speak Italian. So, we spoke the language of music.
Are you planning to go back on tour?
Maybe. I never say no to that too, but I'm getting old now, man. No one wants to go see this old fuckup on the stage.
Escape from L.A. predicted realistic holograms, which are becoming part of live performances, would you consider a hologram tour?
Wow. I don't know. You never know, but are you familiar with what ABBA did? It's astonishing.
Do you get film ideas from music? The Billy Preston line "let the bad guy win every once in a while" seems to be your most recurring theme.
Does it really? I had no idea. I'll have to take your word for it. Music accompanies the idea that helps me flesh out the sequences. So, sure it's an influence.
Do you think you changed the conversation as far as criminals being anti-authoritarian heroes and making films making way for films like The Purge?
Oh, I hadn't thought of that. Yeah. I gotta be careful. Cause most criminals are not anti-authoritarian heroes. They're bad people. Not all, but most. But in terms of drama, in terms of my preferences, I'm an anti-hero type guy.
Watching the film makes the Jan. 6 capitol attack look like a mass casting call and a good case for "Escape from D.C."
Well, we could. It'd be easy to do. Everybody hates the government now. Easy target.
I get the idea there are whole branches of government still trying to strand prostitutes, atheists, and runaways on a city island somewhere.
Well, you know it, of course. That never ends. It will never go away because we're America. That's our founding.
Would you ever want to put your anti-hero stamp on a Marvel movie?
I don't know. Depends on which one. I'd consider it, but no one's ever asked me.
Escape From L.A. is available on 4K Ultra HD.