Features
Why Eliza is the Real Hero of Hamilton
Alexander Hamilton might be in almost every scene but his wife is just as much a namesake of the hit musical.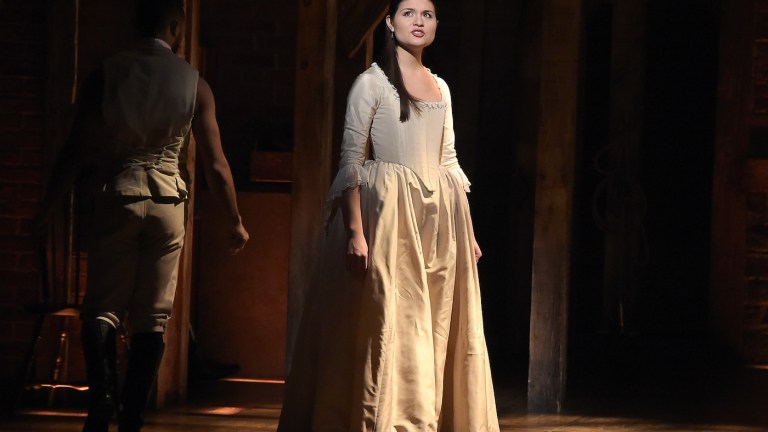 We can all woop King George III style now that Hamilton is now available for the world to watch on Disney+. The long awaited recording of the global sensation is two hours and 40 minutes of pure magic – a beautiful retelling of the life of Founding Father Alexander Hamilton. We presume the show is all about Alexander, as he is in nearly every scene. Although he played such an important role in the Revolution and in forming the nation's government, the show's namesake – Hamilton – also plays homage to his wife, Eliza Hamilton.
It may take the story unfolding for us to realize that Eliza was, in fact, the real hero of Hamilton. Not only did she play a huge role in the show, but in American history.
Eliza, then a Schuyler, is introduced with her sisters Angelica and Peggy in an early number before she takes centre stage during 'Helpless'. Not only does she sing about how she isn't one to 'grab the spotlight', but she has no concerns with the fact her fiance is penniless, and that she would be settling for far less than the high society she was born into. Her father Philip Schuyler was a Revolutionary War General, and her mother Catherine Van Rensselaer Schuyler was born into one of the richest and most influential families in New York. Whereas her Alexander was born out of wedlock to an already married woman, Rachel Faucette, and a Scotsman that abandoned the family some years later. Through the lyrical genius of Lin Manuel-Miranda, Philipa Soo explores the true selflessness of Eliza during the song.
The next time we really see Eliza is during 'That Would Be Enough' where she sings to her husband upon his return from war. Pregnant, emotional and not having heard from or seen her husband in months, she still remains the rock when he breaks down. She reiterates how the only thing important to her is that he remain alive and meet their son, and talks about how amazed she is by his accomplishments thus far. During this time, the real Eliza Hamilton was also assisting her husband in his political writings – much of the information laid out in the letters that would go on to be hugely influential in American Revolutionary history, were in her writing.
Then our hearts start to break. We begin to see the impact Alexander's tenacious, legacy driven lifestyle is having on his family life. Remaining ever calm, Eliza pleads with her husband during 'Take a Break' rather than going full crazy mode on him (like we would…) for missing important milestones in his children's lives. All she wants is some love and affection from her husband, not even half the devotion he gives to his country, but still remains happy when he refuses her proposal.
In 1787, pregnant with their fourth child, Eliza took in Fanny Antill, the two year old daughter of Hamilton's closest friend Colonel Edward Antill, who had recently lost her mother. She mothered eight Hamilton children, as well as suffering a miscarriage in the wake of her youngest child falling ill. Eliza managed to do this while maintaining her household throughout multiple moves to accommodate her husband's career (yes, really – she did maintain her own household despite living in a very sexist and classist society), being at the forefront of American society, constantly attending dinners and having little to no private life. Sounds like the dream, right? Having your every move sprawled across the national press, and being constantly watched and judged, is the modern nightmare.
What we don't see in the show, is that Eliza aided Alexander hugely throughout his career. She acted as a mediator between Alexander and his publisher for The Federalist Papers, and is reported to have helped him perfect Washington's Farewell Address in 1796. It's perhaps surprising – this was the 18th century, and she was a woman – but it's true.
Here comes the real hard-hitter. In 1797, Alexander Hamilton admitted to his one year affair with the much younger Maria Reynolds that had taken place eight years prior. In case you missed it in the show, he doesn't just admit his infidelity to his wife, he instead published the Reynolds Pamphlet, a 95-page document detailing how he brought Mrs Reynolds into his marital bed behind his loving wife's back. The Hamilton-Reynolds affair was one of the first sex scandals in American political history, and was just another example of how hard it was to be a powerless wife in the limelight at this time. Most of us would up and leave the sorry man that did that to us, but instead, despite being pregnant with their sixth child, Eliza composed herself and relocated to her parents house in Albany to give birth and escape the drama.
It's impossible not to feel your eyes flood with tears when Eliza sings 'Burn'. Devastated when she learns about her husband's affair through the public Reynolds Pamphlet, Eliza, like all of us would in that situation, questions whether the words he had said to her throughout their relationship had meant anything at all. She worries that her children will feel the effects of the affair, and sings with passion about her anger, shock and humiliation. For the first time, we see Eliza consciously grip control of the situation and 'erase herself from the narrative' in one of the show's most powerful scenes.
Her life continued to be marred by tragedy. Just four years later, her eldest son Philip Hamilton was killed at 19 in a duel after his father had encouraged him to delope (fire into the air) and throw away his first shot, counsel that would lead to his untimely death. Again, we see Eliza continue to sob her way through the next number as she prays for her son to survive during the reprise of 'Stay Alive'.
'Forgiveness, can you imagine?' Embarrassed and betrayed by her husband's affair, and now heartbroken by the death of her son, which was influenced by the advice of his own father, broken and beaten, Eliza chooses to forgive and stand by her husband. Of course, this shouldn't be overly celebrated, because Alexander was a total idiot in making those decisions, but choosing to stand by her husband's side shows the compassion and love deep rooted within her. Just a few more years later, her brother and sister Peggy died unexpectedly, followed by her mother and then her husband in 1804. Although she had enormous privileges throughout her life, it was one also filled with sorrow and unrest.
The final scene is perhaps the most important in letting us into something that may have been quite hard to identify throughout the rest of the show. Although the majority of the story is about Alexander, we learn that the storyteller, in this case Eliza, is just as important as the person that the story is about. Let's not forget that Rob Chernow cited Eliza as being one of the most important sources when writing the biography Alexander Hamilton, which the show is based upon. This is Eliza's story, too. Without her, we wouldn't know as much about Alexander, or his role in the Revolution and American politics, as we do today.
A new element of the story is introduced in the final few moments when Lin Manuel-Miranda steps outside of his character as Alexander, and into his real self. Lin then introduces Eliza to the audience, where she can see what her work has done. She gasps and grabs hold of her heart in astonishment as she sees how she has helped immortalize the story of her late husband, and of a huge chunk of American Revolutionary history.
We don't see much from Eliza after the death of Alexander, but we do learn about some of the things she accomplished following his death. She helped raise funds to memorialize George Washington with an enormous obelisk in D.C., she spoke out against slavery, and defended her husband against his critics and dedicated the rest of her life to telling his story. But there are stories we don't see. Eliza was so devoted to preserving his legacy that she reorganized all of his paperwork and letters along with their son John and fought relentlessly to get his biography published. With the help of his mother, John C. Hamilton would go on to publish his father's first biography. She was known for wearing a small package around her neck that contained a sonnet which Alexander wrote for her during their early courtship. Even during her nineties, she prompted Congress to allow her to buy and publish Alexander's works, adding them to the Library of Congress to help future historians know him.
But what is she proudest of? She founded the Orphan Asylum Society, dedicating over 42 years of her life to caring for and educating over 700 children. Eliza is noted as being one of the first female philanthropists, and is regarded as one of the most generous Americans that reformed the nation.
At the very end when singing with the ensemble, she asks for the first time "will they tell my story?" rather than "will they tell your story?", showing that she remained modest and selfless to the very end. Everything was all about the greater good or her family.
She really is the 'Best of Wives and Women'.