News
Cancel Hamilton Backlash Gets Response from Lin-Manuel Miranda
Lin-Manuel Miranda, the creative mastermind behind Hamilton, responds to new criticism targeted at the musical regarding slavery.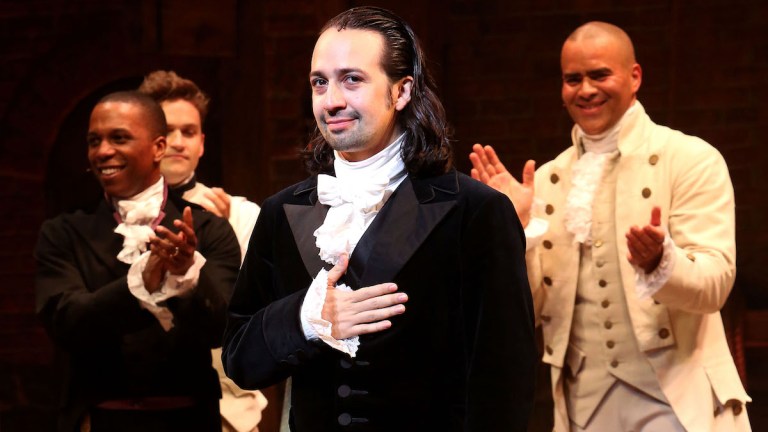 Hamilton is having a moment. Again. After being the toast of Broadway and pop culture five years ago, Lin-Manuel Miranda's tour de force musical is back in the spotlight and in a different context. When it premiered at the Public Theater and then on Broadway in 2015, Hamilton was heralded as a masterpiece that broke into the mainstream with its infinitely catchy and layered original soundtrack, which fused rap and hip hop rhythms with traditional Broadway melody, jazz, and other American influences. And with its color-blind and diverse casting, it also reframed the American experiment's founding for all Americans. At the time, it was embraced as the definitive work of art of the Obama years, with Michelle Obama herself calling it the best art "I have ever seen in my life."
Yet five years later and after receiving a relatively rapturous reception by a new audience this Fourth of July weekend—being beamed into millions of homes on Disney+ has that effect—a larger intersection of viewers, living in a different era with protestors marching for Black Lives Matter in the wake of George Floyd's murder, has also brought renewed scrutiny. While there was always a vocal minority of critics unimpressed by how the musical depicts Alexander Hamilton's record on slavery, with Ishmael Reed even writing a scathing play about it titled The Haunting of Lin-Manuel Miranda, in the age of many popular works going through the lens of "problematic" scrutiny on social media, criticism for Hamilton can only heighten. And Miranda is responding.
Replying to writer and podcaster Tracy Clayton on Twitter, Miranda acknowledged his show barely addresses the issue of slavery, both for Hamilton and its major slaveholding characters, which include George Washington, Thomas Jefferson, and James Madison.
"Appreciate you so much," Miranda tweeted to Clayton. "All the criticisms are valid. The sheer tonnage of complexities and failings of these people I couldn't get. Or wrestled with but cut. I took 6 years and fit as much as I could in a 2.5 hour musical. Did my best. It's all fair game."
Miranda is replying to Clayton, who opened up in a Twitter thread about grappling with Hamilton in the era of Donald Trump, and if it should be consigned to the growing opinion of what to do with statues glorifying Confederate generals and Christopher Columbus.
"[I'm] late [with] the Hamilton criticism stuff & [I'm] clearly biased," Clayton tweeted, "but… i really like that this conversation is happening. hamilton the play and the movie were given to us in two different worlds & our willingness to interrogate things in this way feels like a clear sign of change. i totally get the frustration about it being a play about slaveholders that is not about slavery. ive felt that in lots of things I watch, but i flex the same muscle i use when i listen to hip hop as a black woman. we enjoy problematic things all the time. after reading the critiques i would have appreciated more context about hamilton & slavery. but to lump it in with statues of columbus and robert e lee denies the conversation the nuance it deserves & we're capable of giving it that."
It is more than fair to acknowledge and even demand studying what Miranda omitted about Alexander Hamilton's record on slavery. As we unpacked in-depth here, Hamilton personally did not agree with slavery and even was a member of an anti-slavery society where he was one of the more radical voices… but he also married into a slaveowning family among the Schuyler sisters, with Angelica Schuyler Church continuing to own slaves after marrying John Barker Church, and at the very least procured slaves for his brother-in-law if not outright rented them for himself. He also wrote passionately about the hypocrisy of Thomas Jefferson, who was a loud advocate for the free rights of men while owning slaves who he believed were subhuman… but Hamilton did so to undermine Jefferson's reputation among other slaveholders who had no such anxieties about owning slaves. And while in power late in his life, Hamilton did nothing to progress any sort of abolitionist agenda.
Acknowledging these uncomfortable facts is, in part, embracing modern historical study, which increasingly tries to see a fuller picture. But just as Hamilton deserves to be taken into full context as a work of art, so too should legacies as flawed as many of the founders be given full context. To be unable to distinguish the difference between the American Revolution and the Confederate cause of the Civil War is the exact kind of un-nuanced conversation some political opportunists are hoping we have. Similarly, it ignores that one of the core achievements of Miranda's Hamilton is to reclaim the higher ideals of that era for all Americans—making it a more inclusive history and not just one for white racists to trumpet as their personal "heritage." Of course this is a conversation that's only begun.