Features
Whatever Happened to The Last Dragon?
The Last Dragon was a very different martial arts movie. We dig into its story, and what happened...
As the brainchild of Berry Gordy, the mastermind behind Motown Records, The Last Dragon mixes martial arts, music, supernatural adventure, Bruceploitation, comedy and dance to surprisingly dazzling effect. The soundtrack is a showcase of what Motown Records was about in the mid-80s (arguably a second golden age for them), and its lead single – Rhythm Of The Night by DeBarge – should be familiar to anyone who knows their pop classics. But, far from being a flimsy visual vehicle to hang some songs on, The Last Dragon is a brilliant piece of work that uses stylish silliness to put across some serious messages. It's rooted in its time (the mid-80s) and place (New York) but has stood the test of time, remained unique and just celebrated its 30th anniversary with a series of conventions and screenings all across the US.
The hero of the film is Leroy Green (Taimak), known around Harlem as 'Bruce Leroy' due to his obsession with Bruce Lee and martial arts. He's seeking the final level of enlightenment in his training but his master can teach him no more, so Leroy must find his own path in the world. Opportunity presents itself in the form of three unlikely characters. One is Sho'Nuff, The Shogun Of Harlem (Julius Carry), a flamboyant local thug who's terrorizing the neighbourhood with his gang of crazy-haired minions. Another is Eddie Arkadian (Chris Murney), a Mafioso arcade game king looking to muscle his way into music videos. And finally there's Laura Charles (Vanity), the hottest VJ in town whose Video Hotpix show brings all these characters together for an outlandish, neon-drenched climax.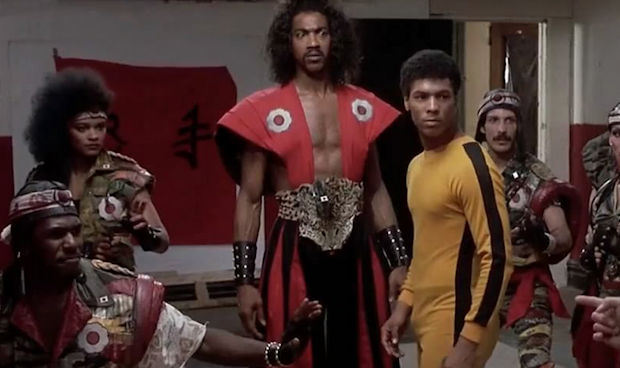 There's a lot to love about The Last Dragon and part of that is because it has so much love of its own to give. It's a really positive story and Bruce Leroy is one of the first ever onscreen black superheroes. A big part of its success was the inspired casting of Taimak, a non-actor with a history in both martial arts and dance, who proved to be exactly right. His good-natured, wide-eyed performance makes Leroy endearing and when he launches into the fights, his moves are incendiary. It's impossible to imagine The Last Dragon without Taimak and yet it's his only lead role in a feature film to date. He's been something of a mysterious figure for most of the last 30 years, so when I got the chance to talk to him recently, I was excited to hear his story.
Taimak started training in karate at the age of six and spent his early teens in the grindhouse cinemas of New York's 42nd Street watching kung fu films, much like Bruce Leroy in The Last Dragon. "I'd go to 42nd Street because they wouldn't play them anywhere else, you know," he explains, with nostalgic enthusiasm. "There was Bruce Lee, who was the strongest, and Sonny Chiba, the Streetfighter series, and Shogun Assassin, Seven Samurai, and all the Shaw Brothers movies. They played some kung fu movies in Chinatown but they were in Chinese and I couldn't speak it. I was 14 years old and just running around the streets taking it all in. It impacted me and put me on a path that I didn't know I was going to be on until I got older."
While expanding his martial arts repertoire (he currently holds seven black belts), Taimak was cast in The Last Dragon, despite having no prior acting experience. "I'd been involved in a few school plays but I always froze and didn't know what to do. The movie was looking for a young black guy and they wanted to find someone who knew martial arts. At that time I was training with Ron Van Clief and he was one of the choreographers on it, as was a friend of my mother's, Lester Wilson, who has passed now but was a big dance choreographer. That's initially how I got a call. I thought it was gonna be a martial arts demonstration but it was an acting audition and I had no idea how to act!"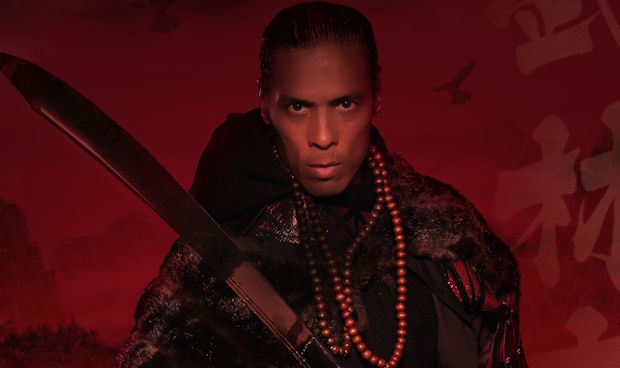 With typical prescience, Berry Gordy thought Taimak's naivete would work for the character and so he found himself leading a $10 million martial arts musical. It was an uncannily perfect fit. The story mirrored not just Taimak's own life experience but also his views on the martial arts. "It is a true martial arts film because it represents martial arts. The message is what martial arts is about, that you can be the master of your life. I mean, you can go to UFC and just watch a fight, you can be a great fighter but that doesn't make you a master. A master is somebody who is courageous, who goes against their fears and is supportive of their community and is an authentic role model, that's what a master is."
With the movie grossing over twice its budget at the box office and Rhythm Of The Night hitting the upper reaches of the pop charts worldwide, The Last Dragon was a winner. Contemporary critics hated it (of course they did, it's a genre movie), but audiences got it and everything seemed set for Taimak to be the next martial arts superstar. So, I ask him, what happened?
"Life!" He laughs. "What happened next was life. Life is what happened. When you come from the streets of New York and a really tough family background, life happens. I mean, even if you don't, I don't care where you come from, you're dealing with Hollywood sharks who have their own interests. I had to rely on myself for everything because I couldn't trust any of them. You know, so it took me many years to find myself – just like Bruce Leroy – but I found myself, thank God I found myself. Most people don't, unfortunately."
While out of the cinematic spotlight, Taimak still managed to amass an impressive array of credits in multiple fields in the 80s and 90s. He set up his own martial arts school with a partner, he starred in music videos (perhaps most famously Janet Jackson's Let's Wait Awhile) and moved into dance choreography for top pop stars. "I choreographed Madonna in her Drowned World tour. She did a number called Sky Fits Heaven and I choreographed that. Gwen Stefani and Bush, I did the Chemicals Between Us video. I was doing everything, commercials, I was trying to pay my bills while learning about myself."
"I just always loved anything that could be considered a craft," he explains. "Whether it's martial arts or acting or dancing, it doesn't really matter. A craft is really interesting to me, you could turn making a protein shake into a craft. If not many people can recreate it, then it's a craft."
Meanwhile, The Last Dragon took on a life of its own, gaining more fans through TV screenings, re-releases and the many hip hop artists who've referenced it. Taimak has recently toured America, promoting the (beautiful) 30th anniversary Blu-ray. "Back in those days they didn't promote The Last Dragon to any audience other than the black audience. It went to #2 in the country but it only truly crossed over when it showed on HBO in the 90s. I do screenings sometimes – Alamo Drafthouse has had me back a number of times – and it sells out all the time even today. I was on a little vacation in Berlin and I happened to screen it there and they loved it. I would love to screen it more in Europe!"
Since reconnecting with the film world, Taimak has returned to acting, as well as writing, producing and directing a series of shorts, showcasing ideas for features that he intends to make. Most interesting of these is The Master, a martial arts fantasy about a Persian-African soldier in ancient China on the run from assassins. He describes it as "Game Of Thrones meets Kung Fu Theater" and I'm not sure it's possible to make anything more relevant to my interests. The clips online evoke classic Shaw Brothers and promise exciting things:
Taimak's also put together a treatment for The Last Dragon 2 and is courting interest from Sony, who own the rights to the characters. "Obviously, the fans are dying to see something that relates to The Last Dragon so I've got a group of guys who are really talented and we're gonna do some really, really fun stuff and you're gonna see some things that'll make you open your eyes and I'm hoping that someone will open their bank account and get Sony excited! It's not the end of the world if it doesn't happen but it'll make a lot of people happy all over the world."
"I also wrote a full-length detective feature, I've Seen Things, which is intense. I'd love for people to watch the short film of that and let me know what they think. I have another film called Obsession that's a superhero film about a philosophy professor with a dark past, so I'm packaging a number of these projects and hopefully everything works out. I'm gonna work my butt off and that's all I can do."
It may be an uphill challenge in a tough market like the current one but, like many fans, what Taimak wants most is to see martial arts films back at the forefront of genre cinema.
"I've seen a lot of great films over the years, like yourself," he says, "but in America, the martial arts genre has fallen by the wayside. Films use martial arts but they don't really bring all of martial arts. It's a genre that everybody loves but it's been watered down a lot. People like Donnie Yen and Stephen Chow keep that alive but we need to have them here too. There are people making attempts but the vision isn't coming from the right person or the right place. They always just go 'let's do a little fight in here, let's do a little kick'… I know people are still passionate about me and about The Last Dragon and I love all my fans. They're fantastic."
Right back atcha, Taimak.
Fans can follow Taimak on Instagram, Facebook or Twitter to keep up with developments.