News
The Many Saints of Newark Trailer Song Has Paid Off for Years
Just like the sinners and The Many Saints of Newark, The Flying Lizards knew the value of "Money."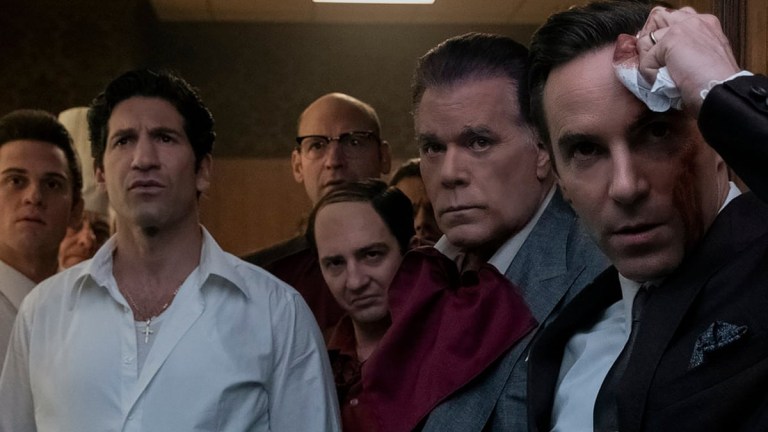 The Many Saints of Newark trailer shows Dickie Moltisanti trying to do the right thing. The film is a prequel to the HBO series The Sopranos, and will give special attention to the "old school" guys who were in at the ground floor of this thing of theirs. Veteran mobsters lived up to codes, like Omerta, which means silence unto death, and followed rules.
The top rule was spelled out in Martin Scorsese's gangster classic Goodfellas: Get paid. "Business bad? Fuck you, pay me. Oh, you had a fire? Fuck you, pay me. Place got hit by lightning, huh? Fuck you, pay me," explains Henry Hill, played by Ray Liotta. The Hollywood legend will play "Hollywood" Dick in The Many Saints of Newark, and tells his son, Dickie (Allesandro Nivola), to make sure he keeps collecting those merit badges.
The first thing "Hollywood" Dick asks his son when he's seated at the prison visiting table is what he wants. While Dickie tells his gangster father he's looking to do a good deed, the soundtrack kicks in a different set of needs.
You can see the trailer here:
The Flying Lizards, an experimental English avant-garde new wave band, released their cover version of Barrett Strong's "Money (That's What I Want)" in 1979. Featuring Deborah Evans-Stickland on lead vocals, it was a quirky, mechanical, postmodern rendition of a raucous classic. They performed equally exquisite disservice to songs like Eddie Cochran's "Summertime Blues" and James Brown's "Sex Machine."
The band was a loose collection of musicians brought together in 1976 by record producer David Cunningham. The Flying Lizards included instrumentalists David Toop and Steve Beresford, and Evans-Stickland, Patti Palladin and Vivien Goldman as main vocalists. They put out their début album The Flying Lizards in 1979, and Virgin Records extended their contract after the single "Money" made bank.
Barrett Strong's 1959 original song paid off for a lot of bands, and was a standard for live acts for years. The Beatles were banging out "Money (That's What I Want)" as early as August 1960, when they were still playing clubs in Hamburg, Germany. Strong had only released his single a few months earlier. It wasn't even a hit in the U.K. Along with "You've Really Got a Hold On Me" and "Please Mr. Postman," it was one of three Motown songs The Beatles released on With The Beatles in 1963.
Motown Records founder and owner Berry Gordy, who came up with the opening piano riff for "Money," loved the idea that the British phenomenon were recording his label's songs. And when the Rolling Stones followed suit, it proved Motor City really got things moving. It is the only cover song both bands issued on vinyl.
"Money (That's What I Want)" was one of the first songs recorded at the label's 2648 West Grand Boulevard studio. Also co-written by Janie Bradford, session players included Benny Benjamin on drums, Eugene Grew on guitar, and Brian Holland on tambourine. It was Barrett's only hit for Hitsville, though he went on to be an in-house songwriter who co-wrote classic masterworks like "I Heard It Through the Grapevine," "War," and "Papa Was A Rollin' Stone."
"Money (That's What I Want)" has been recorded by such diverse acts as Cheap Trick, Jr. Walker All Stars, Etta James, Boyz II Men, the Doors, Waylon Jennings, and Pearl Jam. The Flying Lizards' version of "Money" made the playlist at WKRP in Cincinnati in the radio station series' episode "Venus Rising." It can also be heard in the films The Wedding Singer, Empire Records, and Charlie's Angels.
The Sopranos soundtrack is well-known, some songs have become an iconic part of the TV landscape because of their association with the series. Tony may or may not have met his fate to Journey's "Don't Stop Believing," but he definitely laid a beating on a local politician after hearing The Chi-Lites' hit "Oh Girl." Series creator David Chase is a former musician whose post-Sopranos 2012 film Not Fade Away told the story of a band from New Jersey.
The Many Saints of Newark is directed by Alan Taylor (Thor: The Dark World), who directed several episodes of The Sopranos. The screenplay was written by Chase and Lawrence Konner.
The Many Saints of Newark will premiere on September 22 at the Beacon Theatre to kick-off the Tribeca Fall Preview, a season-long series featuring film premieres and musical performances.
The Many Saints of Newark will be released in theaters on October 1, and will be available on HBO Max for 31 days from the theatrical release.