News
WB Moves Release Dates for Tenet, Wonder Woman 1984, Godzilla vs. Kong and More
Christopher Nolan's Tenet will open two weeks later than originally scheduled, while Wonder Woman 1984 jumps two months. And that's the tip of the iceberg for films like Godzilla vs. Kong and The Matrix 4.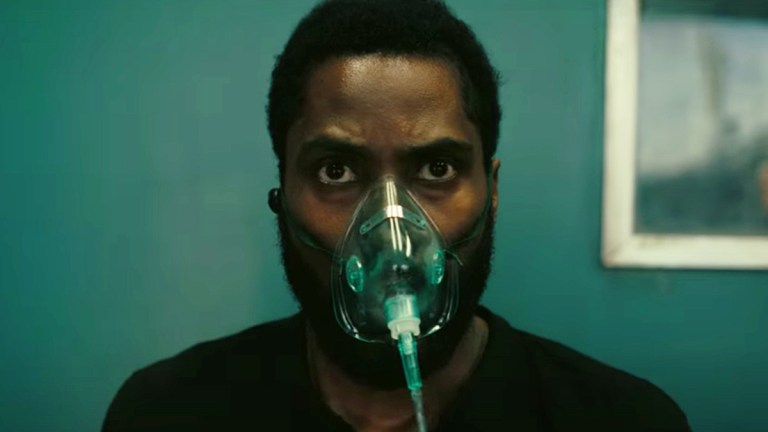 After sticking to its original July 17 release date for months, and long after just about every other summer tentpole on the calendar moved or abandoned the season, Tenet has finally shifted. A little. But its small transition has had profound effects on the rest of the Warner Bros. blockbuster calendar, from Wonder Woman 1984 to The Matrix 4 moving all the way to 2022!
Warner Bros. Pictures has moved Christopher Nolan's time-bending espionage epic to July 31, two weeks later than initially planned, no doubt to give more theaters a chance to re-open and have audiences begin to feel more comfortable with the idea of returning to the movies even as the coronavirus pandemic stubbornly persists.
To fill the July 17 release date and whet fans' appetites for Nolan's 11th feature film–and possibly to gauge how socially distanced moviegoing will work–WB is going to reissue Nolan's 2010 masterwork Inception to commemorate its 10th anniversary.
To sweeten the pot even more, an exclusive, never-before-seen look at Tenet (which seems in many ways to be a thematic cousin to Inception) will accompany the re-release, along with a sneak peek at other upcoming WB movies.
Warner Bros. Pictures chairman Toby Emmerich said, "We're especially thrilled, in this complex and rapidly changing environment, to be bringing Christopher Nolan's Tenet, a global tentpole of jaw-dropping size, scope and scale, to theaters around the world on July 31."
"Over these last months we have been keeping Warner Bros. closely informed of our work towards reopening our theatres in accordance with governmental health and safety requirements, and we are looking forward to audiences enjoying Tenet in our theatres all around the world on July 31st," said the National Association of Theater Owners (NATO) in an accompanying statement.
While theaters around the U.S. and the world have slowly begun reopening, several big question marks remain: New York theaters –considered a necessity for a film as big as Tenet to attempt to be profitable–have yet to set their reopening plans, while major offshore markets like China remain closed as well.
NATO has claimed that 90 percent of global theaters will be reopened by July 17, but that doesn't necessarily make it a reality. Without New York or major parts of China–and with cities like Los Angeles, for example, setting theater limits at either 25 percent capacity or 100 patrons, whichever comes first–it will be difficult for offerings like Nolan's $200 million blockbuster to get into the black.
Nolan, a confirmed acolyte of the theatrical experience, has been resolute in wanting to keep Tenet on its release date as long as possible as a way to bring audiences back to an entertainment option that has been all but destroyed by COVID-19.
Meanwhile the Tenet shift has triggered a series of dominoes to begin falling for the studio. For starters, WB is moving Patty Jenkins' Wonder Woman 1984 from Aug. 14 to Oct. 2. The second standalone film starring Gal Gadot as the Amazonian superhero has already moved once before, from this month to the August slot.
The move would appear to suggest that July 31 is not a concrete date for Tenet either, as it now leaves major real estate in August (assuming theaters are approaching something similar to normalcy by then) for Tenet should the studio thinks a few weeks makes a difference.
Additionally, the studio is moving Godzilla vs. Kong, a movie already delayed once from March 2020 to November, out of this calendar year altogether. The seeming culmination of WB and Legendary's MonsterVerse, which ties together 2014's Godzilla and the 2019 follow-up, Godzilla: King of the Monsters, with Kong: Skull Island (2016) is now coming out in May 2021. The exact release date is May 21 — previously the weekend occupied by The Matrix 4.
Indeed, the long-awaited sequel to the '90s and early 2000s touchstones is moving a full year from May 2021 to April 1, 2022. This probably could not have been prevented, however, as the movie paused production in Berlin due to the coronavirus pandemic and it is still far from unclear when it can begin shooting once more.
Away from the Warners lot, the Russell Crowe-starring Unhinged has also just shifted from July 1 to July 10, following the Tenet announcement. But Disney has yet to move Mulan out of its July 24 berth (after switching it out of March), while Paramount still has The SpongeBob Movie: Sponge on the Run positioned for Aug. 7. We imagine more shake-ups are imminent though.