News
Vampires vs. The Bronx Trailer Keeps Blood Off the Streets
Gentrification isn't the only thing that sucks for the neighborhood in Netflix's upcoming horror comedy, Vampires vs. the Bronx.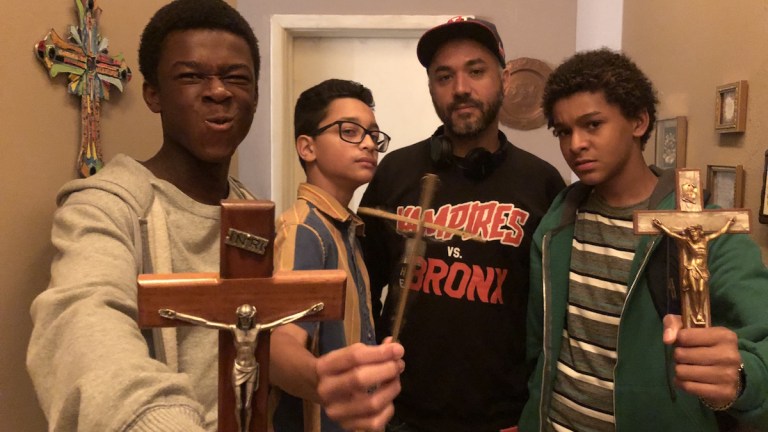 Ever wonder what effect a crosstown might have on vampires? Netflix's upcoming horror comedy is an educational look at an urban problem. There's a lot of things happening in the neighborhood right now. Keep your eyes open. That may sound vague, but the new Vampires vs. the Bronx trailer is about a silent threat: gentrification. And it's not just any old white people buying up property in the Boogie Down Bronx; it's ancient old people who stay that way by sucking the blood out of locals while draining the community of anything special. Have you noticed those missing kids' posters?
Vampires vs. the Bronx comes from Dominican Republic-raised director Oz Rodriguez, who has worked on Saturday Night Live, A.P. Bio, The Last Man On Earth, and Shrill and Sunnyside. Rodriguez co-wrote the screenplay with Blaise Hemingway (UglyDolls). With the picture being produced by Lorne Michaels, Erin David, Bert Hamelinck, and Michael Sagol, Vampires vs. the Bronx will be suitable for all ages and reflect the city's multiculturalism and youth.
"Three gutsy kids from a rapidly gentrifying Bronx neighborhood stumble upon a sinister plot to suck all the life from their beloved community," reads the official synopsis. Possibly inspired by the 2011 UK film Attack the Block, Vampires vs. the Bronx swaps out cannibalistic aliens for exsanguinating vampires, making this a street battle of occult proportions. The Bronx gang of friends are used to sticking up for their local bodega, but the forces of the new real estate speculators are simply supernatural.
Jaden Michael plays Miguel, the leader of the group; Gregory Diaz IV plays Luis, a skateboarding nerd who loves horror; Gerald W. Jones III plays Bobby, a regular kid from the Bronx who is thinking twice about the street gang he runs with. Vampires vs. the Bronx also features Sarah Gadon, Cliff "Method Man" Smith, Shea Whigham, Coco Jones, Joel "The Kid Mero" Martinez, Chris Redd, Vladimir Caamaño, Jeremie Harris, Adam David Thompson, Judy Marte, Richard Bekins, and Zoe Saldaña.
New York has always been a place for the most unnatural of tourists. Ghostbusters showed symmetrical book-stacking in midtown, and a full range of horrors like human sacrifice and dogs and cats living together on the Upper West Side. It doesn't look like any of the Staten Island vampires from What We Do in the Shadows have even heard of the Bronx. Vampires vs. the Bronx is only one bite of fright coming to Netflix during October.Vampires vs. The Bronx will stream on Netflix starting Oct. 2, 2020.