Features
The Untold Stories of The Green Mile
One of the stars of The Green Mile looks back on Frank Darabont's Oscar-nominated adaptation of the Stephen King classic.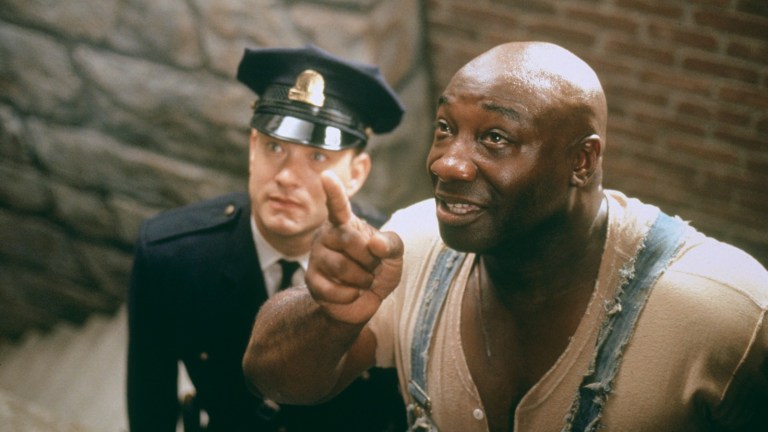 Director Frank Darabont's 1999 film version of Stephen King's The Green Mile, which is out this week for the first time on 4K Ultra HD Blu-ray, remains a popular but somewhat divisive entry in the King cinematic canon. The picture was Darabont's follow-up to another King adaptation, 1994's The Shawshank Redemption, with Green Mile adapting a serialized novel King released in six paperback installments over six months in 1996. The tale is set on death row (called "the green mile" because of the flooring) at a Louisiana prison in the 1930s where officer Paul Edgecomb (Tom Hanks) and his team encounter a new inmate, a Black man of tremendous physical size and seemingly childlike mental acumen (Michael Clarke Duncan), who is accused of the vicious murder of two small white girls.
But John Coffey, as he is called, is more than he seems. Coffey has miraculous powers of healing and empathy, which he deploys for Edgecomb, the prison warden's wife, and a little mouse who lives on the "mile" and becomes a mascot of sorts. It also becomes clear to Edgecomb that Coffey did not commit the crimes he is accused of, but the time and place being what they are, there's no way for anyone to stop Coffey's march down the green mile to the electric chair.
The movie was critically acclaimed (although perhaps less so than Shawshank), a box office hit and nominated for four Oscars, including Best Picture and Best Supporting Actor for Duncan in his breakout role. Both the film and the original novel also remain favorites of King fans.
Yet some reappraisals over the years have found the film too sentimental and manipulative, with both the book and movie being called out (in particular by filmmakers like Spike Lee) for their portrayal of the "Magic Negro" stereotype in Coffey–a Black person with some sort of mystical power who acts, and often suffers, to save a story's white protagonists.
While some of the criticisms are certainly reasonable and may continue to be debated, The Green Mile remains a moving and faithful version of a King story that had less to do with straight horror and more with spiritualism, the human spirit, racism (which the story addresses head on), and ultimately the question of how much a human life is worth, even one that is, for the most part, lived honorably.
Why The Green Mile is one of David Morse's favorites
Due to the aforementioned 4K Blu-ray release (and we're here to tell you it looks more gorgeous than ever in the format), we were able to sit down with actor David Morse to chat about his memories of the film. He's billed second to Hanks in the credits, as he plays Hanks' right-hand man, an officer Brutus "Brutal" Howell, and the actor tells us now in a Zoom chat that it remains one of his favorite films in his career.
"It would be hard for it not to be, for many reasons," Morse explains. "Where it came in my life, at the time of my life that I was asked to do this, the things that I had been asked to do up until then–I'd done a lot of television, 10 years of television, and then I'd done some movies and didn't feel very secure at my place in the movies, and it's really where I wanted to be working at the time."
Morse continues, "Then when I got this, when Frank called and asked me to do it, it meant a lot to me because I knew this was a special project. I read the script, and obviously the script was fantastic, but it was important to me to be a part of it. Then as other people came onboard–I was the first one cast–and eventually Tom came on, it was like, 'Okay, I'm good. I'm here and I can relax.' So I relaxed and got to be a part of something really remarkable."
As one of the stars of the 1995 ABC miniseries The Langoliers, Morse already had experience performing in a King adaptation and also had read The Green Mile by the time the movie was in development. He'd also gone out for a role in Darabont's The Shawshank Redemption (he recalls that it may have been for the sadistic prison guard played by Clancy Brown in the film) that didn't pan out.
"I auditioned for Shawshank and [Darabont] did not include me in that movie, which may have turned out to be a blessing," reveals the actor. "At the time, I was really disappointed and I loved that movie like everybody, but the benefit was he asked me to be part of The Green Mile and with that, I couldn't have asked for more."
The script Left Morse in Tears
Morse had said in previous interviews that the script for The Green Mile left him in tears when he first read it, a statement he stands by today. "I can't imagine anybody not being in tears at the end of that script or the books," he says.
Morse elaborates, "It started with those books. Stephen King with this incredible story and those incredible characters, especially John Coffey. I don't know how Stephen would feel if I said this, but there's really a spirituality at the center of this and there was a love at the heart of it. It was in the script. Then when you brought the amazing Michael Clarke Duncan into it, who embodied that so fully, and Tom and all the other actors, it's incredibly moving. So yes, I was really moved by the script."
Morse says he was also quite keen to play Howell, a.k.a. "Brutal," whose intimidating frame and strength makes him the muscle of the death row officers, even though he continually shows himself to be compassionate, empathetic, loyal, and wise.
"It's what I loved about him," says Morse about the character's complex nature. "It's what I was so grateful for because it's such a great, fascinating combination. The thing that I thought about was that all these people, this was during the Depression and life was so hard… he was a man trying to survive like the people in that prison were trying to survive. If you had to be tough, you had to be tough. But that doesn't mean you don't understand where people are coming from. I think he got that."
Remembering Michael Clarke Duncan
While Morse praises the entire cast, especially Tom Hanks–"He's been a leading man all his life…but he, as far as I'm concerned, is one of the great supporting actors I've ever worked with because he was really there for the other actors"–and the late, legendary Harry Dean Stanton ("I loved getting to be around him and watch him work and just be in his presence"), he has special memories of another Green Mile actor who's no longer with us, Michael Clarke Duncan.
"Michael was a great soul," says Morse. "It's the thing that he came to that movie with. He didn't have experience as an actor. He had experience as a human being. He had worked for a gas company in Chicago, digging ditches. He worked and lived in a tough environment. Believe it or not, he told stories about being beat up at school by a bully who would be waiting for him after school. Mike would run from the school all the way home while being chased, afraid of being beat up."
Morse adds, "One day his mother locked the door, wouldn't let him in the house. Said, 'You turn around and you face that guy.' She made him face the guy. And of course, the bully never went after him again. But Michael went through his things in his life, so when he got to this movie, he brought all that soul and experience with him. He became an actor along the way, a terrific actor, but he was already a terrific human being. That's what we really feel when we watch that movie." (Duncan, who also starred in 2003's Daredevil movie, Armageddon, and Tim Burton's 2001 Planet of the Apes, among others, passed away in 2012.)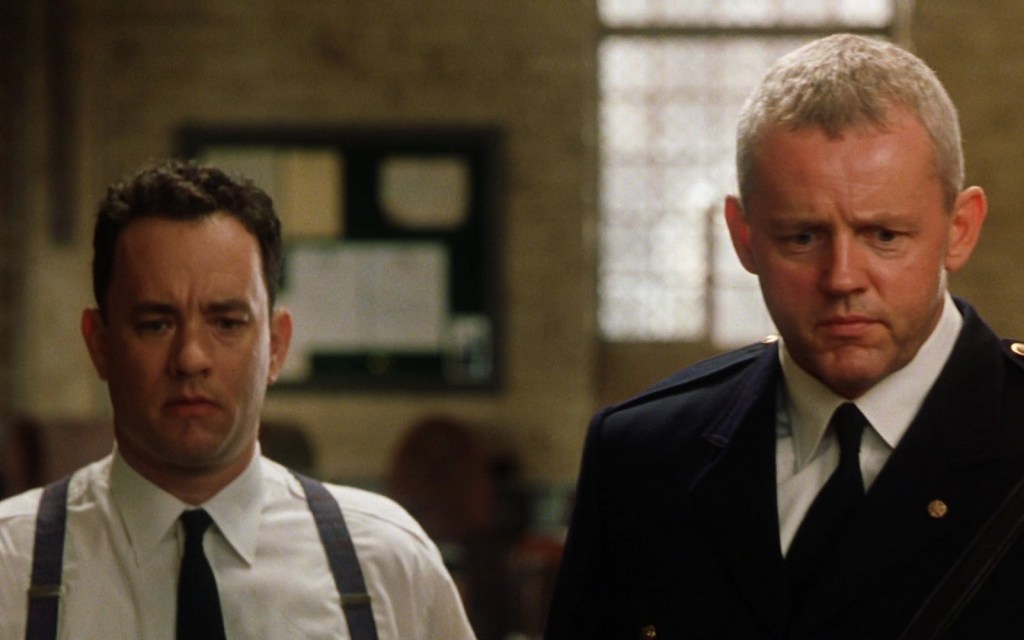 Visitors to the Set: Basketball Stars and the King Himself
One strange bit of trivia surrounding the casting of John Coffey involves basketball legend Shaquille O'Neal, who told the Marchand and Ourand sports podcast that he was offered the role but turned it down. Morse says he doesn't recall hearing about O'Neal specifically, but that a number of basketball players did actually audition for it.
"I don't know if [O'Neal] was offered the role or not," Morse says. "There were a number of basketball players who [auditioned]. John Salley and some of the Lakers were there. I was on the set when they came for their auditions and talked to them a little bit. I'd done a movie called Inside Moves where I played a street player who became a member of the Golden State Warriors, so some of them knew me from that movie. But I didn't see Shaq at the time. I wouldn't be surprised, it would have been interesting to see him do it, but obviously we got the right man in the movie."
With The Green Mile, The Langoliers and another King adaptation, 2001's Hearts in Atlantis, on his resume, Morse admits that, strangely enough, the one person he has never had a chance to talk with at length is Stephen King, even when the author showed up on The Green Mile set for a tour (and surprise birthday cake, as documented on footage included with the Blu-ray).
"When Stephen's on the set it's a show, it's a big time show," Morse says. "Everything stops. And Frank of course, adores him, and made him feel like a king there. They ran around, sitting in the electric chair and having his cake and doing all that stuff. There was so many people on the set who wanted to be able to talk to him. He's really his own man–a fascinating, interesting man. But I never got to talk with him much and I've done a bunch of his things. It'd be interesting to talk to him now after all of this."
The Green Mile is out now on 4K Ultra HD Blu-ray and digital.