Reviews
Uncut Gems review: Adam Sandler stars in a masterpiece
Uncut Gems offers a career-defining performance from Adam Sandler and a uniquely slick crime drama you cannot miss.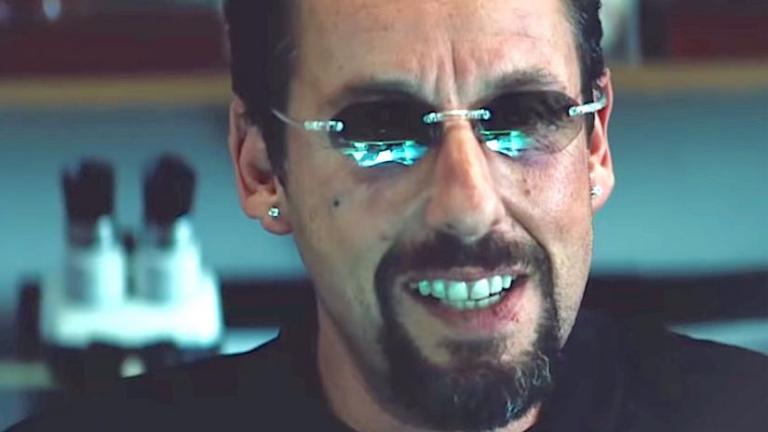 Every once in a blue moon, a familiar star gets a role that changes the way you think of them. They inhabit the part not like a shapeless blanket but as a form fitting suit tailored to their strengths. In the right circumstances, it can reveal striking new dimensions; in rarer instances, it can be weaponised by the canniest of filmmakers. Benny and Josh Safdie, a writing-directing pair of brothers, are two such filmmakers, and the role of Howard Ratner that they gift to Adam Sandler in Uncut Gems is just such a weapon.
As shiny as one of the film's titular stones, there is a cutting edge to Sandler's depiction of Howie, a New York jewel dealer, gambler, and family man who lives his life with one hand always hovering just above the self-destruct button. It's electric to watch, but it's more satisfying still that the Safdies utilise it as just the centrepiece in their showroom: a brilliant distraction that will draw audiences in while the film crafted around it is more intricate than it appears. Indeed, while Uncut Gems is an exercise in seedy pressure cooker storytelling, it's also a rare rascally, weird, and ultimately addictive hybrid.
Set during a week in the life of its protagonist, Uncut Gems throws viewers into the deep end with Howie's buzzy reputation in Manhattan's Diamond District and the problems that come with it – all of which he's to blame for. Chief among them is his new prize from Ethiopia, a massive unshaped rock of opal that offers spectacular light shows within its veneer. It took him months to acquire this stone from "Black Jews," a distinction he throws around a little too happily, but he's now about to auction it for $1 million. That is until he shows it off to the newest celebrity in his shop, the Celtics' Kevin Garnett (who plays himself to perfection).
Garnett is in Howie's store because of a deal he has with Demany (LaKeith Stanfield), a middle man who brings celebrities to the location for a cut of whatever they buy. Demany is also the guy who convinces Howie he should let "KG" take the opal he fell in love with home… as good luck before a playoff game. Since Howie has a gambling debt of about $100,000, it seems like a good idea at the time. However, to make a bet on KG and the stone's mythic powers, he has to get around old pal Arno (Eric Bogosian), who he owes those six figures to, and who has hired two muscled thugs to collect. Those goons are right there every step of the way with Howie as he balances his other fraying business associations, nights at the club, and the time he divides between Long Island and Manhattan – between his estranged wife Dinah (Idina Menzel) and their kids, and his new girlfriend Julia (Julia Fox). Then KG takes the opal with him to Philly three days before the auction.
Uncut Gems exists in the whiplash induced by jumping between tonal and thematic extremes. It is often uproariously funny but also almost tragic in its ability to instill anxiety for a relentless 135 minutes – all but encouraging you to watch scenes between your fingers, even if most of the runtime is hustlers gabbing between smiles in the back of restaurant kitchens or in the lobby of tiny 6th avenue offices. This thrilling disorientation is even accounted for in its blend of reality and fiction, with Sandler hidden behind bedazzled earrings and tinted sunglasses as he tries to seduce real-life basketball star Garnett into a bet.
The perfectly calibrated intent by the Safdies, who co-wrote the screenplay with Ronald Bronstein, is to remix genre and pulpy sensibilities. At its heart, this is a crime movie despite its protagonist mostly just trying to dodge the criminals long enough to get paid, but the movie is also poignant as it contrasts scuzzy New York with far older institutions in the Jewish faith and tradition. At times quite gentle, one of Gems' best scenes is Sandler sitting in the home of his father-in-law (Judd Hirsch) and reflecting, along with the audience, about the irony of playing games he's already won. When he sees his wife still able to fit in her bat mitzvah dress, he spontaneously begins proposing a reconciliation. Menzel, doing good work here between Elsa's high notes, laughs with affectionate hate, "I think you must be the most annoying man alive."
Of course she's right: Howie that guy who renegotiates a bet even after he wins, and the one who wants it all, be it his wife and his girlfriend, or his opal and the money he owes Arno. But through the sheer strength of Sandler's performance, we can't help but love this frustrating sonofabitch. The ingenuity of Sandler's turn is how it makes you bet on what should be a lost cause.
An even stronger supporting cast that includes sterling bit turns by Stanfield, Hirsch, Bogosian, and newcomer Fox as the closest to an innocent in all this creates a memorable cinematic landscape of lowlifes, lechers, and true New Yorkers. The surprise among them though is Kevin Garnett. The above about using an actor's persona in a striking way? It also applies to KG, who despite playing himself gives a subtle portrait of a guy shocked to learn the Diamond District has a gutter, and he's now drowning in it.
The Safdies reveal the scheming of all these people with enough empathy to prevent this from coming off as cynical exploitation or a simple confidence game. Rather the directors are as beguiled by these people as Howie and KG are by "the Black Jew Opal." That chunk of rock is often filmed (and scored by composer Daniel Lopatin) with the reverence of a New Age prophet. And maybe there is a mystical power in this nutty movie that takes archetypes, genre staples, and even movie stars and builds from their raw materials something wholly original, and coolly dazzling.
Uuncut Gems is in select UK cinemas from 10 January and on Netflix from 31 January.