News
Thor: Love and Thunder Set Photos Show Christian Bale's Villainous New Look
Christian Bale is sporting a new look as he prepares to take on the role of Gorr, the God-Butcher in Thor: Love and Thunder.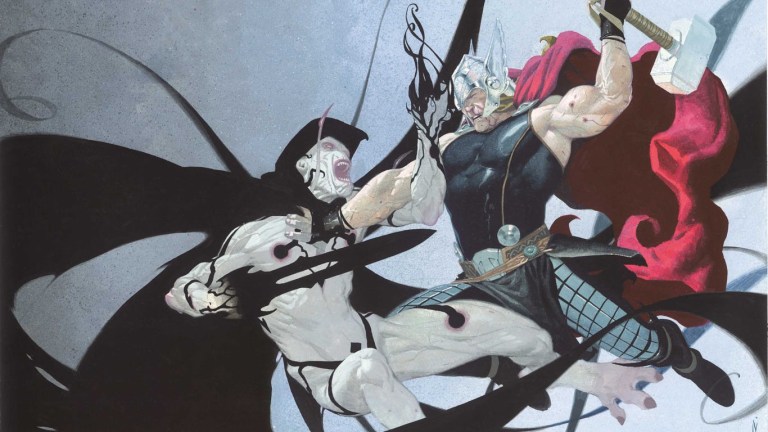 There's plenty to be excited about when it comes to Thor: Love and Thunder. Whether it's the return of Thor: Ragnarok director Taika Waititi to the chair (and all the space age, psychedelic fun he brings with him), the return of Tessa Thompson's Valkyrie, or the homecoming for Natalie Portman, this time with Jane Foster becoming Thor, it sounds like Thor 4 is just absolutely packed with MCU goodness.
But there's one bit of casting that has had fans excited from the moment it was first announced: Christian Bale is finally joining the Marvel Cinematic Universe. And Bale is bringing his rather intense presence to an appropriately intense role, that of Gorr, the God-Butcher.
And yes, folks, Gorr is every bit as intense as that impossibly metal name makes him sound. Imagine an alien who lost everything, watching his family die and vowing revenge (wait, is Gorr Batman?). But Gorr's loved ones died of things like starvation and natural disasters, meaning the only targets he could find for his rage were the gods themselves. And hoo-boy does he ever take it out on them. They don't call him the "god-butcher" for nothing, kids!
Gorr was created by Jason Aaron and Esad Ribic in 2013, as part of the same Thor series that eventually introduced the Jane Foster Thor to Marvel Comics continuity. But that opening arc, which deals with Gorr's early strikes against everyone's favorite Asgardian and his backstory are absolutely chilling, and some of the best Thor comics of the last 30 years or so. Check 'em out. (We also wrote more about the history of Gorr here).
But they're so chilling and intense that we have to wonder just how much of that will line up with Waititi's more comedic sensibilities. It would seem that Thor: Love and Thunder will contain multitudes. Anyway, this is a long way of saying that Bale is the perfect choice for a role like this, and he's likely to bring his own trademark intensity to the part.
And that begins with his physical transformation. Recent set photos revealed Bale's new look for the part. Not his complete physical transformation or costume, but his Gorr-accurate shaved head as he arrives on set. There's going to be a fair amount of makeup required to fully transform Bale into the grey-skinned, noseless Gorr the God-Butcher, but we can't wait to see how that looks when it's all done.
Thor: Love and Thunder opens on May 6, 2022.