Features
Why There Hasn't Been a Great Salem's Lot Movie
Stephen King's classic vampire novel, Salem's Lot, has been adapted twice. Could a third attempt finally produce a chiller that lasts?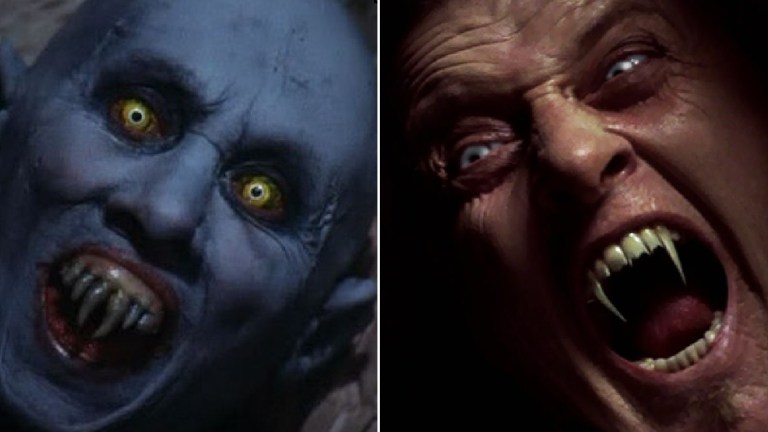 Stephen King's second published novel, 'Salem's Lot, arrived in hardcover in October 1975 and was King's next step toward transforming himself from an obscure Maine writer to a pop culture phenomenon. His first novel, Carrie, had sold modestly in hardcover, but the paperback edition of the book took off, selling more than one million copies in its first year of release. Sales were also helped by Brian De Palma's 1976 movie adaptation, which was not just a box office hit but yielded Academy Award nominations for stars Sissy Spacek and Piper Laurie.  
And the paperback edition of 'Salem's Lot came out right around this time; it became King's second bestseller in a row and cemented his status as a superstar horror writer. The book, at its core, also posed a simple yet alluring question: What if vampires invaded a small town in rural Maine in the 20th century?
As basic as that sounds, it was also somewhat groundbreaking. With the exception of a few other titles, primarily Richard Matheson's masterpiece I Am Legend, vampires were still very much part of an older, creakier tradition in supernatural literature and film, consigned largely to cobwebby castles and distant European hamlets. During this era of horror literature, most Gothic novels had elements of Satanic horror (thanks to The Exorcist and Rosemary's Baby). So 'Salem's Lot seemed refreshing and unique.
Plus it was King at the early height of his powers, with the tools that make him a great writer to this day on full display: the detailed, immersive setting; the unflinching scenes of terror and dread; and, perhaps most importantly, his ability to create incredibly rich characters, from his lead protagonist to the background residents of an entire small town, making them immediately vivid and thus making the horrors that descend upon them that much more intense.
But despite two honorable attempts to bring the novel to the screen, with a third on the way, why has it been so difficult to make a great movie out of one of King's greatest books?
First Attempt: Salem's Lot (1979)
Naturally, the rights to 'Salem's Lot were snapped up almost immediately by Warner Bros. Pictures with the idea of turning it into a major feature film. King himself did not write a screenplay, but several others did, including Oscar winner Stirling Silliphant (In the Heat of the Night) and It's Alive director Larry Cohen. But all of them came up against the problem that has since haunted many a King adaptation, which was boiling down a 400-page (or more) novel and vast cast of characters into a two-hour theatrical motion picture.
The solution to the problem was to shift the adaptation from the big screen to the small, with 'Salem's Lot reconfigured as a two-part, four-hour miniseries, shown on two consecutive Monday nights. At the time in 1978, TV miniseries—with the possible exception of "prestige" ones like Roots—were filmed on TV budgets with TV crews and resources, and were not designed to look as cinematic as modern offerings from HBO, Prime Video, and Netflix today.
But Warner Television and CBS (which aired the project) did land a film director in Tobe Hooper, and his resume up to that point, which included The Texas Chain Saw Massacre and Eaten Alive, didn't exactly scream primetime fare.
The cast was a mix of familiar TV stars (David Soul), fresh faces (Bonnie Bedelia), and older, somewhat faded Hollywood icons (James Mason, best part of the show), along with the usual complement of "that guy" character actors. The most controversial choice was the casting of Austrian actor Reggie Nalder as the main vampire, Kurt Barlow, swapping out King's erudite, distinguished-looking bloodsucker for a feral, non-speaking, blue-skinned take on Count Orlok from Nosferatu.
Barlow only appears in a few scenes, leaving his human assistant, played by Mason, as more of the film's primary villain, one of many notable changes from the book. Many of the other changes involve combining characters, such as making heroine Susan Norton's dad and town doctor Jimmy Cody into one person (played by Ed Flanders), or having Bonnie Sawyer (Julie Cobb) have an affair with her boss, realtor Larry Crockett (Fred Willard), eliminating the local electrician she actually gets busy with.
This certainly works in terms of fitting the story into a three-hour (minus commercials) running time, but it also cumulatively creates the effect (no doubt combined with budgetary restrictions) of making the town of Jerusalem's Lot seem kind of empty. The location itself is well-realized onscreen visually, but it seems populated with a handful of '70s TV personalities as opposed to a thriving New England community.
The miniseries does benefit from a number of genuinely frightening scenes, including Danny Glick's unforgettable appearance at the window of Mark Petrie (Lance Kerwin), teacher Matt Burke's (Lew Ayres) confrontation with an undead Mike Ryerson (Geoffrey Lewis) in his guest room, and Barlow's entrance into the Petries' kitchen.
But sidelining characters like Burke and especially Father Callahan (one of King's most complex antiheroes who's barely a presence in the miniseries) does the story no favors. And while actors like Soul and Kerwin have a number of strong moments, they're inconsistent. Speaking of inconsistency, for every eerie scene that Hooper pulls off, there are plenty more that are blandly directed and lit in the style of, well, a TV movie of the week.
The best parts of Salem's Lot '79 hold up decently; but a good chunk of it has not aged well in the more than 40 years since it first aired. It occasionally captures some of the flavor and atmosphere of the book—just not enough to make it a true classic, especially with all that other TV filler that never weighed down De Palma's Carrie or Stanley Kubrick's The Shining.
Second Attempt: Salem's Lot (2004)
The oddest thing about the 2004 version of Salem's Lot, again a four-hour miniseries which aired over two consecutive nights on TNT, is how it came and went without lingering around the horror zeitgeist like the 1979 adaptation did. While it's been updated from the 1970s to the 2000s, and makes a number of other changes to the story and characters, this version—directed by Mikael Salomon (the 2008 version of The Andromeda Strain)—also retains a lot of characters, plot points, and motivations from the book.
Protagonist Ben Mears is played by Rob Lowe, who acquits himself honorably even if he has to work hard to summon up the gravitas to pull off the haunted writer of the novel. He's also given a pointless new back story as a Gulf War veteran, although his connection to the town remains the same. The miniseries does restore characters like Jimmy Cody and gives others like Matt Burke more importance, although again, there are some silly additions (like making Cody have an affair with one of his patients) that are meant to indicate that "everyone in 'Salem's Lot has a secret," but which come across as merely superfluous.
One big change is that the balance of power between Barlow and his servant, Straker, has been restored to the level of the book. Played here by the great Rutger Hauer, Barlow is once again articulate and more human-looking, with Hauer providing an air of cordial yet sinister menace closer to King's vision. Donald Sutherland plays Straker as more genuinely eccentric, but does not improve on Mason's air of old world courtliness.
When you cast James Cromwell as Father Callahan, you're damn well going to give him more to do than the character got in the 1979 series. Callahan is again a crucial character here, and Barlow making him his new servant after the death of Straker (a change from the book, in which Callahan simply leaves town after losing his faith and drinking Barlow's blood) is an interesting choice. It also sets up a wholly new and tacky ending in which Ben and Mark track Callahan to a hospital where they plan to kill him.
The 2004 Salem's Lot benefits from a generally strong cast, much more cinematic compositions from Salomon, and a number of scary sequences lifted right from the book, including an unnerving scene of vampires filling the streets of the town as Ben and Mark make their escape. Like the 1979 version, it's somewhat hampered by the constraints of TV, although it sustains its atmosphere more consistently. But it again, lacked anything with enough bite for folks to remember it a year later, never mind 20.
The Future: Salem's Lot (2023?)
The biggest reason why both miniseries based on King's book are fair to good, but not spectacular, is that the novel really immerses you in the everyday lives of the people of this quaint little town, making their one-by-one destruction truly horrifying. The book also emphasizes how the town just gradually empties a little more each day as people are turned into vampires and simply vanish from normal daily life.
Neither miniseries does a great job of conveying that, and neither one quite establishes the bonds that form between the characters who are thrown together (like the primary characters of Bram Stoker's novel Dracula, by which King was heavily influenced) to become an ad hoc team of vampire hunters. There's a sense of building urgency to their actions in the book that never quite manifests in either series.
Salem's Lot also, in the final analysis, needs to be a period piece like Scott Derrickson's recent The Black Phone. In the current age of smartphones, GPS, internet, and social media, there's no way that the population of an entire American town, no matter how small, could disappear into thin air without the outside world noticing.
The upcoming feature film adaptation, the first intended for the big screen, is written and directed by Gary Dauberman (Annabelle Comes Home, It). The movie also solves that problem by keeping the story set in the 1970s. But it's unknown as of yet how it will address the issue of compressing the novel into a single movie, even if that movie is allowed to be two-and-a-half hours (we doubt Dauberman will be allowed to get to three).
How does a single movie get across the texture and depth of the town and its inhabitants in that timeframe, when two previous miniseries could not? Can a fairly young Lewis Pullman (Top Gun: Maverick) effectively portray the somewhat world-weary Ben Mears? (The rest of the cast, including Pilou Asbæk as Straker, Bill Camp as Matt Burke, Alfre Woodard as a gender-swapped Dr. Cody, and William Sadler as Barlow, seems pretty strong.) Will the vampires even be genuinely scary?
Unfortunately, it's unclear when we'll know the answers to those questions. Dauberman's Salem's Lot was shifted from a Sept. 9, 2022 release date to an April 2023 berth, then removed entirely last August from WB's release schedule. For now, a definitive version of Salem's Lot —one of Stephen King's greatest novels—remains as elusive as the vampires themselves.