Features
The Wicker Man: Britt Ekland Goes Behind the Making of a Folk Horror Classic
Legendary actress Britt Ekland remembers her time in the harsh world of The Wicker Man.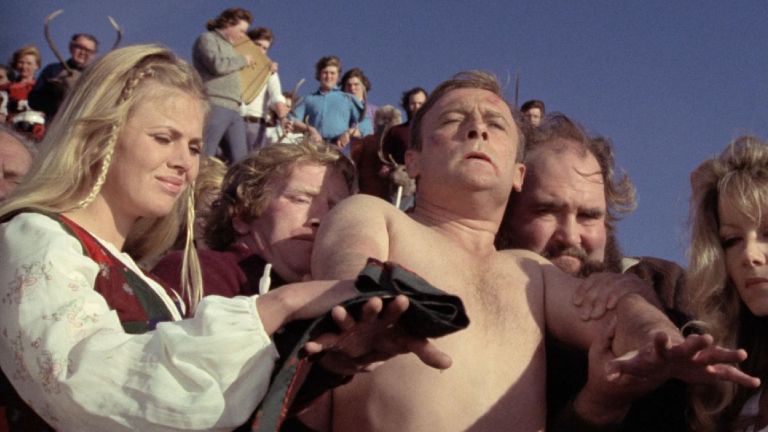 A new season of The Wicker Man is upon us. The classic 1973 horror film, which is arguably the best-known of three British films from its era that embody "folk horror" (the others being Witchfinder General and Blood on Satan's Claw), is returning to UK cinemas for one night on June 21 in a special new 4K remastered version of the "Final Cut," complete with re-edited footage deleted from the original, troubled theatrical release.
Following that, the three existing versions of the film (The Wicker Man may rival Blade Runner in the department of different cuts), all in 4K UHD, will be released in an exclusive 50th anniversary collector's edition on Sept. 4 (it's a Region 2 release, so U.S. fans should make sure they have an all-region Blu-ray player handy). The five-disc set will also contain a bevy of goodies, including new essays, an EP of music, and plenty of other bonus content.
Despite a turbulent production and initial release, The Wicker Man has only grown in stature over the years as one of the greatest British horror films of all time and a landmark in the genre overall. Directed by Robin Hardy from a script by Anthony Shaffer (inspired by David Pinner's 1967 novel Ritual), the film follows the extremely conservative, religious police sergeant Neil Howie (Edward Woodward) as he journeys to a remote Scottish island to investigate a report of a missing girl.
Howie discovers that the islanders are pagans who worship ancient Celtic gods and freely practice rituals of magic and open sexuality. Appalled by the community and its leader, Lord Summerisle (a majestic Christopher Lee), Howie nevertheless continues his dogged search for the girl, who the islanders claim doesn't exist. But all too late, Howie finds that a trap has been laid for him, and he discovers his true purpose for coming to the island in a climax that remains one of the most horrifying in film history.
Enter Britt Ekland
Although Lee, Woodward, Hardy, and Shaffer are all no longer with us, co-star Britt Ekland is. The Swedish actress, now 80, was the guest of honor last month at a screening of the newly restored film in London where she was joined by Robin Hardy's family and Wicker Man fan Guillermo del Toro. Following that event, Ekland sat down with Den of Geek to reminisce—as well as reveal that only in recent years had she become aware of the continually growing stature of The Wicker Man among cinephiles.
"I lived in London most of my life, on and off, and Time Out had two of my films, Get Carter and The Wicker Man, as two of the 100 best films ever made in Britain," the actress explains. "[But] it's within the last seven, eight, nine years that I realized it's a very 'culty' and important film, and other films are trying to achieve what it did, but they never have."
In the film, Ekland plays islander Willow MacGregor, the sexually liberated daughter of the innkeeper at the island's Green Man Inn, whose job it is to tempt and seduce the devoutly Christian (and decidedly virginal) Sergeant Howie. "I didn't know anything about paganism," Ekland tells us.
"I'm Swedish. You know, we have Midsommar and Valborg, which is when you collect sticks and things from the year and you burn and celebrate the [end of] winter and [arrival of] spring," she continues. "But I knew nothing about paganism. I just knew it was a film about an island in the middle of the ocean where, whenever it's cold everywhere else, everything is blooming and beautiful… I was mostly worried about the fact that I'd have to be semi-naked."
The Unforgiving Shoot of The Wicker Man
Ekland was right to be concerned. While the film is set in the spring, and the island is supposed to be lush and colorful, new ownership at the company behind it, British Lion Films, needed to get a movie into production quickly. So filming began in the fall of 1972 around various villages and coastal areas in Scotland, which meant that the weather was anything but warm and sunny (artificial leaves and blossoms were reportedly glued to the trees to make things look more spring-like).
"Most of the locations were on the moors, and we were just walking for many, many different purposes," Ekland recalls. "We walked to watch the wicker man burn, for one. But there was endless walking and dancing around that area. Walking to the cave, walking for the dance with the swords—a lot of walking. For me, the film was all about walking in the cold in flowing, nondescript gowns."
To make matters more interesting for Ekland, she discovered during the shoot that she was pregnant, although it didn't take quite the toll on her that it could have. "Luckily, with this particular child, I had no nausea, morning sickness, nothing. I didn't even know I was pregnant. I had no symptoms."
Yet the remote nature of the shoot and some of the locations and towns used to create the island of Summerisle not only made filming difficult but forced the production to utilize whatever resources were at hand, including casting locals as the island's inhabitants.
"It's kind of very barren where we were," says Ekland. "This was the '70s, so technology was not what it was today… extras would not be shipped in from Shepperton or Pinewood [Studios] or wherever they collect them. They would just use whoever happened to be around. School children, the hairdresser, the guy who owned the pub. So for a lot of those people, the locals, it was a great fun big event."
Ekland also acknowledges that financial issues hung over the production, which was made during a very treacherous time for the British film industry. Lee, who had initially purchased the rights to Pinner's novel along with Shaffer, allegedly worked without getting paid in order to make sure the film was completed, while the small budget was reportedly kept to under half a million pounds.
"I don't think I was the only one [who felt this way]," says Ekland about the movie's financial problems. "The general feeling was that this was very difficult to shoot and there wasn't a lot of money. I think there are problems with the finances at some point. Not that it affected me, but I just kind of heard that."
Ekland's Problems Were All Behind Her
What did affect Ekland were two controversies surrounding her performance. The first was her dialogue, which was dubbed by Scottish singer Annie Ross. "Somewhere there is a tape of me doing my own dubbing, with probably not a fabulous Scottish accent, but some sort of Scottish accent," says Ekland with a laugh. "And I really never knew that I was dubbed. They never told me, the same way that I never really knew that they had brought in someone to dance [for me] until they done it."
Ah yes, the notorious dance scene. In one of the film's most famous sequences, Willow does a nude, erotic dance against the wall separating her bedroom from Howie's, sending the virginal police officer into a paroxysm of repressed lust as he lies sweating in his bed. But while Ekland was okay with going topless, she did not want her rear end filmed, so that part of the dance sequence utilized a body double.
Various theories about the exact identity of the voluptuous stand-in used for the scene have circulated for years, with the film's music supervisor Gary Carpenter saying it was a stripper from Glasgow named Lorraine Peters. Ekland, who was outraged enough at the time about both the dubbing and the body double that she didn't want to talk about the film for years, more or less concurs.
"I was finally told, when I was working in a play in Glasgow that it was a Glaswegian stripper," she says now. "And I would say that if you look at the movements, it's not a normal girl who's just moving like that. She is working that wall and swinging that thing everywhere. So it was a stripper, I am pretty certain. I like my bottom better, but I didn't want you to see it, so therefore, we went with her bottom."
Ekland also recalls that both leading men, Woodward and Lee, were somewhat distant during the shoot. "Christopher was incredibly serious with this film. He loved this film. He thought that it was the best thing he ever did," she says. But she has put her own feelings at the time about their chilly relationship, the chilly locations, and the cold way the filmmakers replaced both her voice and her posterior, all behind her and has embraced the movie's stature as one of horror's finest achievements.
"I saw the film in LA on a reissue, I think it was 2014 or maybe 2015. I went with my son, who is in was in his late 20s," she says. "He loved the film. I also was very surprised. I really liked the film. It was very special, and very, very different." She cites the fiery ending in particular, in which Woodward meets the towering title figure, as one of the great moments in horror cinema. "No one has ever come close to that. You know that there's nothing that can replicate that or do anything better than that."
The Wicker Man is out in UK theaters for one night on June 21 and arrives on 4K UHD home video on September 4.