Features
The Three Big Recent Blockbusters That Changed Disney
The box office disappointments of somewhat-liked films John Carter, The Lone Ranger, and Tomorrowland had big ramifications for Disney…
This article comes from Den of Geek UK.
Pretty much every movie studio in town is currently trying to follow the model that's delivering year after year massive box office success for Disney. The company has streamlined radically over the past 20 years the number of theatrical releases it puts out and has instead centered its slate on expensive, thoroughly mitigated risks.
It's well known now that the annual Disney slate will consist of fewer than 10 films. One will be a Star Wars project (minus the ocassional PR-necessitated gap), two or three will be Marvel movies, one from Pixar and one from Walt Disney Animation Studios. Add in one or three live-action remakes of animated movies, and that's generally eight or nine of the compnay's cinematic output all but predetermined within those parameters. There's occasional variance there, and room for one or two other projects–A Wrinkle In Time, for instance–but that appears to be the core template.
Inevitably though, certain kinds of blockbusters have fallen away as Disney has zeroed on its more reliable franchises and brands. Just last year for instance came the story that the relative box office disappointment of Brad Bird's Tomorrowland was partly responsible for the studio reversing the greenlight it'd given to Tron 3. Furthermore, it looks a fair bet that sequels headlined by Johnny Depp have run their course for a few reasons, one of them fiscal.
What's clear is that Disney has keenly reacted to projects that it had high hopes for, hopes that didn't materialize financially. In particular I can't help but think of three films that it invested heavily in and then had to issue very public financial write-downs off the back of. And I wonder if those three films have in sizeable part led to the Disney slate that we see now.
If you ever wonder why movie studios lean on franchises and sequels so much, look at the hostility the following three films–back when Disney tried something a little different–managed to attract. And that was even before the cash had been counted…

John Carter (2012)
The first of the three was the long-in-gestation John Carter, based on the Egdar Rice Burroughs John Carter of Mars stories. Jon Favreau, who more recently would direct the live-action The Jungle Book (and is now working on the live-action The Lion King) initially spent a lot of time developing the project. In time, though, he backed away from it and it eventually landed at the door of Finding Nemo and Wall-E director, Andrew Stanton.
It was a massive endeavour he took on too, describing the process as effectively making two movies: the live action material that shot in 2010, and then what felt to him like an animated movie between then and the film's 2012 release. The end result wasn't cheap, and Stanton found himself on the press tour regularly fielding questions about the reported $250 million price tag. Still, Disney had its eyes on more films in the series, and John Carter certainly set up two sequels.
But alarm bells started to ring ahead of that early 2012 release when the marketing campaign didn't seem to be connecting. As Stanton would reflect on the months leading up to the film's release, "There was this weird air the summer before of schadenfreude, of doomed to fail." It then didn't help that the film itself got critically mauled by a good number of reviewers, although it still certainly found those who appreciated and enjoyed what Stanton had done with the material.
But for Disney–and this was months before the first Avengers movie would reconfigure its whole tentpole strategy–it gave the impression of a studio who didn't quite know what to do with the movie. And when it landed, it struggled. In fact, within just a week or two of the film's release, the headlines were talking of Disney looking at a $200 million loss on the movie (a number that was disputed, but the headline stuck).
I'm always a bit baffled by such stories. Films continue to make money for the studios for decades after they release, and the write down reported was part of the mechanism required for a publicly traded company. Should John Carter, or any film, put a sum in the coffers a year for the duration, does that still make the movie a financial disappointment? Does that money not count? That said, I do get that studios have estimates, and if they're not met, there's a consequence. It's still odd that it becomes more the discussion point than the film itself, for better or worse.
With regards John Carter, the fallout was fairly swift. Disney quickly backed out of making sequels to the film, and it was revealed toward the end of 2014 that its rights to make future John Carter movies had lapsed, and gone back to the Edgar Rice Burroughs' estate. At some point, somebody may try again to realize John Carter on the big screen, but the red ink Disney incurred is likely to be a deterrent.
A shame. John Carter has many fans. Just not enough to convert the film into the huge blockbuster that the investment required it to be. Stanton, ironically, would then move onto Finding Dory, which would break box office records for an animated feature. On the press tour for that movie, a more positive press was grilling him about the John Carter sequels that would never follow. But the proverbial ship, sadly, had sailed.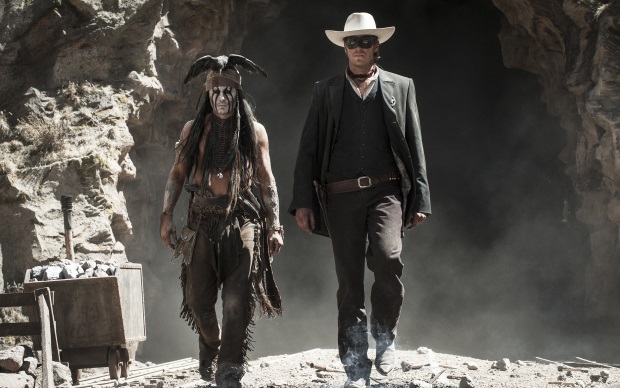 The Lone Ranger (2013)
When the press junket for The Lone Ranger came along in the UK, it brought with it a somber tone. By this stage–the summer of 2013–the film had landed in U.S. theaters, been generally slammed by critics (including us), and struggled at the box office. The tie-in LEGO sets weren't selling fast either.
Interviewees thus landed in the UK a month later for the British unveiling, and the questions veered toward as much the reaction to the film in America as the making of the movie itself.
"I feel like the man who has been lit on fire and yet I'm smiling," director Gore Verbinski told me at the time.
I like The Lone Ranger, and I should declare that. That such a hefty budget should be committed to primarily a western, one wedded to practical effects work, was already feeling like an anomaly back in 2013. Now, even more so. But like John Carter, in the run-up to the film's release, there was a sense that Disney may be in trouble with it.
On paper, reuniting the Pirates of the Caribbean team of Johnny Depp and director Gore Verbinski seemed a straightforward choice (also, Depp had headlined Alice In Wonderland for the studio, that grossed over $1 billion worldwide). That said, Disney raised eyebrows when it shut the film down to cut costs, but still, it was soon clear that this was an expensive, ambitious enterprise. It was also a physical one. Like every film here, there's little quarrelling with the fact that the money spent ended up on the screen. There are outdoor train sequences with The Lone Ranger–at one stage set to Hans Zimmer's outstanding rearrangement of the "William Tell Overture"–that are pure big screen gold.
A lot of critics were quick to savage the movie, however. Sure, there are problems: there are some odd tonal choices, it's way too long, and Johnny Depp was woefully miscast as a Native American, but it was also swimming against the direction of blockbuster cinema, and that didn't help too much either. Nor did unfamiliarity with the source material. Early predictions that the film was set to stumble at the box office proved correct, when its July 4 weekend takings in the U.S. were well below requirements. Given that Disney reportedly invested up to $250 million in the movie alone, before marketing, it needed at least double that to even think about smiling. The film topped out at $260 million worldwide. Not shabby for a big screen Western, but definitely shabby when you factor in the cost and the fact that even a bad Pirates of the Carribean movie could clean up $1 billion.
The write-down this time was reported to be $190 million according to the swift headlines that followed, and some were quick to join that together with the John Carter numbers from the year before. The end result brought The Lone Ranger movie franchise to an abrupt end.

Tomorrowland (2015)
The last of the three was a passion project from The Incredibles and The Iron Giant director, Brad Bird. Taking an area of the Disneyland theme park as its inspiration, he and Lost co-showrunner Damon Lindelof developed the project, that was under the cover of mystery for some time. The guessing game as to what the film was actually about gave the movie some early chatter, and early preview footage was well-received.
A line from Brad Bird's terrific Ratatouille –"the new needs friends"–seemed appropriate for Tomorrowland ("Tomorrowland needs friends!" Bird admitted in an interview with us), but the problem was it didn't find enough of them. That because the canvas of the film was so ambitious that it in turn was a costly production. And that meant that the movie needed to gross significant amounts to be regarded a commercial success.
The build up to this one was less troubled than The Lone Ranger and John Carter. Brad Bird had rightly built up a rich reputation, and the sense of mystery surrounding the movie did it no harm either. With George Clooney giving Disney some movie star coverage as well, Tomorrowland was the kind of project that pretty much any studio in town would have backed.
Unfortunately, a month after its release, and after receiving generally positive notices, the write-down headlines were back. This time, the movie was apparently set to lose Disney some $140 million, and once again, that became the narrative. It wasn't helped when it was suggested that the financial disappointment of the movie was what deterred Disney from backing a Tron: Legacy follow-up.
A real pity, too. Tomorrowland isn't perfect: It crams a lot into its final 10 to 15 minutes after being so keen to hold things back. There's a debate too as to what the ultimate moral of the tale is. But at heart, it's a fiercely ambitious family film, on an enormous canvas.

What Happened Next
Each of the three movies here is an imperfect beast. The Lone Ranger aches to have a running time half an hour shorter. John Carter perhaps needed a bit more of a way in for non-fans of the source text. And Tomorrowland's last act could use a bit more air in it. That or the reveal brought back a little.
But each, too, is the kind of ambitious blockbuster that Disney has–as a consequence of the trio's box office disappointment–seemingly moved away from for good. Disney's slate is a concentrated dose of Pixar, Walt Disney Animation Studios, Marvel films, Star Wars, live-action fairy tales remakes and perhaps one swing on top. A $200-300 million investment on something as risky as The Lone Ranger or Tomorrowland is unlikely to be seen again at Disney until the Star Wars/Marvel bubble bursts. And that won't be anytime soon.
The Lone Ranger also put the latest nail in the proverbial coffin for the big screen blockbuster Western. While Logan had the feel and tone of a Western at times, that was able to do so under the cover of a comic book movie. The chances of a studio releasing a Western within a widely known brand name behind it (more widely known than The Lone Ranger, certainly) as part of their summer slate look remote as a consequence. Only if Blumhouse started making Westerns might that happen.
Both Stanton and Bird went back to Pixar for their next films, tackling sequels to their earlier beloved movies (Finding Dory and Incredibles 2, respectively). Gore Verbinski has had a bumpier ride. His horror movie A Cure for Wellness, struggled to find an audience last year, and he was onboard to direct X-Men spin-off Gambit before departing the project.
read more: Why Tron: Legacy Deserves a Sequel
Most dramatically though, Disney moved on. It doubled down on what worked and cut out what didn't. It made ruthless choices, cut down the number of films it released, and the strategy has, for better or worse, paid off handsomely. Disney's is certainly the model that virtually every other studio is trying to emulate.
As for the three films at the heart of this article? Well perhaps enough time has passed for the narrative to be less about the price tag and more about the movies themselves. Each, certainly, has merits that make them far more interesting than their financial reputation suggests. And each is worth watching, detatched from box office expectations, and relentless stories about money. They're also arguably the last examples of Disney previous blockbuster gambles that gave us surprises like the original Pirates of the Caribbean. Now surprise is too much of a risk.