Features
The Northman: Will Robert Eggers Bring Art House to Beefcake Cinema?
The new trailer for The Northman looks like a wild throwback to '80s Arnold Schwarzenegger movies. But there's clearly something else afoot from the director of The Witch…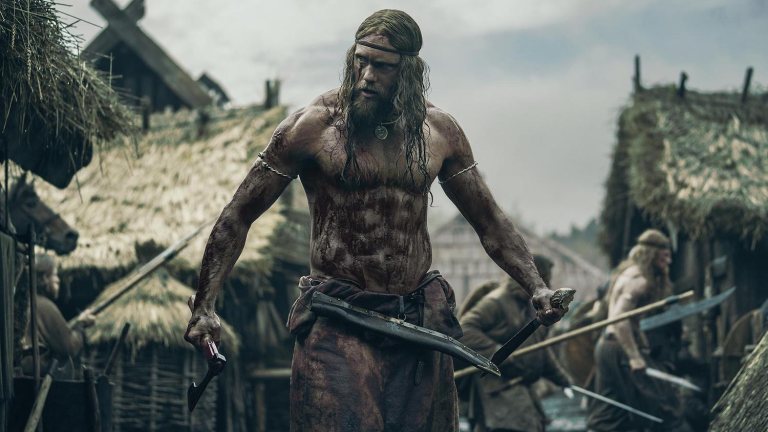 A lone rider on horseback; a child's oath of vengeance upon the sight of a beheaded parent; a burly, statuesque, and shirtless he-man swinging a sword into battle while lit only by the glow of wildfire. All of these things could be used to describe the joy of '80s beefcake action movies, a la Conan: The Barbarian (1982) or The Beastmaster (1982). But such images are given new and startling life in the first trailer for Robert Eggers' The Northman.
This highly anticipated 2021 release is writer-director Eggers' first step outside the horror genre (and A24) after the one-two punch of The Witch (2016) and The Lighthouse (2019). And The Northman looks like a blood-soaked throwback to the kind of swords and bicep movies they don't make anymore, with Alexander Skarsgård's Amleth swearing vengeance on Fjölnir (Claes Bang), the man who killed his father. However, given the pedigree of everyone involved, including Nicole Kidman, Anya Taylor-Joy, Ethan Hawke, and Willem Dafoe—plus Eggers himself—there's clearly something more afoot.
As a filmmaker who's carved out a reputation for doing deep dives and trenchant research into various historical settings and cultures to ground his period films in an unusually raw authenticity, Eggers offers glimpses of a similar emphasis on verisimilitude in The Northman trailer. There is the way warriors wear their fur pelts, or the decomposed severed head one chieftain keeps as a prize. It's already been reported Eggers, who works here with co-writer and poet Sjón, is attempting to emulate the Norse cycles and myths which comprised Northern European mythology during the Middle Ages.
So it's easy to imagine Eggers and company are going back to the type of brawny tales of heroes and glorious vengeances which in turn influenced modern storytellers—including Robert E. Howard, who created Conan the Barbarian more than a century ago.
This is clearly Eggers' most ambitious film to date, even as he's visibly also developing a familiar troupe of collaborators. Indeed, long-time fans will recognize Taylor-Joy, who broke out first in The Witch before Queen's Gambit made her a global sensation, as well as Dafoe's voice after he played the enigmatic Thomas Wake in The Lighthouse. But the new film will also mark the return of The Witch co-stars Ralph Ineson and Kate Dickie to Eggers' set, while perhaps just as importantly to fans of Eggers' films is the return of cinematographer Jarin Blashcke and production designer Craig Lathrop.
All of which hints at something stranger at play in the new film. For example, just what is up with Taylor-joy's character and the voices she appears to hear and commune with? And why does Kidman's queen mother seem so ethereal… and enchanted? There's a lot to still tease out in the film, even as it does a great job of spotlighting Skarsgård's toned strengths at its center. Indeed, Skarsgård's previously played a larger than life mythic figure, namely Tarzan in 2016. But whereas that was a modern Hollywood popcorn blockbuster, Skarsgård has since really come into his own with startling television and streaming work on series like Big Little Lies and a small but grimly memorable role in this year's Passing.
With his pivot toward meatier parts like that, one suspects the actor's barbarian will be doing more here than just crushing his enemies and hearing the lamentation of their women…
The Northman opens April 22, 2022 in the U.S. and is slated for April in the UK.