Features
Anya Taylor-Joy and Robert Eggers' Nosferatu Revives the Strangest Movie Vampire
The Witch team of Robert Eggers and Anya Taylor-Joy are finally doing their Nosferatu remake, continuing the legacy of cinema's strangest vampire.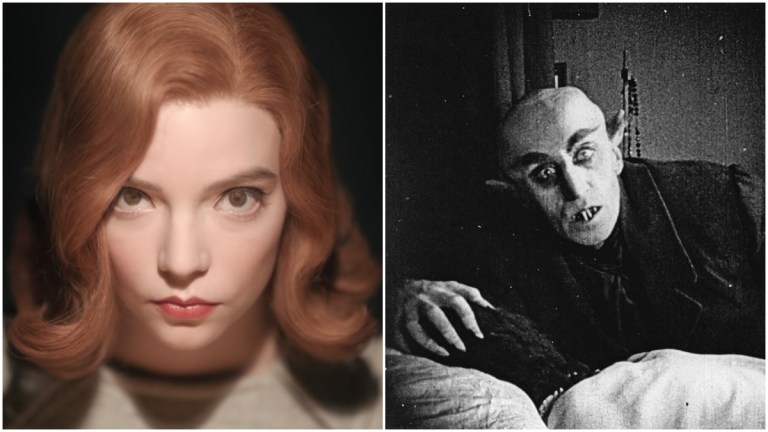 Dracula is the most prolific character in cinema. Really. According to Guinness World Records, the not-so-good count even beats out Sherlock Holmes as the literary character adapted more than any other. Perhaps that's why learning Universal Pictures has two new Dracula movies in production barely raises an eyebrow. Yet to hear a new interpretation of the vampire's original cinematic incarnation is in the works—to hear that Robert Eggers and Anya Taylor-Joy are at last remaking Nosferatu? Well, that's a corpse of a different pallor… and one that's eminently more sinister.
Yes, technically speaking, the director and star pair who made The Witch one of the best horror movies of this century are following in the footsteps of the first Dracula movie, F.W. Murnau's German Expressionist masterpiece, Nosferatu (1922). But they're also exhuming a legacy more twisted than that. Which provides them a lot of leeway to get weird with archetypal vampires and the ancient spells they cast.
This stems from the fact that Murnau's Nosferatu is not officially an adaptation of Bram Stoker's 1897 novel. This detail was the result of a shady attempt by the German filmmakers to get around the novel's copyright holder, Stoker's widow Florence Balcombe. The scheme didn't work. Nonetheless, it allowed Murnau to take what in 25 years had slowly become the definitive vampire yarn and reinterpret it into something infinitely more gruesome.
Released nearly a decade before Bela Lugosi successfully changed the vampire into a figure of sexual desire in Hollywood's first Dracula adaptation, the silent Nosferatu went in a starkly different direction. The '22 film's Count Orlok, portrayed with an unsettling pitifulness by actor Max Schreck, appeared as more of a walking cadaver than even Stoker's literary creation. With sunken cheeks and rodent-like teeth, he was the manifestation of disease and pestilence—a decaying rat given human shape, and who brought the literal Black Death with him to Germany.
More abstract than Stoker's source material, the Expressionistic Nosferatu is a surreal nightmare from which the DNA of all horror cinema can be traced. And while future Dracula movies continued on an increasingly familiar path after Lugosi, the legacy of Count Orlok's grotesque visage refused to go the same way. In fact, the first Nosferatu remake by writer-director Werner Herzog was even more artful and detached than Murnau's film. Long cinematic sequences drenched in atmosphere and dread are built around just the image of Klaus Kinski's vampire sailing down a river.
In ancient folklore, the vampire was neither a creature of desire or great intelligence. It was a wraith; a revenant back from the grave who existed only to leech off the living. Herzog leaned into that idea and found even a macabre serenity in it, recreating Renaissance paintings that lovingly embraced the baroque despair wrought by plagues. One of the film's best visuals is of rats who traveled with the vampire to Wismar now swarming an outdoor feast's table. In times of modern pandemic and renewed interest in outdoor dining, such imagery hits all the closer.
Kinski would reimagine this version again in Nosferatu a Venezia (1988), a schlocky Italian pseudo-sequel that moves yet further from traditional vampire storytelling, reinterpreting "Nosferatu" (as he's now simply referred to in that film) as a creature of comfort; a demon lover who frees his prey from the dreariness of this mortal coil and the constraints of their youth.
That Robert Eggers of The Witch and The Lighthouse fame is going to add his own distinct flavoring to this legacy is genuinely intriguing. As a filmmaker compelled to unearth the historical roots and wellsprings of our culture's collective nightmares, Eggers will be liberated by the simple title "Nosfertau" to bypass a hundred years worth of Dracula, Anne Rice, Twilight movies, to name but a few. It's worth remembering that the original 1922 Nosferatu already has its feet more firmly rooted in the 19th than 20th century. Still, revisiting a legacy with two horror masterpieces to its name is risky. Eggers told us as much in 2019 when we asked him about whether he was still moving ahead with a Nosferatu remake then.
"I spent so many years and so much time, just so much blood on it, yeah, it would be a real shame if [Nosferatu] never happened," Eggers said at the time. "But also, I don't know, maybe Nosferatu doesn't need to be made again, even though I've spent so much time on that."
Apparently, Eggers couldn't let the project go, even as his and frequent muse Anya Taylor-Joy's profiles continued to rise. Indeed, Eggers' The Lighthouse won several Independent Spirit Awards, including for Willem Dafoe's performance and cinematography. Meanwhile Taylor-Joy's career has skyrocketed in recent years thanks to roles in Emma. and The Queen's Gambit, and with the coup of being cast as a young Furiosa in filmmaker George Miller's upcoming Mad Max: Fury Road prequel. Yet she and Eggers appear drawn to the same spirits, having already reteamed for next year's Viking drama, The Northman. And it was Taylor-Joy who revealed this week to The Los Angeles Times that she and Eggers are prepping their third collaboration: Nosferatu.
Which raises the question of what Eggers and Taylor-Joy might bring to the material. Likely it'd be something as rooted in ancient vampire lore as the witchy authenticity of their first film, and the nautical superstitions in The Lighthouse… but also perhaps something that can justify a third major interpretation of such a storied title. A Countess Orlok, perhaps? It's easy to imagine both parties sinking their teeth into that kind of interpretation…