Features
Willem Dafoe on Noir, Fate and Geeks in Nightmare Alley
Willem Dafoe's amoral carnival barker in Nightmare Alley lives a life the actor can recognize in all his roles today, including Spider-Man.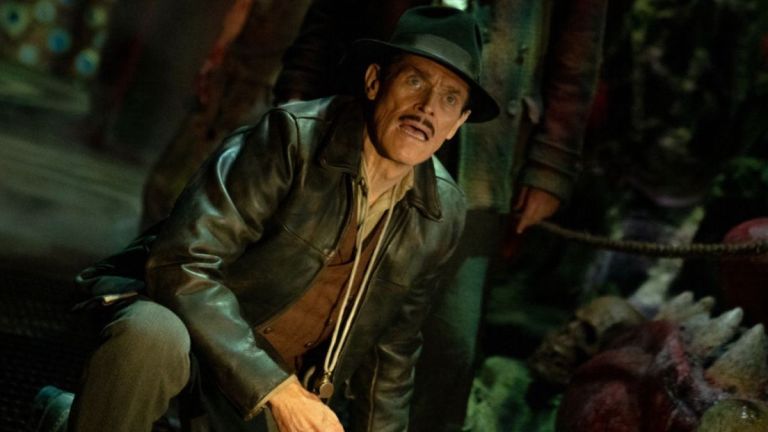 Willem Dafoe is having a moment. Four of them, actually. With this weekend marking the release of both Guillermo del Toro's cynically bleak noir, Nightmare Alley, as well as the high-flying adventures of Spider-Man: No Way Home, the four-time Oscar nominated actor is at polar ends of the cinematic landscape: a chilly and cerebral awards-bound prestige drama with an Oscar winning auteur, and a superhero movie thrill ride that sees him reprise his arguably most popular role after nearly 20 years—the Green Goblin.
And that's just two of the four electric flavors he's offering this fall when one considers his recent supporting, and memorable, work in Wes Anderson's The French Dispatch and Paul Schrader's The Card Counter. Yet when we sit down to discuss things with the thespian, he reflects that his variety of roles is everything acting is about.
"Part of it is about live invention and part of it is about not getting stuck in a certain methodology," Dafoe tells us over Zoom. "Because I think when you do that, you start to create a sense of who you are that's inflexible and then that limits you. If you keep on going from different situations like small films and big films, very presentational films, very naturalistic films, very theatrical films, it always tosses you about and forces you to go back to what is the baseline. You don't harden into a methodology or a self-image that you're trapped by."
Take for instance his role in del Toro's Nightmare Alley. In the grim as a tombstone thriller, Dafoe plays our guide into the grisly underbelly of early 20th century carnival life. With the film set during the 1930s and '40s, the picture follows a hustler with a past named Stan (Bradley Cooper). After needing to disappear, Stan finds himself running away with the circus thanks to the kindly smile, yet unkindly eyes, of a lifelong carnival worker: Clem (Dafoe). Clem offers to take Stan under his wing during the Depression and show him the ropes of moving from town to town, and fair ground to fair ground, but everything Clem offers comes with a price.
For an actor who got his start in the theater, New York City's experimental scene to be exact, Dafoe sees a lot of the modern artistic nomad's lifestyle in the seedy side of showbiz, circa almost 100 years ago.
"You're traveling all the time, you set-up, you do your thing, and then you get out of town," Dafoe says about the characters in Nightmare Alley. "So that describes the carnival and it also describes the theater, and to some degree it also describes films. Because when you shoot on location, sometimes you're like an invading army. You come into town, you set up, you make a world, you interact with what's there, and then you go away."
Perhaps for that reason Dafoe can best understand a guy like Clem when he filmed an early scene in which Stan awakes to find Clem already risen (with bottle in hand), and perhaps ghosts on his mind.
Says Dafoe, "There's always that beautiful moment when you come to a set in the morning where it's starting to take on life, and you feel that in the theater, you feel that in this movie, when you're coming to the carnival set, and you certainly feel that in film, generally, when you're arriving at four o'clock in the morning, it's dark, and the world is coming to life with the sun."
With that said, Dafoe stops short of agreeing when we draw parallels between modern filmmaking and Clem's most specialized, and sinister, duty. The duty of turning a desperate soul in Depression era America into… a Geek.
Before the term "Geek" became synonymous with folks who partake in fannish or enthusiastic behavior, the word has its etymological roots in early 20th century carnival life. It was a slang term—some might even say slur—created to describe "sideshow freaks" who were considered so lowly and incompetent in life that the only "job" they could be expected to perform at a carnival was to bite the heads off live chickens to the sound of a cheering and jeering crowd. It's a nightmarish scenario that Stan and audiences see in graphic detail during the first 10 minutes of del Toro's Nightmare Alley.
This root origin for geekdom is excavated in the film, but so is how such misery could be inflicted on a "performer." In one of Nightmare Alley's most chilling early scenes, Dafoe explains to Cooper how he "breaks in" a new Geek. It always involves going to a town's darkest corners and finding a man at the end of his rope—and then to hang him by it while offering a job in one hand and a bottle of liquor with an added shot of morphine therein. When the performer has had too much and finally succumbs to his own demons, then it's off to the next town and the next Geek.
Given our own geek credentials, it seemed prudent to ask Dafoe about this monologue and if he, too, could see Clem as just a savvy film director or acting coach who is helping men get into character. But the actor avoids such simple analogies for how dark Nightmare Alley can get.
"Clem's pragmatic and he knows the nature of human desire and human addiction," Dafoe explains, "and for his own selfish reasons… he recognizes that you can control people and you can reduce them to an inhuman thing if you prey on their desires and their patterns of behavior that they can't break."
Dafoe continues, "So he's kind of a dark figure, and it's not great to turn someone into a Geek, but he's also quite objective about it and sort of fatalistic. 'People who are going to go that way are going to go that way.' That's why he searches for people already in crisis. He goes to skid row where people are already in trouble, and they're grasping at some sort of lifeline, and he doesn't really give it to them. He just pushes their addiction further."
It's a grim prognosis, and one that's in keeping with the nihilism of most noir. Indeed, del Toro's Nightmare Alley is the second film to be adapted from the William Lindsay Gresham novel of the same name—the first was a 1947 film starring Tyrone Power. Dafoe tells us he was open to revisiting that film as well as the novel, which he had never read before, because generally speaking, "All information is good. It feeds in there and you take what you can use and let slide what you don't."
That being said, del Toro's film is a mite bit darker still than the '47 movie and gets to the heart of the appeal of noir.
"They have a fatalistic point-of-view," Dafoe says when considering the genre. "You can't help but associate a certain visual style with noirs and a certain kind of attitude. I wasn't a huge cinephile growing up, but the ones that I did gravitate to tended to be noirs. It doesn't quite express life, but it does express a dark romanticism [toward it], which I appreciate. A romanticism about human nature and this sense of destiny. How people are tested, how their character is tested in life by circumstance, and most people fall into line with something that is basically already created."
And creation, of Geeks or Spider-Man movie villain freaks, is something Dafoe is very, very good at.
Nightmare Alley opens in theaters on Friday, Dec. 17, and the UK on Jan. 21.