News
Alexander Skarsgard: True Blood Paved Way for The Northman
Exclusive: Alexander Skarsgård talks about how his time as Eric on True Blood helped inspire him to become The Northman.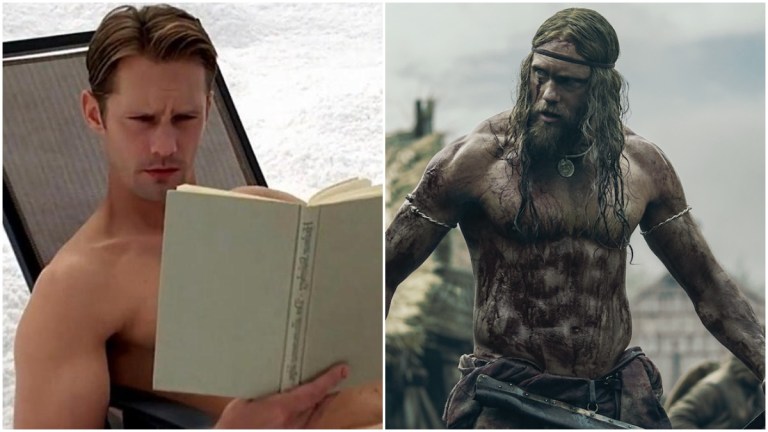 Alexander Skarsgård has been fascinated by Vikings for about as long as he can remember. Truly, he is quick to point out that his childhood country home in Sweden was surrounded by runestones, which were typically medieval memorials for long gone Vikings who fell in glorious battle. So the Viking Age has walked with him since well before The Northman, a new blood-soaked epic from Robert Eggers, director of The Witch and The Lighthouse.
Yet when we sat down to chat with Skarsgård about The Northman, we couldn't help but note that this was hardly the first time he's played a Viking or even "the Northman." After all, for seven seasons he portrayed Eric Northman, an ancient Viking-turned-modern vampire, on HBO's True Blood. And as the kernel of the idea of The Northman belonged to Skarsgård—who floated the prospect of a Viking movie to Eggers years ago—we were curious if he was already thinking about The Northman when he first played Eric Northman on True Blood.
"I think that actually triggered something," Skarsgård says. "Shooting that flashback on True Blood 10 years ago, I think it triggered something where I was having an amazing time. It wasn't 100 percent historically accurate what we did, but nothing on that show was, and it was a hell of a great time. And I started thinking that I've never seen an authentic, historically accurate depiction of the Viking Age that really takes the mythology seriously and goes deep into the mythology, and tries to make that integral to the story. So it kind of started to percolate—the idea of making a big epic Viking adventure film but based on the old sagas, the old Icelandic sagas, the Edda poetry."
The True Blood scene that Skarsgård seems to likely be referring to is from the second season, which aired in 2009 and featured a flashback to Eric's transformation into vampirism on an ancient Norse battlefield. However, flashbacks to the Viking Age became a recurring element throughout that series, including in the below video from the third season, which contains an extended flashback about Eric's Viking youth pre-vampire bite.
As Skarsgård again asserts, he's a child of Scandinavia, so he's always fascinated by Viking culture. But the series apparently ignited in him the need to begin a years-long saga—a search for a true Viking movie. This eventually led Skarsgård, who was by then working with Hereditary producer Lars Knudsen, to first approach Eggers about making a movie centered on men from the true North.
Eggers previously told Den of Geek Magazine: "Maybe it was a meeting about nothing or maybe Alex had specific designs for me, I'm not entirely sure. But we sat and started talking, and quickly he said that he had been trying to make a Viking movie for some time with Lars Knudsen, who was one of the producers of The Witch and a friend of mine, and I didn't know this. So I said, 'Well, I have a Viking movie for you,' even though I didn't really."
Eggers japes. He'd already fallen in love with Iceland after recently visiting that singularly rugged landscape with his wife shortly after completing The Witch. But this conversation was the beginning of a serious consideration about Viking lore as a cinematic subject, and the first inkling of a collaboration that resulted in exactly what Skarsgård wanted: a brutally realistic yet mythic approximation of the Icelandic sagas he savored so many moons ago.
"The dream was to have something that would capture the essence of those sagas and the laconic language," Skarsgård says. "The harshness and stark nature."
Harsh, stark—and, yes, beautiful—are all fitting adjectives to use with regards to The Northman.
The Northman opens in theaters on April 22. Our full interview with Skarsgård will be available next week.