News
Robert Eggers and Anya Taylor-Joy Still Planning Nosferatu Remake
Exclusive: Robert Eggers, director of The Witch and The Northman, gives an update about what he and Anya Taylor-Joy are discussing for a Nosferatu remake.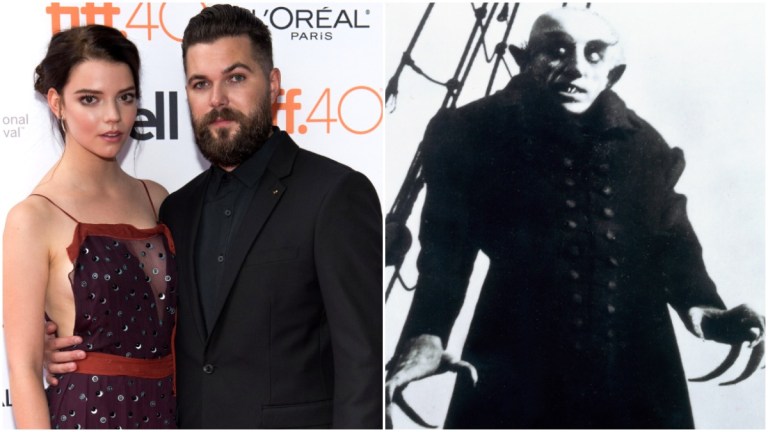 Robert Eggers has been planning to remake Nosferatu for a long time. It was announced as an intended second feature after his first movie, The Witch, won the Directing Award at Sundance in 2015. Frequent collaborator Anya Taylor-Joy has been similarly attached to the reimagining for nearly as long. Yet seven years later, and after several other ambitious projects, the emerging auteur with a taste for Jungian horror is still waiting to sink his teeth into the classic vampire material.
Hence when we sat down with the director to discuss his new film The Northman for Den of Geek magazine, we were keen to ask if he and Taylor-Joy still communicate about the project, particularly since she appears again in Eggers' upcoming Viking epic.
"We definitely talk about it," Eggers says, "and I don't know why it's been so hard to make happen."
The comment is markedly more enthusiastic than when we first discussed the project with Eggers a few years ago during the release of The Lighthouse, and he said that "I don't know, maybe Nosferatu doesn't need to be made again, even though I spent so much time on that?" It also echoes a recent interview for The Northman where Eggers hinted his next film could be a project that's been previously discussed in the press, depending "on actor availability." For that reason, some have speculated that his version of Nosferatu is still alive, perhaps even with Taylor-Joy as a Countess Orlock.
When we run that theory about Taylor-Joy as the vampire by Eggers he says with a guarded laugh, "I've seen people write about that. That certainly hasn't been the take that Anya and I have been exploring, but anything is possible."
Not surprisingly, Eggers and Taylor-Joy still seem drawn toward exploring the concept of vampire lore through the lens with which it was first set down on screen by F.W. Murnau's original Nosferatu (1922). It's also worth noting that this century-old, unauthorized adaptation of Bram Stoker's Dracula was released at a time when one foot of the culture was still firmly set in the 19th century. And historical authenticity has always been a guiding star for the writer-director. Eggers even tells us he's tried to incorporate what historical research there is about the superstitions and beliefs of medieval Slavic people into The Northman, in which Taylor-Joy plays a "cunning person" (or white witch). It's a role Eggers says he wrote specifically with Taylor-Joy in mind. If Nosferatu gets made, it will mark the third time he's worked with his The Witch leading lady.
"With the repeat collaborations, there's an understanding of taste and an understanding of goals, and a shorthand that is really important for everyone," says Eggers. "I trust my [heads of department] completely that I work with in repeat collaboration, but I think with actors trust is almost the most important part. So much of when you're working with a new actor, the first thing to establish is trust. If you don't have that trust, it's very difficult."
He adds, "But also Anya is just incredibly professional and kind, and she had everyone's back the whole time [on The Northman]. It was a difficult, miserable, cold shoot, and she always had a positive attitude and was a leader in having one."
One may hope they can each have one again if and when their long-gestating vampire movie sees the light of day.
Our full interview with Eggers about The Northman is available now in the spring issue of Den of Geek magazine. The movie opens only in theaters on April 22.