News
The New Mutants: Maisie Williams Talks Same Sex Love Story and Kiss
During The New Mutants Comic-Con panel, Maisie Williams and Blu Hunt talk about developing a romance between Rahne Sinclair and Danielle Moonstar, including a kiss.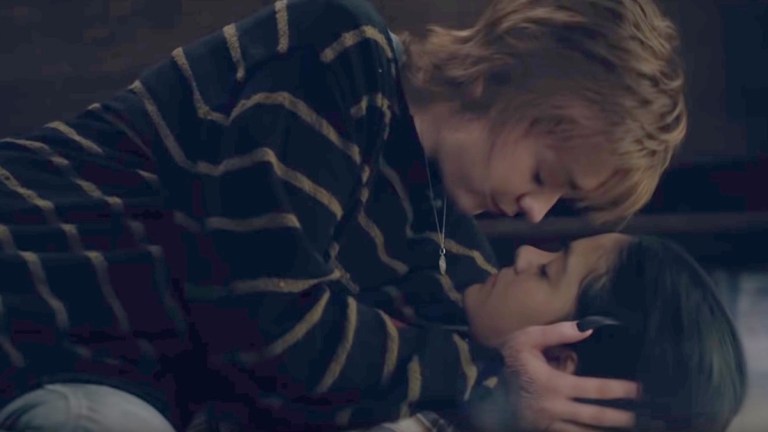 Superhero movies have a notoriously poor track record on sincerely depicting disenfranchised or marginalized groups on the screen, LGBTQ+ or otherwise. Often every time a Hollywood studio brags about including a gay character in a major blockbuster, it turns out to be a character without a name, or a background player whose public display of affection can be easily trimmed out of international cuts of the film. That doesn't appear to be the case with The New Mutants.
While we still have not actually seen the long-forthcoming superhero-horror movie hybrid, much to the chagrin of the movie's makers, the picture does appear to be striving for something different. Rather than depicting a romance in the margins or by intimation, The New Mutants is supposed to make a building connection between Rahne Sinclair (Maisie Williams) and Danielle Moonstar (Blu Hunt) the heart of its narrative. And all involved clearly want to get it right.
"Their relationship was certainly the spine of the movie," writer-director Josh Boone said during The New Mutants Comic-Con@Home panel Thursday evening.
Williams agreed, adding, "I think at the heart of it is just this really lovely love story. It just brings it back to reality, I think."
You can get an early glimpse of it in the opening sequence revealed during the Comic-Con panel. While the footage begins by teasing carnage and destruction caused by the evil Demon Bear, the sequence ends with Hunt's Dani waking up in a mental institution to the sight of a pair of eye's—Rahne's—looking down on her from an air duct above. But while this hardly confirms an actual romance, Williams' recollection of doing chemistry reads while looking for a young woman who could play Dani Moonstar do.
"I met with Josh like a while ago, and ended up getting the part of Rahne," Williams recalled. "And then we ended up doing a bunch of chemistry reads to find Dani. Just from that first audition [Blu and I] did together, we got on so well. It was really wonderful to see a relationship like this. In a typically quite masculine world of superheroes, it was lovely to just see these two fragile women who just protect one another and bring light in each other."
Boone then added their chemistry read will be on the film's eventual Blu-ray/digital release… including its kiss.
"I don't know if we could have made the movie without [Blu]. We could not find someone else. She was the perfect person for the part, and we saw her and Maisie together, it was sort of the end of the story…. I think they had to kiss in the audition. So it was not like COVID times."
Hunt, with a hint of embarrassment, confirmed that memory by saying, "You can't imagine how nervous I am. 'Oh, I have to go kiss Maisie Williams?!' Showing up at the studio lot, it was very nerve-racking!"
This would seem to indicate that the kiss was also in the movie, which would be remarkable for a genre that's often sexless, and to date almost entirely heteronormative in its depiction of personal relationships among costumed men and women. It is also a small departure from the comics, considering on the page Dani and Rahne have a strong psychic connection… but no more.
"In the comics they had a telepathic link already," Boone explained. "And it just sort of naturally happened that way. We just wanted to have the characters you fell in love with as they fell in love."
And to be sure Boone has the approval of one of their key creators, artist Bill Sienkiewicz—the penciler was even on hand at the panel to reveal he can no longer think of these characters without thinking of the actors portraying them. Boone also has his own passion for the early New Mutants comic book run by Sienkiewicz and writer Chris Claremont during the 1980s.
"Ever since I was a kid, my best friend and I had loved this 'Demon Bear Saga,' this run that Bill had done on the comics, because it sort of mixed dark fantasy and horror with superhero comics, and I had never seen anything like that before," Boone recalled during the panel. "I remember sitting in my apartment in LA, I had a stack of New Mutants comics, and I was like, 'One day maybe!' And that did end up working out, even though nobody's seen [it]! They will eventually."
Given the movie's insistence of taking a different path into horror and a real attempt at inclusion, we suspect there is definitely an audience out there eager to see it, still.