Reviews
The Nest Review
Jude Law and Carrie Coon give career best performances as a couple whose seemingly ideal life is a façade in The Nest.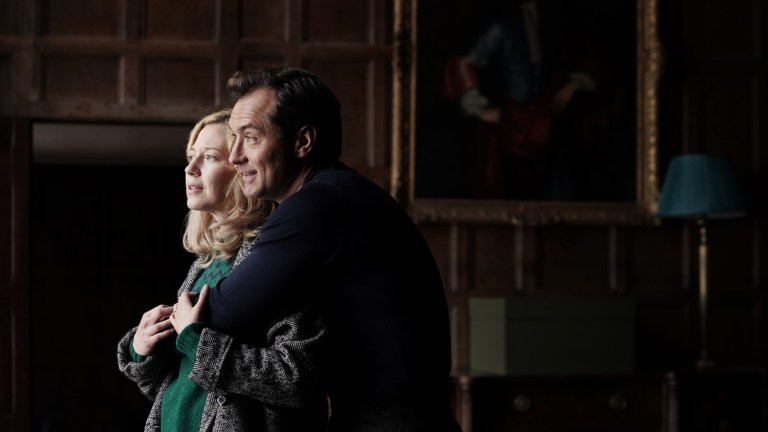 It's been 10 long years since Sean Durkin directed his first feature film, the chilling Martha Marcy May Marlene. His only directing gig in the interim was a four-episode British series called Southcliffe. But now he's returned with The Nest, a film suffused with the same sense of dread and claustrophobia that marked his feature debut, even if the narrative this time lacks the same focus.
While Durkin got a breakout performance from Elizabeth Olsen in the earlier movie, here he gets some of the finest work in the careers of both Jude Law and Carrie Coon. They play Rory and Allison O'Hara, a couple with two kids–a teen girl named Sam (Oona Roche) and shy grade schooler Ben (Charlie Shotwell)–who uproot themselves from America back to Rory's native England. The father has gotten a lucrative job offer at a firm he previously worked for.
To sweeten the deal, Rory buys an enormous house in the countryside for the family, complete with land on which Allison can build a stable for her horse and perhaps start a riding school. But it soon becomes clear that the house is beyond their means, while Allison and both kids have trouble adjusting to their new environment. Meanwhile Rory finds out the hard way that the dealmaking skills he pretended to acquire during his Stateside sojourn don't quite translate to the London financial world, with consequences that deepen an already existing wedge between him and Allison.
At the same time, the kids retreat into potentially self-destructive worlds of their own, and the house (which seemed too monstrously huge for a family of four to begin with) becomes a shadowy, haunted labyrinth that despite its size seems to press closer and closer on the family–a physical manifestation of the financial and emotional pressure they're facing with no clear escape plan.
The Nest is set during the 1980s, that era in which greed was considered good and the Reagan administration ran the U.S. economy into the ground with the fiction of "trickle-down economics." But while Rory has apparently obtained his bad habits from spending time here, the movie doesn't get explicitly into the political or social circumstances of the time. Instead it focuses on how those circumstances can affect and essentially blow apart one seemingly traditional nuclear family.
Rory is all about showing off, whether it's his wife, his house or the worldly, luxury lifestyle that he strives to maintain even though it's mostly fake. Allison, on the other hand, comes from a working class background and is literally not afraid to get her hands dirty, working at a neighboring farm at one point to make a few extra dollars. Law and Coon are just extraordinary here, delivering their lines with expert blends of mock affection, outright malice, and sheer exhaustion, both of them worn down by the façade of happiness and stability they've tried to maintain.
If anything, the family's fall happens almost too fast. While The Nest is both economical (no pun intended) in its running time and structure, we lose something at the beginning–any sense that this family was perhaps once a stronger unit. The behavior that follows, at least from Rory and the kids, is somewhat predictable, although to Durkin's credit he doesn't take things to a conclusion that he could easily mine for tragedy or sorrow.
The movie also makes one wonder why Allison and Rory are even together in the first place, which also gives the events of its second half a lopsided, arbitrary quality. While Coon is excellent at creating an empathetic, rounded personality, that doesn't quite explain why she stays with Rory when he obviously has a penchant for believing his own bullshit and then shifting the blame to others (sounds like another person we know) when things go south. It's a credit to Coon and Law's talents that they keep us glued to the screen even as we begin to wonder why we should care.
The Nest is worth watching purely for the performances by its two stars and for Durkin's ability to generate a sense of impending doom in even mundane circumstances, but the story's inevitable structure makes it less surprising than Martha Marcy May Marlene. The rather abrupt ending also makes one ask what exactly the film has to say about its central character's overreach that we haven't seen or heard before. That, like others in this gripping yet somewhat frustrating film, is a question that remains unanswered.
The Nest is out in limited release on Friday, Sept.18.