Features
The Lovebirds: Inside Kumail Nanjiani and Issa Rae's Murder Mystery
Kumail Nanjiani and Issa Rae talk solving a Mardi Gras murder mystery in Netflix's The Lovebirds.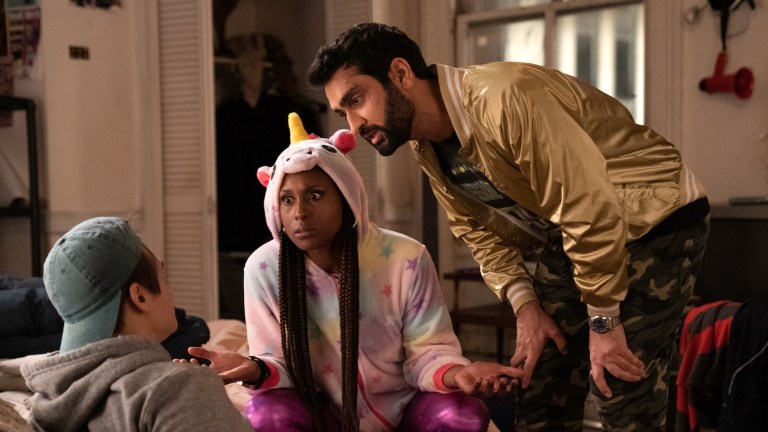 The thing about relationships is the honeymoon period always ends. When faced with the banality of routine or potential deal breakers, some couples go to therapy; others try to spice things up; and some… accidentally help kill a man, then go on the run together to clear their names. In The Lovebirds, Michael Showalter's murder mystery comedy starring Kumail Nanjiani and Issa Rae, there's nothing like running through New Orleans in a unicorn onesie, surviving interrogation via horse, and infiltrating a Handmaid's Tale-esque secret ceremony to remind you why you fell in love.
Nanjiani and Showalter previously worked together on the 2017 dramedy The Big Sick, which earned acclaim for its affecting dramatization of Nanjiani's incredible real-life love story with wife (and co-screenwriter) Emily V. Gordon. So pairing up again for The Lovebirds was like returning to a familiar relationship.
"I understood his sensibility, he understood mine," says Nanjiani, who was the first person to sign on to The Lovebirds. "I thought he was very funny and he was very good at balancing the emotions and the humor in The Big Sick. Even though this movie is a very different storyline, and in some ways a very different tone, those two things still hold, in that it has to be very funny and it has to be emotionally very real."
Striking that tonal balance was tricky for completely opposite reasons than The Big Sick. The earlier film had to find levity in a girl-in-a-coma story that could potentially dip into the tragic. By contrast, The Lovebirds' dilemma was never losing sight of the absurdity and fun despite the underlying authentic emotional stakes.
"In terms of finding balance in Lovebirds—in all my work, even something as broad and farcical as Wet Hot American Summer—I try to take every scene very seriously for what it is," Showalter says via email. "If it's a big scene of comedy, I want to make it as funny as possible, but if it's a big argument or scene of emotional catharsis, I want to lean into that just as much. I feel like good movies often are a mix of emotional levels and tones—often not just one thing. While Lovebirds is unquestionably a lighter tone than Big Sick, there were still many opportunities to explore the characters' complexity."
The romance that's the beating heart of Lovebirds is what drew Rae to the project. "[I liked] the idea of being able to make something that a lot of couples could relate to," Rae says. "It was just really funny, and of course the idea of working with Kumail really excited me because I love his work."
For Nanjiani, the feeling is mutual. While he and Rae didn't exactly trade tips from their respective experiences as romantic leads, Nanjiani did focus on the importance of connecting with the person behind his fictional partner. "That was easy with Issa," the actor says, "because I've been a huge fan of hers for a long time, and she's just really smart and really fun, but also pretty easy going. So it was easy for me to connect with her personally and then have the relationship come up through that."
In addition to starring together on screen, Nanjiani and Rae worked with the screenwriters to make sure the existing script, which was originally written for a white couple, would better match their experiences. While protagonists Leilani (Rae) and Jibran (Nanjiani) are an interracial couple, Rae says the process was "more about who we were as people and how the world might see us."
"You have a couple on the run from the police," Rae says. "And people don't often give people of color the benefit of the doubt, and so that needs to be incorporated into the script. But beyond that, it's not a movie about race by any means; or we don't focus on the interracial aspects of it, as that's not what it's about."
While Nanjiani had the experience of dramatizing his and Gordon's love story with The Big Sick, The Lovebirds was more about creating a composite relationship based on past experiences.
"There was a lot of me and Issa talking about our past relationships: what worked, what didn't, how we thought we were bad in those relationships, how we thought the other person was bad in those relationships," he says. "And it was also about your friends. You talk about your friends' relationships and you were like, 'Okay, we think these people should be together' or 'we think these people should not be together.' What is it about the two of them that makes us feel they can be together?"
Rae, whose HBO series Insecure has been lauded as an intensely sympathetic account of contemporary dating culture, strove to find those moments of recognition in The Lovebirds' relationship. "I think in rewriting or adapting it with Kumail," she says, "that was one of our main ambitions, was just to try to make the couple more relatable, try to rope in the emotional stakes of it. I think that is absolutely necessary in a movie like this, where it can get a little wacky, you have to be rooting for the couple."
"At its core, Lovebirds is a love story," says Showalter. "It's about relationships. We all felt that the core of the film would be the relationship between Kumail and Issa's characters. We felt that in order for the movie to work, the audience needs to go on an emotional journey with them."
Mardi Gras Murder Mystery: Shooting in New Orleans
Supplementing that emotional journey were hectic night shoots in New Orleans—especially those taking place during Mardi Gras.
"It was great," Nanjiani says of the action-driven shoots, "but it's also a little bit challenging. Sometimes we'd be shooting and it'll be four in the morning, and then you look over and there's a 10-piece band with eight drunk white people walking behind it. So now you have to hold production for 45 minutes as these very drunk people slowly make their way down the block." When the production schedule shifted so that they were still shooting during the lead-up to one of the nation's biggest parties, he says, "Things were just getting crazier and crazier, and just a little more chaotic each day. It was interesting shooting like that. It's also interesting because you're in a town where everybody seems to be partying except for you."
That party continued even after the cameras stopped rolling, Rae adds: "New Orleans is popping during the day, so it was hard to get sleep and just get back home." Lucky for Rae, she got to spend a lot of time in the Big Easy last year, including when she filmed The Photograph there just weeks after The Lovebirds wrapped.
"I loved it, and I was happy to be able to come back to New Orleans," Rae says. "I still don't have that much time, but you always make the most of everything while you're there. And at least they were day shoots, so I got to go to bed at a great hour. But it's such a good city to tell stories. It's so rich. Just visually, aesthetic-wise, and culturally, it tells a story on its own."
Still, inhabiting the same city for two very different love stories was easy for Rae to compartmentalize, in part because each film chose a different neighborhood: "For Lovebirds we were shooting in more popular touristy areas. Whereas with Photograph we were in more rural areas, like neighborhood-y areas. We did shoot something close to Bourbon Street, but they felt like different experiences. In one, the character lives in New Orleans, and in the other, she gets to visit for the first time since her childhood. So she's looking at the area with different eyes."
Murder Mysteries as Couples Therapy
The Lovebirds seems to be the latest in a growing subgenre: comedies in which a couple stumbles into a high-stakes adventure. The subgenre stretches back to at least 2010's Date Night and includes flicks like Game Night (2018) and Netflix's Murder Mystery (2019).
"I haven't seen Murder Mystery," Nanjiani says, "but I love Game Night and I watched Date Night, just to make sure that there wasn't too much overlap and to sort of learn from them. The difference is that this movie is really about the relationship. That's really what is front-and-center: this couple trying to figure out what happened to their relationship. And it's tonally quite different from Date Night, which I really like. We wanted to keep this movie from getting too goofy because we were afraid that if it got too goofy, then people would lose track of the relationship at the center of the film."
While the film is relationship-centric, the actors brought their own favorite murder mysteries to their performances: Sherlock Holmes and Agatha Christie's Hercule Poirot for Nanjiani; for Hitchcock fan Rae, Strangers on a Train, Dial M for Murder, and Rear Window. And of course they both loved Knives Out. ("That was phenomenal," Rae says. "So much fun to watch.")
"The movie is basically about them solving two mysteries," Nanjiani says of The Lovebirds. "They're solving the murder mystery and then they're solving the mystery of the near-death of their own relationship. They're trying to figure out what they did wrong. I think the journey of any relationship that works is going from blaming the other person to figuring out how to blame yourself. I don't mean that in a negative way. I mean figuring out what your role is in what happened to the relationship. So that's basically what's happening in the movie, is you're tracking this murder mystery and also tracking this couple figuring out where they went wrong."
Art has already imitated life for Nanjiani and Gordon, but should life ever imitate art in the form of having to solve their own mystery, he's certain that she would have it covered: "Emily would be very good at making lists—lists of suspects and working through them methodically. And she would be very good at keeping me calm through the whole thing." After pausing for a laugh, he adds, "Honestly, as I talk, I don't know what I'm bringing to this. I think she's doing everything. I would say I would be the one driving but that's not true. She drives. I think I might take a stress nap. I'll be well rested when we get arrested."
The Lovebirds premieres on Netflix on Friday, May 22.