Features
The Den Of Geek Interview: Valerie Leon
One of the most familiar faces of 1970s glamour chats to DoG about Bond, freezing in forests in Zeta One and working in Carry-On films...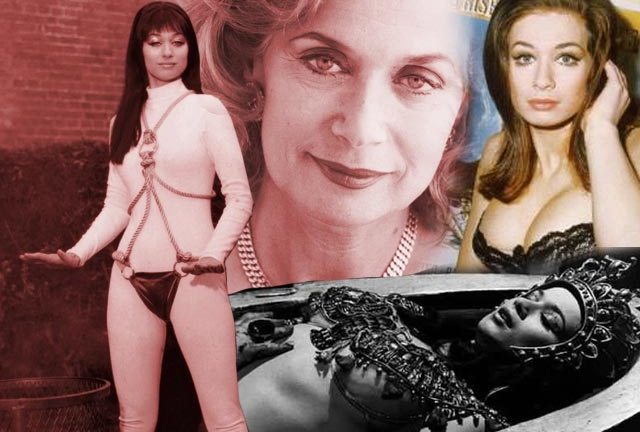 Starting her career as a theatrical actress in the sixties, statuesque Valerie Leon quickly went on to make her mark on pop-culture in a series of glamorous roles, including seven Carry-On movies and the cult Hammer horror Blood From The Mummy's Tomb (1971). Leon shares with Maud Adams the rare privilege of having been a 'Bond girl' twice, in The Spy Who Loved Me (1977) and Never Say Never Again (1983). A ubiquitous face on TV in the 1970s, she featured memorably with Margaret Nolan in the cinema version of No Sex Please We're British, though her most familiar guise to Brits of a certain age will always be as the voracious vamp in pursuit of fragrant nerds in the Hai Karate aftershave commercials. Earlier this year, we had a chat…
You've seen many sex symbols come and go from the very skinny 60s type to the voluptuous 70s type and beyond – have you been surprised by what men seem to want from sex symbols over the years ?
The 60s…that was Twiggy. She was such a huge fashion icon that she changed people's perception of sex appeal. That is what seems to happen in that industry, just like when Sophie Dahl brought curves back into fashion. But there are few surprises where men are concerned. They either go for cleavage, legs or bottoms !
You've worked with the very rough Bond Connery and the very smooth Bond, Moore. Is Daniel Craig's return to the Connery type something that appeals to you ?
In the scene where Daniel Craig comes out of the water, just like Ursula Andress, he looks fantastic, he really does. But Craig is a Bond for the 2010's. A kind of Terminator, steely and ruthless. For me Bond must not only look athletic but must show a sense of humour and be charming like Connery and Moore . I thought Pierce Brosnan was a good mixture of Roger Moore and Sean Connery.
Do you prefer the slightly more intellectual type?
A rugged man is great but there has got to be some sensitivity as well. Craig's portrayal was just too double -Y chromosome for me!
I was wondering if your very strong 'Hai-karate' image kept admirers respectful ?
In the 70s I did create this rather aloof image. It's crazy when I think about it now, because it was not the real me. A fan once told me with great respect how much he appreciated seeing a beautiful women who could kick ass ! I do think people were often in awe of me. So yes they retained respectful distance.
What amazes me even now is when men come up and say 'oh you helped me through puberty'. Yet it is all so long ago.
You often ended up playing powerful women. Even in Blood From The Mummy's Tomb, one of the two roles that you play was a queen. Did you ever want to play a wallflower?
No, it is much more fun to play strong characters. Although, having said that, I am sure that I did lots of TV series where I was…not exactly simpering, but where I was a foil for comedians. But then considering my height and the cleavage – no, I would not want to play a wallflower. I prefer something meaty to get my teeth into.
Have you noticed a greater degree of fan mail and general interest since the seventies stopped being embarrassing and started being cult ?
Very much so, and also because of the world-wide web. That is totally extraordinary. I get fan mail most days and from all over the world. Amazing and quite gratifying.
With your height and your Amazonian physique, what did you gain and what did you lose in terms of roles? I was reading how you went to France to learn French and become a fashion model, and you were disappointed that your stature perhaps held you back in that respect ?
Yes I was too tall for modelling but I found a niche in show business. I did a film in France called Monsieur Le Coq, a Carl Forman film which Seth Holt directed with Zero Mostel. It never saw the light of day, but I do remember meeting an actor on that movie – I was very young then – and he said 'You've got to accentuate your assets and create an image to go with your height. And that is exactly what I did ! ..I was also lucky because it was the age of mini skirts and big boobs……it worked because at that time I went from one job to another, which was fantastic.
Since you mentioned Seth Holt just then…do you still believe that Blood from the Mummy's Tomb was a jinxed movie ?
Without a doubt. First of all Peter Cushing should have been on it, and his wife got so terribly ill just after we had done a days shooting. Then I heard that a young man from the arts department died on his motor bike, which I don't think is generally known. And then, of course, Seth. At the time I never knew that he had been quite ill right from the start. They wouldn't insure him because he had a weak heart. I just thought he might be great drinker. When he died a week before completion of the movie, I was totally devastated. I still have this image of him in certain scenes, bending over and looking at me very carefully before we went for a take. `.
I'm sure you've read that he had hiccups for days before he died, but it just continued, and it does put a strain on the heart. He just collapsed one night after a dinner party with his wife. The people had gone and apparently he just looked up and said 'I'm going'. I didn't know any of that at the time.
I have also read something recently which I should have read years ago, and the library had to buy it in for me. I read The Jewel of the Seven Stars by Bram Stoker, on which Blood From The Mummy's Tomb is based. This was a novel written in 1903 which a young American Producer Howard Brandy found. It was really interesting to read this book only last year.I don't know why it took me so long [laughs]. It's a terrible admission, But it had a completely different ending and I don't think it would have helped when I was filming.
You would have approached the role differently maybe ?
Not necessarily but I wish I had been more outgoing with the people I was working with and shown more interest in what was happening around me.
Do you think Seth's death on the film production changed the final product from what he envisaged?
Yes. Yes, I am sure, because Seth was also an editor, and a lot of what he shot was very much in his head when he died. I believe that Michael Carreras had quite a problem putting it together, and it also came out as a 'B'-feature to a film called Doctor Jekyll and Sister Hyde, so I suppose at that time it was not expected to be successful – a female mummy and all that. The extraordinary thing is that its now become such a cult. I think there is a lot of nostalgia for the Hammer Horror Films. Similar films are so horribly graphic today.
They keep trying to resurrect Hammer and talk about making more films. In fact even as we speak I have 500 little trading cards to sign with pictures of me from Blood From The Mummy's Tomb on the back, like those cigarette cards. It's quite extraordinary. They are sold in newsagents and people swap them. That's what I mean – this is a film from 1971; we are now in 2008 and there is interest enough for them to reproduce these little cards for people to buy and swap.
You carried Blood from the Mummy's Tomb very effectively. Were you disappointed it didn't lead on to other leading roles ?
Yes, in retrospect, of course. I was very disappointed at the time. But it is the luck of the draw. Now I feel really blessed that I had that opportunity, and that it's still remembered after all this time.
Do you think that if the British Film industry hadn't been in such a financial crisis in the 1970s that you might have got as broad a range of roles in films as you did in television ?
Yes, possibly. I always remember – now I am really going back to the very beginning – Michael Caine, who I met in 1966 on The Italian Job, when we had coffee and were filming at the Royal Lancaster Hotel in Bayswater, saying that I ought to go to Hollywood . But actually I was naïve and shy, and quite immature, ludicrous when I think back on it all now but I came from a protected middle class background. I think that people who grow up in more difficult circumstances are hungrier and more willing to claw their way up the ladder. In fact Ruby Wax once met me for an appearance on her show, and after spending some time with me she said 'I can't use you – you're too nice!', which I regret. But I just have to be grateful for what I have had.
If you could do it all again would you be a little bit tougher?
Yes. I would be harder, tougher. I would put myself about more. I should have mixed with more people which would have led to more opportunities. As I said, I had this sort of 'keep away from me' look, barrier, whatever, and I guess people might have thought I was snooty, which I wasn't, but that was my way of just coping with things. Many stars come to sticky ends, so I think maybe it's just as well. At least I am still here, for which I'm grateful. [ laughs ].
Were you surprised the type of film Zeta One turned out to be considering it featured James Robertson Justice and Charles Hawtry?
Yes. That was an odd film. I haven't seen it for years, but when you talked about it, I ploughed through all my photographs and I found this extraordinary photo of me where I am dressed in a white cat suit with ropes going round my body and through a leather triangle; I think there's another photo somewhere with just pieces on my nipples or something. That really is so long ago, but it turned out to be a sort of spy sci-fi spoof, didn't it? and it has been described, I think, as soft core porn.
I don't think you could call it porn really could you ?
When did you last see it ?
About a month ago. I bought the DVD
You actually paid money and bought the DVD?
Yes.
What did it cost you ?
About a tenner, off Play.com
How extraordinary!
It's in the 'Jezebel' series; they do these kind of 1960s, semi nudey glamour films.
Yes, …we were the Amazon race of women, or something. My main memory of that is being freezing cold.
I was going to ask about the forest scene at the end. It looks ever so cold ?
I don't even remember which scene it was. I just remember I froze when we did that. I'm sorry I haven't seen it. I remember having to talk to someone in Australia about getting a copy but I didn't manage to find one. Was I running through a forest ?
Yes, there's a big forest show-down at the end between the villains and the Amazonians.
And then at one point are we women surrounded by men ?
Yes, and you particularly are alone and are surrounded by about four or five men, and you thrash them…
Oh good for me [laughs]! I have a sort of vague memory about that actually but brilliant, brilliant! [ laughs ]
Another clip I was watching was No Sex Please we're British, and you seem to be having a lot of fun with Margaret Nolan chasing Ronnie Corbett around. Was that just good acting, or was it as much fun as it looked?
Oh no, it was great! That's what the director wanted. Fun and black suspenders. I enjoyed working on it but I don't think it did too well at the box office. Nice people on it, though.
You had a big introduction to show business on the stage with Barbra Streisand with Funny Girl . Were there any hard lessons learned from that experience ?
Oh God, I was thrilled to get into Funny Girl. I mean even then, [Streisand] was a superstar.
Presumably it was your first big role…?
I had done one show before that. It was a touring version of The Belle Of New York, and I gave up working at Harrods for it. I was training to be a fashion buyer, and I gave up this respectable job after having auditioned and got a part. They employed me as a singer. We were six girls in the chorus, and I think they really took me because I looked pretty. After six weeks touring, it closed, and I was on the dole.
How was it working with Morecambe and Wise?
Eric Morecambe was lovely. Ernie was nice too. It was great working with them – what can I say? As we speak, I can look across my room and see a Morecambe and Wise Christmas Special 1977 poster. My name is up there with Eric Morecambe, Ernie Wise, Elton John and others – what a poster! It was a great show. Hey, that poster might be worth something. [ laughs ].
Have you ever been disappointed in meeting your heroes in the course of your work ?
No. I have been lucky enough to work with a lot of well known people, and on the whole I've not been that disappointed.
What do you get asked most about at conventions ? is it the Hai-karate or the Bond ?
Bond, Carry On and Hammer Horror, because all three have become cults, and I have been very lucky to have been associated with all three. And the fact that I worked with Roger and Sean. Some people always say 'Who did you prefer?' and I always sit on the fence and say, well, Sean was the definitive Bond, but actually as a person I preferred Roger.
What was your favourite out of your six Carry On films ?
I took part in six of the films and two Christmas shows on television. My favourite was Carry On Up The Jungle, where I was leader of The Lubbie Dubbies which was a true Glamazon part !
There is a big 50th anniversary do at Pinewood on March 16th, which might be one of the last get-togethers. They've had this special bench made apparently that's been beautifully carved with all the faces of the regulars, so I am told. The Carry On phenomena really is extraordinary. People still want more and more. They've been shown and re-shown, and cut together…you know, all the clips and everything. They were great fun, and lovely times to look back on.
Valerie Leon, thank you very much!