Features
The Best Fictional Bands in Movie History
Some fake movie bands bop harder than others! These are the best ones in movie history.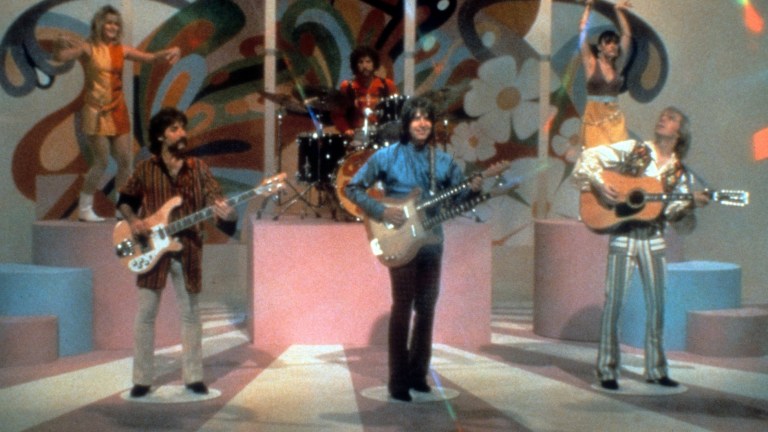 We love rock & roll, and so do most moviegoers, which is why cinema is filled with heroes who get together with their friends to pound out some numbers. Whether they do it for fame and fortune or to just hang out with buddies, pop bands are inherently cinematic, tying together moving images and sound to create something spectacular. That's particularly true of fictional groups, who often draw from real-world inspirations and transform them into moving protagonists or hated villains.
This list covers ten of the best fictional bands in cinema history. The key word here is "bands," as we ignore solo acts, even from really good films. So Mac Sledge from Tender Mercies won't show up, nor will Noni Jean from Beyond the Lights. Also, we're looking at fictional groups here, so the Ramones from Rock & Roll High School don't show up, nor do Talking Heads, Wilco, Mary Clayton, or any other subject of a concert film or rock doc.
Finally, we've tried to prioritize variety, which means that we've only chosen one act per movie/music genre. If you want to shout out missing groups like the Rutles, the Ain't Rights, or the Fighting Temptations, feel free to do it in the comments.
This opening act out of the way, let's rock on with ten of the best fake bands in movie history.
Sister and the Sisters, Sparkle (1976)
The story of the Motown girl group the Supremes sounds like something out of a movie tragedy, which is probably why it inspired a number of films, including the Joel Schumacher-penned Sparkle. Directed by Sam O'Steen, Sparkle follows the Williams sisters (Irene Cara, Lonette McKee, and Dawn Smith) who rise from performing at their Harlem church to topping pop charts, only to fall back down again.
The smooth R&B numbers that help manager Stix Warren (Philip Michael Thomas) make them into sensations come via Curtis Mayfield, the mastermind behind the Superfly soundtrack. The songs weren't enough to make a hit out of the original film, but it did help it become a favorite among cinephiles, enough to inspire a 2012 remake starring Whitney Houston.
Ellen Aim and the Attackers, Streets of Fire (1984)
Walter Hill's "Rock & Roll Fable" Streets of Fire includes many wonderful aspects, including Willem Dafoe as gender-bending greaser Raven and Rick Moranis in a rare heel turn. That said, Streets of Fire sadly peaks in its opening scene, which features a performance by Ellen Aim and the Attackers.
The song "Going Nowhere Fast," written by music biz veteran Jim Steinman and performed by Fire, Inc., perfectly establishes the movie's 1950s/1980s setting and gears the audience for the story to come. During her performance, Ellen Aim (Diane Lane) proves that she's more than a damsel in distress, and we understand Tom Cody's (Michael Paré) urgency when trying to rescue her from Raven.
Spinal Tap, This is Spinal Tap! (1984)
If director Rob Reiner and comedy legends Michael McKean, Christopher Guest, and Harry Shearer didn't make This is Spinal Tap!, then the band would have somehow spontaneously generated. The excesses and self-seriousness of rock and roll would have to bring Spinal Tap into fruition, a trio of English dunderheads (and their rotating set of drummers) who float through genres before settling on heavy metal.
Fortunately, the incredibly talented creators did come together for the film and penned some remarkable music in the process. Songs such as "Big Bottom" and "Tonight I'm Gonna Rock You" work as both legitimate bangers and funny jokes. They stay stuck in our heads long after the credits roll and the laughter subsides, leaving us almost excited to hear "Jazz Odyssey" in its entirety.
Wyld Stallyns, Bill and Ted's Excellent Adventure (1989)
Wyld Stallyns is the greatest band of all time. At least, that's what time traveler Rufus (George Carlin) tells us at the start of Bill and Ted's Excellent Adventure, the buddy comedy from writers Chris Matheson and Ed Solomon. Sure, director Stephen Herek doesn't show us the musical talents of Bill S. Preston, Esq. (Alex Winter) and Ted "Theodore" Logan (Keanu Reeves), nor does Bill and Ted Face the Music director Dean Parisot when the group finally debuts its humanity-saving song "Face the Music."
But that's part of the fun of the Bill and Ted series. They may look like a couple of idiots thrashing on the guitar, but their constant optimism and acceptance (that one slur aside) gives hope for the future. Well, that and Eddie Van Halen on guitar…
NWH, Fear of a Black Hat (1993)
By the 1990s, hip hop had supplanted rock and roll as pop music's reigning genre, which made it ripe for a Spinal Tap-like skewering. That skewering came in the form of Tales from the Hood director Rusty Cundieff and the mockumentary Fear of a Black Hat. Told through the perspective of sociology grad student Nina Blackburn (Kasi Lemmons), Fear of the Black Hat follows the up-and-coming gangsta rap group NWH (an NWA riff, with "hats" replacing "attitude").
Cundieff takes a Mad Magazine approach to the subject matter, giving NWH members silly soundalike names: Ice Cold (Cundieff), Tasty Taste (Larry B. Scott), and Tone Def (Mark Christopher Lawrence). But as with all the best satire films, Cundieff approaches his subject from a place of love, as seen in songs such as "Ice Froggy Frog" and the rap/rock mashup "White Cops on Dope," songs made with the help of George Clinton and his P-Funk collaborators as well as Cars frontman Ric Ocasek.
The Wonders, That Thing You Do! (1996)
Within the world of Tom Hanks's debut film That Thing You Do!, The Wonders were one-hit wonders, a quartet of nice Pennsylvania Boys who rode Beatlemania to a number-one single and dissipated before they could even record their first record. Hanks sells the tragedy of The Wonders' rise and immediate fall by hiring the late great Adam Schlesinger to pen the title track.
"That Thing You Do" sounds like an authentic pop song from the early '60s, one that remains strong enough to stay interesting each time it's performed throughout the film and became a hit song on the real world charts, reaching #41 on the Billboard 100 in 1996. And even if "That Thing You Do" doesn't do it for you, then the soundtrack has several other great Wonders tracks, including the ballad "All My Only Dreams" and rocker "Dance With Me Tonight," both by Scott Rogness and Rick Elias.
The Soggy Bottom Boys, O Brother, Where Art Thou? (2000)
George Clooney may have incredible looks and remarkable comic timing, but he does fall short in one regard: singing. Despite counting Rosemary Clooney as an aunt, Clooney couldn't hit the notes when his character Ulysses Everett McGill stepped up to the recording can to belt out "I Am A Man of Constant Sorrow" in the Coen Brothers classic, O Brother, Where Art Thou?.
Instead, it fell on Dan Tyminski of Allison Kraus's backing band Union Station to sing the number and convince audiences that McGill and his fellow convicts Pete (John Turturro) and Delmar O'Donnell (Tim Blake Nelson), along with Robert Johnson pastiche Charlie Johnson (Chris Thomas King), could become the biggest country sensation in Depression-era America.
Sex Bob-Omb, Scott Pilgrim vs. the World (2010)
"We are Sex Bob-Omb and we are here to make you think about death and get sad and stuff!" It's easy to see why Scott Pilgrim vs. the World failed to connect with many fans upon its first release in 2010. Director Edgar Wright made his name with hyper, pop-culture-conscious works like Shaun of the Dead and the TV series Spaced when he adapted the Bryan Lee O'Malley comic book Scott Pilgrim.
But his imagination went into overdrive for Scott Pilgrim vs. the World, powered in part by greasy, skuzzy rockers by the title character's band Sex Bob-Omb. The movie also features tracks from bands Crash and the Boys and Clash at Demonhead, performing songs from Broken Social Scene and Metric. But it's Sex Bob-Omb's Beck-penned numbers that helped secure Scott Pilgrim's place as a cult favorite.
Iron Fist, We are the Best! (2013)
Throughout the Swedish indie film We Are the Best, the punk trio Iron Fist really only composes one song, a sloppy number called "Hate the Sport." But the energy of the middle-school girls who make up Iron Fist is more relatable than even the most impressive song on this list.
Writer and director Lukas Moodysson, adapting the graphic novel Never Goodnight by his wife Coco Moodysson, uses a cinéma vérité style to capture the ramshackle optimism and anger of raconteur Bobo (Mira Barkhammar), intellectual Klara (Mira Grosin), and shy Christian girl (and the band's only real musician) Hedvig (Liv LeMoyne). Even if the group never writes a real song, let alone a hit, they embody the subversive joy music brings to generations of young people.
4*Town, Turning Red (2022)
Tom Hanks certainly had a challenge when looking for a song to please listeners of the 60s and the 90s for That Thing You Do!. But that challenge was even greater for Turning Red director Domee Shi, who needed to create a believable hit for 4*Town, the five-member boy band that captured the hearts of teen Mei Lee (Rosalie Chiang) and her friends in early 2000s Toronto. After all, not even twenty years have earned the respect for boy bands that boomers demanded for their beloved 60s groups.
Shi wisely enlists the help of a duo not known for their early 2000s sound, siblings Finneas O'Connell and Billie Eilish. Together, Finneas and Eilish craft "Nobody Like U" and "Never Not on My Mind," tracks that feel torn from a Discman in the Bush era and advance the movie's plot. By the time 4*Town sings along with the Chinese chanting from Mei's family, "Nobody Like U" transcends from nifty bop into pure magic.