News
The Batman: Robert Pattinson Returns to Set in New Images
Robert Pattinson has been spotted filming The Batman in public again.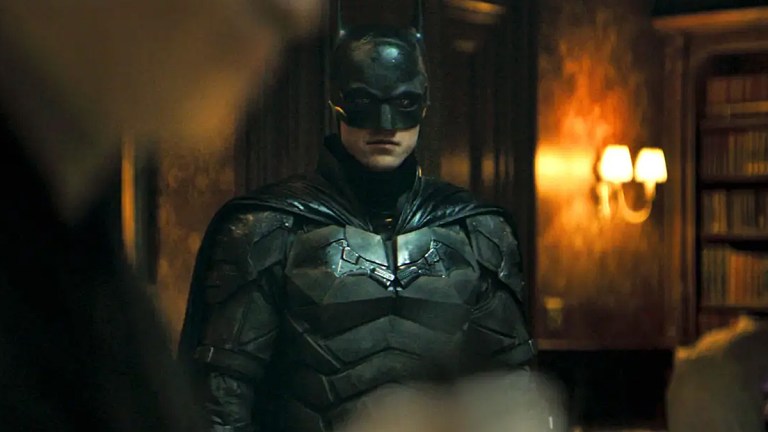 Robert Pattinson has resumed filming on Matt Reeves' upcoming standalone DC film, The Batman. The actor has been put through a turbulent schedule aboard the project to date, including various production stops and starts throughout 2020 due to the COVID-19 pandemic. In early September, it was reported that Pattinson himself had tested positive for the virus and had to self-isolate, as the crew tried to film other scenes in his absence.
Eagle-eyed fans managed to snap a whole bunch of pictures when the cast, including Pattinson, Colin Farrell's unrecognisable Penguin, and Catwoman star Zoë Kravitz, shot more footage for the funeral/memorial scene that we briefly saw in The Batman's first trailer out of DC FanDome in August. Various pics have shown us a crowded scene full of mourners and Gotham police officers surrounding Pattinson's Bruce Wayne during the shoot, in addition to a number of protesters holding up signs that say things like 'lies, lies, lies,' and 'our day of judgement'.
Here are just some of the images gathered so far of Pattinson and Kravitz on location in Liverpool, England this week…
And here's a video from the location…
Reeves was on hand to chat about The Batman during DC's big virtual con replacement FanDome when the film's exciting first trailer debuted online, confirming that it will tell a Year 2 story where Pattinson's Bruce Wayne is still learning how to be the caped crusader and discovering how far he can push his vigilante boundaries without becoming a villain himself.
"[Gotham's people] wonder, 'That guy sounds a little dangerous.' He's not yet the symbol of hope… He's still a growing legend," said the director. "People wonder whether he exists. It's one of the things he will confront in the story."
Reeves added that we definitely shouldn't expect The Batman to be an origin tale.
"A lot of the other stories are about how he mastered his fear to become Batman. What was exciting for me was not that, but to meet him in the middle of this criminological state. For him to make mistakes," he explained. "Because the movie's detective story and about corruption, we're treating it as if this Batman story could have happened. He doesn't have superpowers, just super focus. Chinatown was a key movie for us. French Connection and Taxi Driver were key for us as well. A lot of '70s street grounded stories."
The Batman recently shifted its release date again from October 1, 2021 to March 4, 2022. Only time will tell if it will stick to it.